The Windows Phone Summit--What we know and what we're expecting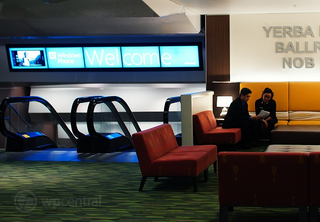 A sneak peek of what's beyond the escalator for Windows Phone 8
We're here in lovely (and surprisingly chilly) San Francisco for the other big Microsoft event this week--the Windows Phone Summit.
During this one-day event, Microsoft are expected to show off bits of Windows Phone 8 aka Apollo. The big question though is what are they going to talk about specifically and what do we already know? We'll give your our thoughts and expectations below. Some of this we've been revealing over the last few weeks and hopefully you were clever enough to catch it.
Upgrades - Will Microsoft finally answer the question regarding legacy devices getting the new OS? Yes, they will. You should know our position on the matter, we detailed it back in April when we talked about a two-pronged approach. We're still standing by that position.
Resolutions - We told you there were four a few weeks ago but now we're confident that one of those were dropped. In short, besides the 480x800 display resolutions you'll also see the addition of 768x1280 and 720x1280.
A new UI? - Will the new Windows Phone 8 look like Windows Phone 7? For the most part we're betting on yes, it will look the same. There are some changes but if you were expecting it to look like Windows 8 desktop, we'd say calm your expectations.
Native development - Yup, expect some news in this regard for Windows Phone 8. We've heard from game developers that this optional path for app development will be discussed
Skype and VOIP - Microsoft are expected to talk about how Skype (and 3rd party VOIP apps) can be more deeply integrated into the OS
Nokia Mapping - Microsoft and Nokia have teamed up and not just for phones but back-end services. Their relationship goes deep with mapping in Windows Phone.
Windows 8 kernel - What makes Windows Phone 8 such a big deal is the expected switch from Windows CE to NT (and Win 8 PRT) for its core. This will have huge ramifications for app developers and as a technology philosophy for Microsoft.
There is a whole list of other changes we're also expecting in Windows Phone 8 from Data Sense to NFC to all the enterprise tools (BitLocker) to removal SD card support. Windows Phone 8 should rival Windows Phone "Mango" in terms of new features both for consumers and developers.
Whether or not Microsoft talks about all of that tomorrow remains to be seen. Our hunch tells us that since there's so much to reveal, Microsoft will show only some of Windows Phone 8 during the summit. That makes sense if you're trying to control the message and trying to ensure that the finer details are all absorbed.
The view from the Marriott Marquis last night
Regardless, you can tune in the official Microsoft live-stream of the event tomorrow. But you'll also want to keep a browser Tab open on Windows Phone Central too as Rafael Rivera and myself will be on hand here all day making sense of all the news as it comes out.
That means yes, we'll have a live WPCentral Podcast sometime tomorrow afternoon, numerous technical articles from myself, Rafael and Jay Bennett, some interviews and as much media as we can upload.
It all starts at 9:30am PDT/12:30pm EST and you'll definitely want to catch all of it right here on WPCentral.
Windows Central Newsletter
Get the best of Windows Central in your inbox, every day!
Daniel Rubino is the Editor-in-chief of Windows Central, head reviewer, podcast co-host, and analyst. He has been covering Microsoft since 2007 when this site was called WMExperts (and later Windows Phone Central). His interests include Windows, laptops, next-gen computing, and for some reason, watches. Before all this tech stuff, he worked on a Ph.D. in linguistics, watched people sleep (for medical purposes!), and ran the projectors at movie theaters because it was fun.
Looking forward to Skype integration!
What do you think about them making their own handset? Either like they did with the Surface or with a partnership like Nokia? They wouldn't have to sell it as aggresively, just show OEM's this is the quality we want to see.


Won't happen. Nokia, HTC and Samsung are their premier partners for Windows Phone 8 devices.

Bummer. I was hoping for a Nexus like device, if only for the purpose of being the device to set the bar for everyone. Not so much as to steal marketshare/business from the parnters.

Ohh, I think I followed a link that was posted in one of the forum rooms, don't really remember. Will search for it and post it here as soon as I find it. Not a pleasant news to me at all

Somebody told me HTC dropped Windows Phone (he told me he read it on zdnet) but I haven't found anything on the subject myself. It would seem very strange to me so I don't give much credence to it (especially since I haven't read anything on WPcentral :)) but maybe that's what kenzibit was refering to?

I think you are referring to Microsoft not letting HTC make Win8 tablets... I remember hearing that a few weeks ago. Haven't heard anything on the phone side tho...

Yes, but the thing is at first I thought it was only tablets till one guy told me their smartphones are included

The problem with "3rd party info" is that it could have been read wrong, too. Look at all the talk about the leak before Monday's surprise Microsoft Surface announcement... over half of the people loking at the document could not discern the difference between the tablet portion and the other device - and not everyone reads updates in comments or on blog posts. Until we see proof that it's beyond tablets, it's still just tablets.

I'd ignore the "HTC is on the outs with Microsoft" rumor.

They were dropped from tablet development. Not from creating phones. I kinda don't blame MS for dropping them from tablets.

This was also the news I read. They did not have a prestige history of tablets according to MS, so they are not being included in the early go of Win8 tablets. Considering HTC is still a new company as a brand, remember, they used to make AT&T branded smartphones, I couldn't imagine them giving up on WinPhone and sticking exclusively to Android. It may not be their decision if this is indeed the case, but I think the base of this "rumor" was HTC not included in Win8 tablets.

Daniel, this may be a little off subject, " but I expect MS to put some surface devices into the hands of colleges, and companies like they've been doing with the L900". This will keep the MS buzz going! Technically it's Nokia buzz, but the OS is MS's

I think they're already doing that with Nokia (albeit indirectly). If I recall correctly, Nokia has deeper access to the OS than the other OEMs, and is able to do more customizations (example: Nokia icon for Marketplace).

Maybe Microsoft can buy Nokia after all and it would be their smartphone

Ya and buy RIM while there at it.

Does Native development imply easier ports of apps that have so far not crossed over to Windows Phone? If that's the case, hopefully this news should further open the floodgates for new apps!

That part will come clearer tomorrow. In short, it's a very good thing.

Nice! Yesterday's press event was largely considered a success and a definite momentum builder. Hopefully they can continue to build on this tomorrow with some more exciting news!

Can you stress to MS the importance of a backup solution, I dont know why they expect WP users to use a phone and put so much data on it only to lose it all when they upgrade devices. Thanks.

They are. Hell, they had a job opening that WPCentral covered last year that went into some detail about backing up a Windows Phone device. It will happen.

This is mainly why I haven't really invested time into Final Fantasy I. I don't want to invest hours into a game with no form of backup/cloud storage.

It makes it FAR easier to port games as XNA isn't very similar to DirectX or OpenGL.

That certainly is good news! It appears that part of the holdout for certain developers is they can't afford to dedicate resources to build another app from scratch (I believe this was Instagram's reasoning). Hopefully this would make it easier for them to port their apps over to WP without much effort!

most Majour Devs we have contacted have claimed that they are waiting for WP8....
and our Marketplace is growing faster then other OS their first year...
and yes apps should be easyer to port over now then before ( even if it was easyer then any other platform before )
this is all good news.

Not the best of views. The other side of the Marriot has the better view of the city. + He should had been able to see the golden gate bridge.

Will current phones get WP8???? That's the big ?.

We just wrote on that above. Read more closely and follow the links as to our position.

I don't see it. I'm dumb. Lol.

With the history of Windows Phone updates, you have to be crazy to believe they'll do that two-pronged approach an bring Apollo-like updates to old phones. It's too complicated and extra work. As far as I can tell, it's all wishful thinking.

The NL900 and Titan II should at least get it. Maybe the Focus 2.

Current phones will get Astro

Here's what I'd like to know about Windows Phone 8: -will keyboard API's be made available (think Swype)
-will IE10 support text reflow Here's hoping MS doesn't pull an Apple and choke!

Who cares about swype and reflow? I can type and read just fine the way things are

That's great you are satisfied with ancient technology but for the rest of us options are always nice to have. That's the great thing about options, some people use them others don't. Its called progress.

lol @ Swype (coming from someone who is currently using it on an android device). I also wouldn't necessarily call the WP keyboard "ancient technology" - though I guess it depends on what you're comparing it to. Swype was a good idea, but brings a lot of problems with it's current implementation. I do agree that having a choice is a good thing though, whether or not every single option is used by everyone.

I love this @$&#! Swype keyboard. Zero issues and 10 times faster than I was my WP device. Out of curiosity what issues do you mean?

Everything you type longer than one character is saved as a word, even typos, and if you don't fix them as they happen, they add up quick and rear their ugly head when you're trying to quickly "swype" a message. Some words are VERY hard to register, particularly words that almost exclusively use the top row of the keyboard, and they are notorious for registering with the wrong word and not even one choice for a similar word. The people who built swype have "words" built in that aren't even words at all and can't be deleted - sometimes those pop up automatically with no choice of an alternative. And if I type a word that it corrects to the wrong one (like a typo) and I just correct the last half of the letters, then that last half of letters is a new word. There's likely more, but that stuff sucks the most (I'm not bringing up how much worse it gets when the phone lags, because WP doesn't lag and this was about bringing it to WP)

Ok. Thanks for the info. It has crashed on me and other than that I've built out the dictionary pretty well for personal use but yeah on occasion it still screws up. Still wouldn't trade it in for anything and I'm hoping I don't have to make that sacrifice to move back to WP.

Wow someone calling themselves WPDiddy left WP over stupid things like swype and reflow? Wow what a traitor you are!

Just call me "the artist formerly know as WPDiddy"! lol

Ohhhh shut the fúck up, stupid muthafúcker!

the w the p the d the i the d the d the y its DIDDY!! lol

Not With WP, On WP typos aren't saved unless you highlight them and add them to the dictionary

I realize that ticomfreak, just pointing out some issues I'm having with the Swype keyboard (as it is implemented on android). If it were implemented the exact same way on Windows Phone, as an example, then the words would be added to the custom swype dictionary for use. My android phone dictionary is unaffected by the swype additions.

I'm working as a mobile dev doing iOS, Android, and WP here in SF... and I have to say Swype is my favorite Android-only feature (don't love it enough to replace my Titan II, though)
Anyways exicited for the Summit tomorrow, I get to miss work to go :)

Choice is good. That said, I can't stand Swype. If an input method can't tell the difference between or and our, it's not worth using.

Text reflow is an important one as for swype thats just personal preferences.. I loved swype when i used symbian but after using wp keyboard i dont swype or anthing else

As far as keyboard API's I can't imagine they would, especially since what they have native works so well IMO

Swype is merely ok? Its not even a selling point for a phone and causes more problems when trying touch input while its on.. Yes I can type faster with Skype, but not much and with a whole lot more errors.. Regular text input is way better, just need to keep the auto correct off, but keep the suggested words on

I had Swype on my HD2 with WM6.5 on it (note: Windows Mobile!) and absolutely loved it, didn't had any of these problems and regular typing feels just ancient and slow ever since. I want Swype on WP8!

It will be interesting to see what impact, if any, tomorrow's summit has on current sales. Here are the bestbuy.com sales rankings currently: AT&T (85 phones offered)
20. Nokia Lumia 900 Black (20. a week ago, 24. a month ago)
24. HTC Titan (21. a week ago, 19. a month ago)
39. Samsung Focus Flash (25. a week ago, 30. a month ago)
45. Nokia Lumia 900 Cyan (60. a week ago, 49. a month ago)
60. Samsung Focus S (70. a week ago, 56. a month ago)
68. Samsung Focus 2 (57. a week ago, 47. a month ago)
69. Nokia Lumia 900 White (58. a week ago, 48. a month ago)
80. HTC HD7S (77. a week ago, 65. a month ago)
83. HTC Surround (81. a week ago, 70. a month ago)
HTC Titan II is not offered T-Mobile (28 phones offered)
10. HTC Radar (10. a week ago, 10. a month ago)
13. Nokia Lumia 710 Black (7. a week ago, 8. a month ago)
17. Nokia Lumia 710 White (8. a week ago, 9. a month ago) Verizon (59 phones offered)
50. HTC Trophy (57. a week ago, 55. a month ago) Sprint (51 phones offered)
45. HTC Arrive (43. a week ago, 45. a month ago)

Uh-oh, Trophy making a comeback... Lol

Are the sales figures from bestbuy.com somehow relevant? If so, it just keeps looking worse and worse for WP and especially Nokia. Contrary to their marketing claims. Not one single device in the top 10! And the L900 falling into oblivion much faster than expected.

This is just best buy sales alone, they're also amazon sales. Try again troll.

I appreciate the effort you put into this comment, but I agree with the above. This should be compared to the long-term and we would see improvement.

Really hoping they bring the full (or at least close) WinRT SDK to WP8. If they do that it will make it MUCH more likely that we'll see apps for WP8. Windows 8 should be too big to ignore and finally the big names that we're missing will come to the party. I'm really getting sick of missing apps on WP7. I've even been tempted to jump to Android as of late! If tomorrow leaves me unimpressed, I just might go pick up a One X. Cautiously optimistic that I won't be making a trip to the Sprint store later this week.

See you later! This just means your weren't in it for the long hall anyway. With everything we've seen so far with smartglass and integration; this innovation, should be enough for you to stay on, but I guess we can officially label you as, "A Short-timer"

HAHA. You guys are nuts. We're talking about an OS, not a wife! I've invested a ton of time into WP7, written 2 apps, gone through several phones and it's hilarious that you're calling me out.
But great example with smartglass... being that it will be coming to Android and iOS as well.

OMG55, you sound like you migrated over from PreCentral (whoops, sorry, WebOS Nation)

I'm sick of people like this, true WP users and fans have to support and stick with the platform no matter what.

Just curious, what apps do you feel your missing out on? Personally I would like some of the "with friends" games and square, but really haven't felt a huge void vs. Android...

Beyond the games you've mentioned, Chase, Mint, Google+, Surfline, are the ones that immediately come to mind. And yea, Draw Something and some other stuff have come and gone and I no longer care to have them but you can't help but feel left out when your Android/iOS friends say "hey, add me in draw something!" and you can't since it doesn't exist. Then of course how many times are you watching TV and you'll see a commercial and the company will have a blurb at the end and suggest downloading their Android or iOS app? Each of these alone are not deal breakers but when you combine all the missing stuff it becomes much less compelling to stick to Windows Phone.
I'm not planning on switching but I'm contract free and if WP8 looks like it's just WP7 with a spec bump and a couple new features, I just might jump ship. If the app situations were equal, there would be no doubt about sticking with WP but they're not and sadly it's still still not even really close. Microsoft is in a tough spot. They were years late to the party. I have no doubt if WP7 shipped a year earlier the situation would be vastly different. But it didn't and that's just the way it is.

I mean, I can't dog anyone for their app preferences, and sure there are always going to be those times where you can't get an app your friends have (remember Android circa 2010), but let's face it, this isn't a long term problem. I work for Verizon and I always tell people that you need to look at how you'll use your phone over the next two years. In the next two years we will have Win8 WinPhone8 the Surface and who knows what else. If I was making a bet on the next two years I would say that Microsoft is going to be the Platform to be with. Windows 8's notoriety will be enough to bring thousands of heavy hitting apps to WP. The attention span of American consumers is short and they will see metro as a fresh perspective. The decision, of course falls with you, I just think that ditching WP because of their current app selection is going to be a tough decision to swallow a year into your contract. Go get an android phone on Craigslist and use it for a week. You will be so bored and fed up after one week you'll come back. You were attracted to WP initially for a reason, and that reason becomes all too clear when you jump ship for a little while.

All I am wondering is what will be new for the Zune software will it be windows phone software or something along that line. If current windows phone won't be update, how would we be able to do future updates to the current phones?

I'm hoping that they leave that somewhat open like Android is. I love...LOVE Zune but without a better way to manage app data and backup I think android's more complex file system would be awesome

Still via Zune client (Win 7 and earlier) or native in Win 8. Of course we don't know exactly the path old phones will take yet with WP8 (Or WP7.x dirivitive with most WP8 featuers).

Is it sad that it not having a new UI matching windows8, seriously put a damper on any excitement I've had the past year?
I really really wanted my messages tile to be a different color than the me tile and diff color than people tile, just like windows8. It truly is the next evolutionary step in Windows Phone UI design. And then you can customize the background ala Windows8

I'm sure you'll be able to change tile colors, sizes, etc.

I hope you're right dude, I truly truly do. I love windows8 on my laptop. It makes me happy to look at it lol

I guess the uniform colors never bothered me. Actually I rather prefer the same color over the black background. All my other app tiles sort of break it up for me. So I know that my People isnt always blue, 4 people I have pinned aren't blue, Pictures is always a different pic, Netflix is Red, XBOX Live is Green, Weather is usually a map or the temp...etc. It would be cool to have some sort of pattern in the background...but there isn't alot of room compared to W8. I think W8 needs more options as it stands now. I hope that is added for the full release.

Agreed. I really want the homescreen to be more customizable because the black and white just get so boring after a while (at least to me it does).
Something like this would be great
http://1.bp.blogspot.com/-f6PsVkDk3iw/Tf_k9PfVgeI/AAAAAAAAASs/8F6aX26Hxa8/s640/apollo.jpg



If they made the UI look like W8, would you have to hold the phone horizontal to have it match?
WP8 and WP7 uses a bunch of tiles and WP8 will use a bunch of tiles, other than designing the tiles and color schemes, not sure how much change you can do. It would be rather weird to have to hold the phone horizontal to match what i see on my W8 preview on my laptop.
In the end, the tiles will be tiles.



I think they should give you a much broader choice of tile colors. I've been saying since day one that it should be a color spectrum wheel...

@Vigor Here's a hint at what IS new for the UI that I've mentioned previously.

Hopefully update comes to the 900s.. Then i can use my $500 MS giftcard for the Surface Pro In Dec/Jan !!!

Big question for me is the future of my Lumia 900. Please don't leave me feeling jilted! Well if we get some sort of Apollo-esk update I'd be ok as long as my Lumia walks and talks like Apollo..i.e. integration with W8, Zuneless syncing etc. I don't want to know the difference besides hardware restrictions.

We pretty much answer this in the post, not sure how more obvious I can be.

Then I guess the big question for me is how communication between my WP and PC will work. Will I be restricted with another software once Zune is history, or will I finally be able to connect my WP via USB other devices and play music and share files etc. My Lumia is DYING to be unleashed ;)

Really? Your Lumia is just "DYING to be unleashed?" Microsoft has already stated that Windows Phone 8 will have a sync tool, just like Windows Mobile, as the Zune Client is no more. Devices should not appear as storage drives in Windows Explorer. I just don't get why people hate syncing utilities. It's one less step you need to do to sync content. Plus, it gives the ability to wirelessly sync (which you can already do TODAY with the Zune Client, which I love.)

What I meant is I would love to be able to connect my Lumia to other devices via the UNIVERSAL Serial Bus. I.E. Car Sterio with USB Port and not have to invest in another tech when it's staring me in the face. I should be able to connect my Lumia up to my XP work computer and drag and drop files....not necassarily music but at least photos and PDFs etc. I'm pretty sure USB is capable of some sort of video to be connected to my TV. Hopefully this clarifies what I meant. Are these out of the question?

Bluetooth is replacing the cable, so no real need there (unless you have an older car stereo.) SmartGlass is replacing the cable to your TV as well (using DLNA, heck, most of the Windows Phone partners have a PlayTo app that uses DLNA.) As for syncing documents, that's what SkyDrive is for. Seemless access to your docs from any device. No need for syncing to your phone, when it's available online.

I have a 2012 GMC Terrain with a huge touchscreen color display (and backup camera). Bluetooth doesn't have A2DP!!
So, the USB interface is critical. Guess I'm in for a dissapointment.

What if i'm travelling n dont have internet but i want a document that i have on my laptop to be on the phone from where do i access skydrive now i just wish whatever syncing solution ms come up with it should have a way to copy office docs n pdfs to the phone
And the reader app on w8 should come to wp as we all know how pathetic adobe reader on wp is

I won't feel jilted because by any means necessary, I'll get the next phone. My plan is to give my daughter this one and use her upgrade to get me whatever is new if the design is L900 or surface worthy!

What I'm interested in as a developer:
1. WinRT, WinRT, WinRT to infinity (I think that's a given really).
2. How much compatibility is between desktop WinRT and phone WinRT - ideally it would be same binary just with a need to support extra screen resolutions.
3. Details of native code support (ideally same as WinRT in Windows 8).
4. Upgrades for existing devices - I don't care how they do it, but WinRT must be available on all existing devices! Also, if there won't be a full upgrade to Windows 8 kernel and they will keep CE kernel for old devices - how would that affect WinRT for such devices and native code as well (I suspect there might be major limitations with such approach).
5. Marketplace - will there be separate store for WP still or (hopefully) there will be a merge of accounts with Windows Store.
6. And of course shitloads of brand new existing APIs (in addition to WinRT) please! :-)

I will settle for WinRT without native code support for older devices.

It would be a pain in the a.

The best news I wanna hear is 1st gen phones being able to upgrade....will buy you all drinks ;-)

Again, I'm gonna hold you to this!

Sorry, but I could care less about first Gen devices, second Gen would be enough. But as always if surprising new designed hardware comes out, people will get it somehow

Here's what I want: Notification center! Thats a big one. The ability to delete multiple photos. A more colorful UI. As seen with Windows 8. And lastly, screenshot ability. I get all of those and im a happy camper.

You already HAVE a Notification Center. It's called Live Tiles. If you want important information to be front and center, pin the app to the Home Screen, and make sure the app has Live Tile support. I agree with the delete multiple photos and more UI color options. Could care less about screen shot.

I don't enjoy having too many things pinned to my homescreen. And a notification center is more useful to me.

Live Tiles won't help with toast notifications.

We have toast notifications since the begining

What I meant is that unless you catch the toast notification when it happens you'll miss it. If there was a notification center you could view your missed toast notifications.

Yeah, actually they do. Look at Rowi as an example where they use the Secondary Live Tile perfectly. Or even Weather Flow, or NextGen Reader. I personally don't care for a Notification Center. If MS adds one, sobeit.

Let's face it. The notifications on WP7 are horrible. I hear my phone ding. If I don't get to it in time and the short dropdown notification goes away, I have to spend time playing "find the notification."
There needs to be a pull-down drawer ala Android (which iOS highjacked in the middle of the night). If you aren't holding your phone in front of you when the short drop-down occurs and miss it, you have to search around apps for something new.
And no, live tiles are not the solution. They are only useful if the app you are using supports them and only if you have them pinned to your screen.

I agree but for the love of god DO NOT MAKE A PULL DOWN SHADE. With WP it needs to be a swipe over to the left side of start screen. They need to keep their individuality. As people use it it becomes more natural and intuitive. Which makes iOS and Android appear to be complicated and boring

Agreed. That would be so lazy of them to do that with so much real estate available in the design language. Swipe to the left and load up some javascript dropdowns.

I think they should implement notification as pull up as we have a bar at the bottom of the screen in every app of wp
Look at xbox app the slightly hidden bar that should show all the notifications an basic settings like wifi bt etc when we pull it up.. I think this is inline with the metro design language as well the only problem it might cause is when we scroll in the startscreen as it might be in the way of the scrolling

I like the idea, but most of the use will be at the start screen. So a pull up may not register well. Swipe to the left at start, long back button press to access multitasking and notif. Center

I never had this problem because most apps with toast require live tiles and u just scroll down and see that a live tile is updated learn to arrange ur homescreen and its way better than notification center... They should add the homebrew app which lets u put them on the screensaver that's way better than them all

I would LOVE a notification center! And along those lines, for the windows symbol to light up to show me if I missed a phone call or text message. Also, like others I really hope the home screen becomes more customizable. I really like how tiles have different colors and backgrounds in Windows 8.

The light up Windows met would be ridiculously sick. And I want the tilted Win8 logo on future devices (probably a given, but I'll rest easier when it's confirmed)

Re: Notifications. Yes there are changes (for the better) in Windows Phone 8. Not sure if MS will talk about it tomorrow.

I totally agree, I would love to see the UI change like W8..

So if wp8 is running the same kernel as a win rt table so will you need one engine (like unreal )for both?

I just a got a Titan and would be very upset if I can't update to wp8

Wwwoooooohhhh, tomorrow can be a bad or a good day for most of us

It will be a good day either way.

My bet is that it brings a little bit of both. So we have to keep a good perspective. MS is going in the right direction. But there are a couple landmarks on the way that need to be met.

To each it own of course, but with a such lovely, minimalistic UI like WP has today, I don't really get it why people want different colours and sizes for tiles. I won't be turning my mobile into a Christmas tree!

That is definitely a "to each their own issue" and therefore there should be more customization options. I'm sick of apps that make their tile the same colour as the theme. There is a lot of apps I don't pin because of not wanting any more bland-coloured tiles on my home screen. I want a funky, artzy, alive phone not a boring, conservative one--but to each their own.


Im just the opposite of you, I like the native look, very uniform on my home screen. I don't pin alot of apps because some of their live tiles look cheesy.

But again, it's better to have more choices than none. There could be at least the option to make it uniform or to be able to mix it up and more colorful.

It would be ridiculously absurd at the same time funny if Microsoft doesnt give any information on whether Windows Phone Mango will update to Apollo.

I bet they won't say anything about upgrades to current devices. At most they will let somehing out if it is related to development for WP8 apps (WinRT based as expected) and how it relates to current devices. However if they say WP8 apps will not work on current devices this pretty much clears out the upgrade question.

You bet? I just told you they're going to talk about it. End of story.

Your participation in the comments is priceless. Best reading I've had all day.

Really? I thought "Whether or not Microsoft talks about all of that tomorrow remains to be seen." applied to the main points as well. I am so curious what they have to say about the upgrades.

I think they'll introduce a set of new features, then say something Microsoftian such as, "...and we will be bringing all of these features to current devices running Windows Phone 7.5." In other words, it won't be Windows Phone 8's underpinnings, but some (or perhaps, most) of the software-driven features will be backported to the old codebase. Then they'll go on to talk about the new hardware specs, NFC, and whatever else they're bringing to new devices that obviously can't be added to current phones. Regardless, there will have to be some type of maintenance update for Windows Phone 7.5 after Tango to enable it to run at least some WP8 apps written in whatever mobile variant of WinRT they come up with. If they don't, the millions of $ Microsoft spent to convince ISVs to develop for WP7 will have been wasted because many won't keep investing in re-writing their apps once again, after Microsoft already made many do it going from Windows Mobile 6.x to WP7.

I hate being a pedant, but WinRT is not a kernel. It's an environment for sure, but it runs on top of the NT kernel. WinRT is not a kernel unto itself.

Daniel, I know this is probably me being a nitpicker, but could you guys include BST/CET and other times whenever you mention events that can be followed in other parts of the world? It's a small effort that would really help those of us living outside the US. Thanks!

Why do you guys think its not gonna have a UI upgrade? Just curious.

My guess is they've seen some of the stuff they've talked about and know they're not changing the UI. I hope at some point they will at least offer the Windows 8 layout/style as an option for the UI.

Yeah I was kinda hoping the same thing, oh well cant complain.

I want that in landscape. Portrait = WP, Landscape = Win8 design

All I know is since my upgrade is in November I'm looking forward to getting some sort of WP8 Nokia phone. Hopefully with a version of PureView in it.

Apple conference was a total failure and boring. Windows phone summit going be more better and love Skype be integrated better than the junk facetime on iPhone. Also I bet you better hardware inside wp maybe more internal storage now like 32gb to 64gb. And microsd also

For me I like win 7 UI still looks great no need upgrade UI. Just upgrade the internal storage and features.

I wonder if Apollo will enable landscape mode for the home screen. it's kind of annoying that the home screen stays in portrain mode on my Arrive when i have the physical keyboard out. Win 8 works in landscape mode. Don't know why WP8 can't as well.

Because phones aren't used in landscape unless it has a keyboard, game play, or video/pic

which my two sons have also! And I've typed text messages in landscape mode on, viewed pics in landscape mode on, and played games in landscape mode on! The point is that when making a phone call, you use the device in portrait mode, not landscape. Another problem would be if he was making a phone call with the phone sitting on a desk in landscape mode with it on speaker, wouldn't that be an awkward looking home screen due to limited tile viewing? if he had a rectanglular tile on his screen, it would almost take up the entire top/bottom row wherever it's located; But to each his own, if MS can provide it then I guess they should do it.

Can't wait for tomorrow. They better not disappoint me.

I would love to have better multitasking announced. I really want a webOS/Sense 4 flick upward to close open apps. And of course, better resume.

If more apps would implement the task-switching update added in the 7.1 SDK, that would be a complele non-issue.
Regarding closing apps, I doubt that will happen, personally. But if it did, I'd look for a swipe down gesture, per the way Windows 8 works.

So Dan, if I'm reading between the lines correctly, you basically know, although you can't state it yet, that Microsoft will go with the two prong approach: current phones, like the Lumia and Titan II get an update that makes their phone WP8-like, but it's not the real Windows Phone 8 OS, based on the W8 NT kernel.
I got that.
My question is then: how will Microsoft prompt app developers, to make apps for what is essentially two different platforms for Microsoft?
I think this is going to be a huge PR headache for them.
Basically all the new gee-whiz apps that developers will create for WP8, won't be compatible on current phones.
Don't they risk Osborne-ing current devices? Or as it's properly called now, the Elop Effect, for the similar blunder that effected Nokia's Symbian devices.

Since Microsoft has already confirmed Windows Phone 8 will run apps built for Windows Phone 7, they really don't need to do anything for app developers. They can keep on working on the existing dev tools and smoothly support the next OS when it becomes available. If Microsoft adds some mobile variant of WinRT to the dev tools, they will likely have to do some type of maintenance update to WP7 devices before support for the "mobile WinRT apps" goes live in the Marketplace. That is, unless of course, they can make it work like .NET and simply compile these new "mobile WinRT apps" into some type of CIL that is compatible with the current Silverlight/XNA-driven apps.

I wouldn't spend a dime on a new WP in the next three months.The first Gen and second will not have the full WP8 experience as stated in the article.

Try to have some fun while you're there Daniel. Based on what they just delivered with tablets, its gonna be awesome.

I hope we see at least more color options for the background or wallpaper support, gif support for lock screen & ability to replace a native app with a 3rd party app.

I wouldn't count on any GIF and/or wallpaper support. There is none for Windows 8 and doubtless won't be on WP8.

@Daniel: will they be showing any new hardware at the summit? I would also like to see a notification center as a few people have mentioned here. More background colors and the ability to use images for the background wouldn't hurt either. But the main thing is Apps!

don't get your hopes up too high, it's a long summer ;-)

They will talk about the RTL support and how to develop apps based on that only by adding one script line. I got pictures if you want!! yeah also they will show data panel utility.

I want news now! I'm desperate for WP8 news. Not patient. Lol.

Beautiful picture!
Man, I'm muchos excited for today! Bring on WP8!! This is one marvellous week for Microsoft!

Yup wp8 but please nothing is worst then delay so it should be out as soon as possible don't show us something we can't have for 4months :(

This is an event for developers - and since Microsoft usually gives developers a good notice for the new things, I suspect that WP8 won't be released until October at the earliest!

Does anyone think they will release Apollo this month to developers? Didnt they do this last year with Mango (release early)?

I would love it if notifications could be handled by the application they are meant for, even when they are not currently running.
This will allow for all they apps to show you the latest information instead of them having to fetch it over your internet connection when you open the app (think whatsapp, always taking time to show you the instant message you just got a toast notification for or think the people hub taking time to get the notifications from facebook even when it already knows there are 10 updates for you).
The OS not having this is great for battery life, but some limited version of running in the background (maybe only a limited number of seconds when a notification comes in, or only allowing some basic storage operations) will make the user experience of the device so much better, especially when you are in an area with weak coverage and slow internet speeds.

im itching for information the suspense is killing me man geez OUT WITH IT MICROSOFT
:)

I will move to Android or Iphone if the UI still looks the same and not like W8 Desktop pr similar, maybe like the one I saw that a fan made; it was perfect...

There is no such time as 12:00+ PM.

There is no such time as 12:00+ PM.

Well, I assume that Microsoft has been actively taking keen notice of their own wish list website for WP - http://windowsphone.uservoice.com/forums/101801-feature-suggestions. Here's some of mine:-
- Support for in-car entertainment systems (ICE) using USB. Why should the iphone/ipod be the ubiquitous standard that all car manufacturers work with by default?
- Manual IP configuration
- Support for more Bluetooth profiles like A2DP, contact and object sharing - the standard stuff.
- Separate volume levels for ringing and multimedia etc.
- Ability to completely turn off haptic feedback for the 3 hardware keys. Samsung eventually offered a 3rd party tool to do it but no such tool exists for HTC devices like mine. Why not bake it into the OS?
- Synchronise IE Favourites from desktop / cloud saving me having to re-type them all using the on-screen keyboard.
- 'Forward' button for IE.
- Better support for call divert e.g. not answered, no reply, not reachable. The only option currently is to forward all calls to another number regardless of the situation.
- Custom ringtones on alerts, messages and other notifications.
- Editable custom dictionary.
- Ability to toggle on/off connectivity services quickly *without* leaving the Start screen.