Windows Server and System Center Technical Previews also coming out today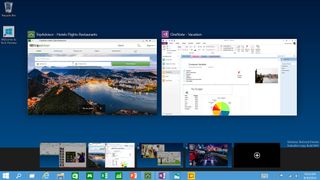 Along with the Windows 10 Technical Preview for Enterprise, Microsoft is planning to launch previews of its next versions of its Windows Server and System Center preview today as well.
While Microsoft has released preview versions of its Windows server products in the past, today's release is different because it will be available for anyone to download and check out, rather than being available to a limited number of customers. Microsoft stated:
Here's a quick look at what's new in the next versions of Windows Server and System Center:
Infrastructure upgrades: Rolling upgrades for Hyper-V clusters to the next version of Windows Server without downtime for your applications and workloads. This includes support for mixed versions as you transition your infrastructure.
Networking: New components for our software-defined networking stack that enable greater flexibility and control, including a network controller role to manage virtual and physical networks.
Storage: New synchronous storage replication that enhances availability for key applications and workloads plus storage Quality of Service to deliver minimum and maximum IOPS in environments with workloads with diverse storage requirements.
Remote Desktop: Enhanced application compatibility with OpenGL and OpenCL support.
Identity and Access Management: New scenarios to reduce the risk profile of administrators with elevated rights, including time-based access with fine-grained privileges, and new application publishing capabilties.
What do you think of Microsoft's decision to make this Windows Server preview available to anyone?
Source: Microsoft
Windows Central Newsletter
Get the best of Windows Central in your inbox, every day!
Waiting for the download links to go live....... :D

Every report on the announcement mentions Azure. I suspect the only way to preview the server products will be as Azure VMs. Just a guess.

It is an option, but you can do local installs as well.

ME WANT......... ME WANNNNNT 8D

What time is the regular preview uploaded? I wanted to download it before I go to school.

u hav to wait 2-3 hrs more

Refreshing http://preview.windows.com/ page from morning. What is the release time in India?

I'm pretty sure it's English-only, or a select few languages. You should check http://windows.microsoft.com/en-us/windows/preview-coming-soon

English is Fine for me. Waiting for links to go live. I wanted to know what is the release time.

it will be released around 10.00 pm ist

Do you know how to count time zones?

When does the preview go live? Looking forward to it Posted via Windows Phone Central App

I keep wondering... If this is one OS for all devices then shouldn't the 'technical preview' be coming out on the phones too?

No I mean if technical preview is coming out today then shouldn't it release on phones today too? cos then it wouldn't be " one OS, one platform".

Just like how universal apps work, the underlying code will be very similar, but they still need to code the different UI on top of it. It's not "one" OS as in one version runs on all devices, they just share alot of code so they can share features.

Thanks for rectifying me there and and actually answering the question, really needed it.

Just like everyone else, I'm eagerly waiting for the download links to go live. Can't wait!

Tom Warren says 9:00 AM PST.

That's 5 PM London, 6 PM Paris.

This just keeps getting better and better

Can we install technical preview of windows 10 on a virtual machine using vm ware

I would expect so although obviously would need the ISO for that.

Can I download the preview on a Windows 7 laptop ?

I guess it depends on the requirements (go to the official site)

Yes, it's a technical preview, so it just removes everything from your drive, as if you had done a clean install.

Sure, you can DOWNLOAD it even on a Mac or Chromebook. INSTALLING it is whole another story! ;-) Anyways, they might let you upgrade from Windows 7.

Refreshing the preview.Windows.com since 12:00 midnight

Don't starve to death or crap yo pants! o3o

Where can I find it at?????

I only experienced one bug, which had an easy fix in the Windows 8 Technical Preview, so I'll just delete my SSD and install it there :D Installing Windows is easu and quick, it's the additional updates and drivers that get your time.

Look forward for the WP 10

Win10 Mobile, more likely. They are scrapping the 'phone' moniker.

Can we install using vm ware on a virtual machine

Can you not double post the same question? If someone knows the answer they will reply to you, I assure you.

Unfortunately nobody can know unless its released, though it should be possible I believe :)

Unfortunately nobody can know unless its released, though it should be possible I believe :)

with windows 10 i can say its better than linux.

How would you know that since the tech preview is not even released for another ~4 hours? And I'm almost certain you are referring to Ubuntu or a branch of it... Because having a GUI is better than not having one, for typical end users. You should actually try the preview and refine your statement to contain something that makes sense...

windows 10 looks as stable as windows 8 is. from vista and 7. wgebi used windows 8 pc i pretty much loved the stability and looking at windows 10 its miles ahead than linux now.

Please do explain, how can an OS "look" stable?

I'd like to know this too.

The more people who get their hands on it, the better the product will be once it goes live.

I'm more excited about Sys Center Config Manager than I am about Windows 10 - thanks for the heads up!

I'm gonna try installing it on my IBM Thinkpad A31 from 2002! 8D

My faves: Networking and access management.