Windows Store gets a small UI refresh with new sub menu for settings
Microsoft's endless tweaking of its inbox apps is continuing as they head into the final weeks of development for the Fall Creators Update.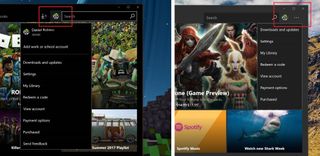 Tonight, the company is evidently refreshing the Store app with some unique changes – at least for our PCs on production builds (not so on Fast Ring). Version 11707.1000.80 is a jump from the previous 11706.1001.25.
Here are the changes we've noted so far:
Gray instead of black background
Downloads and updates, Settings, My Library, Redeem a code, etc. moved into new ellipsis submenu
Account icon now is only account-related, option to add work or school account
The shift is an interesting one as many users had complained before that there was too much information hidden under the Microsoft Account icon. Moreover, it was not clear that is where settings, downloads, and more would be found by novice users.
Ellipsis menus instead of the now deprecated hamburger style are a more modern and logical choice for the change.
The switch from black to gray for the background is another interesting shift. While many prefer the all-black look, it did blend too much for the game/movie trailers and other background elements into a seamless sea of darkness. With the new gray approach, there are now clearer border areas for navigation. Nonetheless, we're curious to see how people respond as is Microsoft.
Tonight's update follows an even smaller change over the weekend with "Check for updates" replaced by "Get updates" for the action button under "Downloads and updates" sub-section.
If you received the update, let us know in comments what you think of the changes.
Daniel Rubino is the Editor-in-chief of Windows Central, head reviewer, podcast co-host, and analyst. He has been here covering Microsoft since 2007 when this site was called WMExperts (and later Windows Phone Central). His interests include Windows, Microsoft Surface, laptops, next-gen computing, and for some reason, watches. Before all this tech stuff, he worked on a Ph.D. in linguistics and ran the projectors at movie theaters, which has done absolutely nothing for his career.
I still miss the old acrylic store that they released a while back

Yeah, maybe that will come back, maybe not. Guess they're trying out a few ideas, seeing how it impacts performance.

For me actually the acrylic themed store had better visual performance.

What's visual performance?

Like there was no glitch or stuttering, the animations were smoother, faster and soothing when navigating compared to earlier non-acrylic store. I still have to test the current version few more times though.
Mail & Calender app still stutters when opened.

I missed that when they tested that. Though if that's the case, maybe to some is causing issues. That is still a little weird to have stuttering issues when alpha-blending blur is just normal from Vista to 7, and almost any PCs were fine with it even low-end ones. I think it has to do with their new rendering of these new effects that might not as optimised as what they used on Vista-7. Though it is understandable at least since the blur intensity is higher than before. On W10M though, these new effects do cause some stuttering, especially on Maps app. Though for some reason, myTube that already using blur effects were smooth.

Why can't we buy Xbox games from the store on mobile? Why is buy disabled? When are they going to address this. Makes Xbox app useless.

It's been that way forever just now the Xbox app opens up the store unlike a few months ago it was inside the app itself. I'd like the store team to fix this or they just bring the buying through the app back.

Exactly! I wish Daniel would escalate this for us. It bothers me a lot.

This won't be coming to the feature 2 branch.

The update is rolling out to insiders on release preview branch for mobile too.

Interesting, the Store app just got updated on my laptop (I looked at the Downloads and Updates page) but I don't see this change.

If your on anniversary 14393 or production ring 15063 you will not see it yet.

Yeah, I'm on 15063. Thanks for the info.

Looks a lot better. Less wasted space.

Store isn't working on Windows Phone 10 (15063.483). Since last update SD Card installed applications didn't update anymore.
Feedback Hub has hundreds of complains with ERROR CODE 0x08007000B without a fix from Microsoft side.

Try resetting the app from settings.

Can't reset inbox apps on mobile.

Feedback Hub can be surely reset and even uninstalled. Same for a few other inbox apps. Please check it out.

Show me how to reset apps like Alarm & Clock, Calculator, Groove, Camera, Maps, Store (and a couple others) on mobile. You can reset them on desktop but not MOBILE. Please check it out.

For Mobile ---
Alarm - No
Calc - No
Groove - No
Camera - No
Maps - No
Store - No
News - YES
OneDrive - YES (From within the app only)
Photos - No
Skype - YES
OneNote - No
Weather - No
Xbox - No . I'm not sure why this is the case, but yeah, it's annoying if your app gets stuck in a bad state. But note, this isn't perfect on the desktop version also. I had installed Flux store version) and it stopped working a week into use. Resetting it didn't help and what's more, even the Win32 app from the web didn't work after this issue. Now, both of them don't work. Build 16241.

What worked for me one time is changing my scaling from 350% to 300%. Applying it. Restarting. Then checking for updates. It will re download all the core apps.

Yeah! That's a trick many people don't know about. But it's unlikely it'll solve some really core issues. I found this out when changed the DPI in a L650 and 950XL to something much more comfortable. The default setting is just too large.

Move the apps you're trying to update to internal storage. Then you can update them and then move them back to SD card. there working on a fix in the next build.

I thought it was just me. I had to move to device until next update of course, when I have to move them to have room for update.

Change the default installation location to Device if it's SD Card now. This helped me :-)

Slight sliding animation on page title bar when resizing window.

Hamburger Menu is deprecated?

Yup, being removed from all the apps, slowly.

They just added them!!! I complained non-stop about them because they look dumb

Darn. As an android user, I love Hamburger menus. However, they way they were implemented on Windows wasn't amazing. On android you can always drag from the left of the screen. I believe that's by default. Windows had it be a button by default, with no swipe action. So if they're intent on it remaining a button, it's best for them to get rid of it. Still, I do enjoy hamburger menus on mobile devices, swipe to expand would make using my 950XL just as nice as my android.

Yeah, Hamburger menus aren't that bad at all, it's just that on WIndows, the implementation of Hamburger menu is all inconsistent, no standard at all. Well, there is a default one, which is just a plain menu without a gesture to open. On Android, Hamburger menus are well thought-out, you get the slide gesture to open from the left edge, and the density, contents and layout are ways better than on Windows. Only handful of apps that have swipe gestures on Hamburger menus on Windows, but they are all inconsistent since they are all implemented manually by developers, so behaviours vary which makes the overall UX a mess. Groove Music and Movies & TV are the only Microsoft apps I know that have swipe gesture, and it's not good either. It's stuttery, slow to open, and awfully animated. Their apps on Android that have Hamburger menu are way more enjoyable to use, but that's because the Android SDK did a great job on Hamburger menu system. I don't know when and even why Microsoft hasn't fixed this. I was hoping that with Fluent Design System they will fix the UX mess they introduced with MDL2 on Windows 10. Apparently, so far Fluent Design is just a fancy facelift that actually brings more inconsistencies while they are slowly applying it to their apps. It's been years already since we got Windows 10, and it's always work-in-progress, not because of its natural evolution, but it's because it's simply unfinished. They have talented UX designers and visual designers in Microsoft, but unfortunately, their works rarely get beyond concepts and to reality. When they do release a well-designed system, it's only to a certain app or certain areas of the OS.

Comparing Windows 8 design language to Windows 10 design language is like comparing Microsoft of the past to Microsoft of today. The first one was clean, predictable, consistent, with the purpose of exposing the essence of the app and not everybody liked it. The latter is one huge mess, changing constantly, every app looks different, you never know where the settings are, one app will have hamburger menu, another three dots in the lower right corner, yet another in the upper right corner and in yet another you need to click in the upper left side of the title bar. But most Windows 10 apps are hybrids, a little bit here, a little bit there. And it always looks unfinished (mostly because it is). Oh, and yes, not everybody likes that either. Today Microsoft is exactly the same. They do something here, they do something there, they change their minds and stop doing this or that, nothing is ever finished. Most stuff makes you feel like you're their free beta tester. Their strategy is unbelievably inconsistent. One could argue that apart from cloud they don't have any strategy whatsoever and everything they do about Windows 10 or Windows Mobile or anything consumer-related is completely chaotic. Even Surface devices were supposed to present something new in their categories but now they just release pieces that might be nice but are everything but market-defining.

The current state of Microsoft is a direct result of its users who literally can't be satisfied with anything.

Yes, of course. Other companies are lucky enough to have customers that are magically satisfied but poor Microsoft is burdened with those bad, never happy users... Shame on us!

I must honestly say I never even accessed the store on my pc, I only use the store on mobile. And looking at the people around me most windows pc users don't even realize there is an app store for their pc, they use their chrome browser for almost everything.

I do not know why you was down voted, oh I do, people do not like anything bad said about Windows Microsoft. i would upvote you, but for some reason it is not working here. Anyway you are right, a lot of people do not know there is a store on their PC, the few people i know that uses windows 10, I only two of them knew about the store before i told the others about it.l but as far as i know very few even use it now. The ones I showed had a look in there when i told them about it and that is about it. i have had a look a couple of times just to be nosy, I even installed one app just to have a look, VLC, but it is not that good.

I upvoted you! And myself!

I think those grey areas will be replaced with acrylic.

That new search bar is also looks nicer than what we used before. Not as bland as simple plain bordered text box, this new one gives just right contrast and looks bit more polished. It's like the Cortana search bar. The only missing thing, where is the highlight when you clicked that ellipsis button? I don't know why UWP UI conventions are just all-over-the-place still. By standard, it should highlight indicating that it is clicked and active. The lack of proper UI communication to user contributes to poor UX and even aesthetically poor at the same time. Also like other said, it needs Acrylic material to make it at least consistent to Fluent Design, which they should've been pushing non-stop. There seem no Light Reveal effects either. Seriously, consistency for once?

Remember when they changed everything into hamburger menus? Now that's deprecated?

Isn't the shooting out of the hamburger menu from the left new too? I sort of like that, I prefer it to dropping from the top.

I didn't have option to buy Xbox games on PC Store App, on previous version, i have this option, but in new version removed.

Separating them was a good idea, but it should be to the left of the search bar, why move it?

Easier for users to target.

Wait... hamburgers are deprecated now??? and moving to ellipsis????? This is what we had with WP7 and pivot menus (we were modern before it was modern). MAKE UP YOUR FREAKING MINDS!!!

yet to receive the store update
Windows Central Newsletter
Thank you for signing up to Windows Central. You will receive a verification email shortly.
There was a problem. Please refresh the page and try again.