Windows tablets reach $65 price point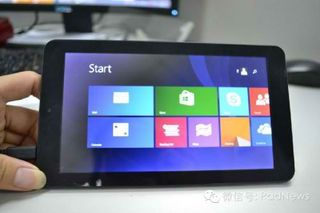 At a trade show in Hong Kong, we're seeing Windows tablet prices push into the $65 range, competing with some of the entry-level Android slates. Both slates, one from Emdoor and the other from Ployer, feature Intel's quad-core Bay Trail processors though not a lot of other information is available.
With the Emdoor EM-I8170 tablet, you'll get a 7-inch Windows slate with a 1024 X 600-pixel display, 1 GB RAM, and 16 GB of internal storage along with a quad-core Intel Bay Trail processor. An image of the tablet shows that the display has more limited viewing angles though the internal specs do sound decent considering the price point.
The second tablet, made by Ployer, will come with an 8-inch screen with unknown resolution at the same $65 price.
We still don't know when these tablets will be released and if they would be coming to the U.S. market at this time. Is this something you would like to buy as either a cheap Windows machine or a first tablet to play around with?
Source: Liliputing
Get the Windows Central Newsletter
All the latest news, reviews, and guides for Windows and Xbox diehards.
Chuong's passion for gadgets began with the humble PDA. Since then, he has covered a range of consumer and enterprise devices, raning from smartphones to tablets, laptops to desktops and everything in between for publications like Pocketnow, Digital Trends, Wareable, Paste Magazine, and TechRadar in the past before joining the awesome team at Windows Central. Based in the San Francisco Bay Area, when not working, he likes exploring the diverse and eclectic food scene, taking short jaunts to wine country, soaking in the sun along California's coast, consuming news, and finding new hiking trails.
I'm all for affordable equipment but I would imagine the end user experience is not all that great on these. Especially with the ability to run legacy programs

It's probably be better than an android tablet. Im sure that's how MS see's it.

Considering how my Encore had to be refreshed, Photo and One Drive app crashing and serious lag, connection issues and even today doing a reboot on its own, he's pretty much on point. I had less issues with my Nexus and the only x86 i run on here is Norton and Chrome. Apps crash FB sucks, lag issues, and auto rotate both on my Encore and 2520 both goes wonkers to where I have to reboot to get working again. Cant say I been having a stellar experience with. lower end W8.1 tablets. With that said I still prefer Win for Tablets over Android.

Norton is your prob on the Encore, that software slows down any PC.

The issue with the lag was there even with Norton taken off. I used to think this thing ran great on 1GB Ram but over time processes and 8.1 just bogged this thing down. When I did a refresh last night it cleared all the system updates and this thing was lightning fast like when I first bought it. After reinstalling all the 50+ updates the lag came back the connect issues came back but at least One Drive and Photo worked again. It has nothing to do with Norton as I had it uninstalled just to see how it ran after the reupdates. 8.1 really needs 2GB to run efficiently. So yes end users will get what they pay for as I am dealing with that too. Just hope it don't leave a bad taste in an already hated version of Windows.

Seems simple but did you do a Disk Cleanup including Windows Updates after your reset and updating?

Of course. 1GB Ram may be great for WP but that's about it

That's just bs. Sorry for the language, but I've been using Norton since 2003, and I've never faced lagging issues on my pc specifically due to Norton. That's just an old wives tale.

Sorry, but as an IT professional for the last 10 years that manages well over 150 computers, 15 servers, and a few dozen smartphoens over my boss's four different companies, as well as doing lots and lots of side work repairing peoples' computers, I can confirm that anything by Norton is a huge resource hog. In addition, it is obtrusive and nagging to the end user. Overall, poorly written software. This is why IT pros have abandoned it in droves over the last 6-7 years. McAfee is right behind Norton in the crappy AV race. You'll also notice that those two are the most commonly "pre-installed" AV solutions on new PCs, and it's because they are low quality, barely deserving any merit above all the other freebie bloatware that comes on most new computers. They just want to hook people with an easy preinstalled solution. The really good solutions don't have to whore themselves out. They get their business because people seek them out intentionally.
If you want a good AV that has a small footprint and won't bog down your devices as much, go for ESET NOD32 or Kaspersky. Viper also has great pro reviews, though I haven't used it myself.

That's so strange...had the same issue with my 2520 earlier today! Nothing sorted it except a reboot!

I'm surprised about the 2520, to be honest. It's specs are darn good (the same as my 1520).

The 2520 runs fone. its the auto rotate issue that bugs the hell outta me. Plus it run 2GB of RAM compared to 1GB on the Encore 2

Is this a Windows 8.1 RT device or full Windows 8.1

Full... Intel processors.

Im sure he is referring to the 2520

Performance should be the same. RAM and storage would lower performance, but other than that it's mostly the screen and the b uild quality. You get what you pay for, but it could be decent.

I thought the same thing but if you think about it I don't think anyone will use it to run legacy programs, these 7-8 inch tablets are for basic things email, reading, YouTube, on the patio, hammock or toilet.

This is one of the reasons, I opted for the windows rt devises

I thought baytrail ran windows pretty well though

Well, rest assured, the user experience will be much worse when Windows 10 is out. Enjoy these devices while they last.

Why? What's the basis of your assurance?

Probably the current experience of Windows 10 on touch devices, which is bad. But Microsoft have outwardly said that Windows 10 Preview is not yet ready for touch devices because Continuum is not present.

Windows 10 is presently a technical preview, so refrain from negative speculation. Rest assured, I know that you don't know what you're talking about.

Why would you want to run legacy programs on such a device, save a few utilities?

My encore runs virtual dj pro quite well with numark dj controllers and behringer usb sound card. Spread your usage cases into separate devices and all will be good.

In that case I would need five of these. That would be cool for my little studio..

Windows 8.1 apps runs at 1024 X 600 ?

Not on my netbook at least...

There is a way to run these apps on netbooks just Bing it ;)

To be a researcher when you are using Windows sometimes it's annoying

No. There is a way to display hack so it acts like 768 height and shows modern apps, but it looks really bad and won't make any converts. Bad idea.

I understand MS is trying to flood the market like Goog did with Android but I really hope they can keep their quality control intact. Full Windows OS is still too large for a 16 GB tablet. I've got a Dell VP8 with 32 GB, I store NOTHING on it (all on my OneDrive or NAS) and I still see it fill up from time to time.

This is my concern. I think MS had a bad name because of companies released AWFUL computers with Windows on them. I have the 64GB DV8P and I had a 32GB Asus T100. I got rid of the T100 because it had no storage. I can't imagine what 16GB tablets would be good for. That being said, there are tons of awful Android tablets at this price point. I hope no one really expects fabulous devices for this $65. I am interested to see what these things will actually do.

I kind of feel MS would be better off if they allowed a version of Windows Phone on these tablets. I know that next year this may be a moot point, I am assuming the new unified Win10 will come in a flavor that is very stripped down for phones and pure tablets, but they got to ship stuff now to fight off Android, and I really think they would be better off making it WinPhone 8.1. Or nothing, actually. Users that buy one of these and find themselves having an awful experience are going to be very likely to just ignore Win Tablets for years to come.

16 GB is good enough for Win 8.1. It has a new feature to boot off a compressed image file, here is a good article on this: http://www.zdnet.com/microsoft-fights-android-and-chrome-os-with-dirt-ch...

Problem is when you start updating tenths of updates after the first delivery. The image isn't updated, thus all the delta comes in your dedicated storage and month after month the benefit of the compressed image booting will fade.. Hope they'll put something in place to regenerate the image at some point (like at every Service Pack or something like that). Until then, to keep your space free, it's better (yet unsafe!) to not update your OS, and that's crazy.

I have the Dell Venue Pro 8 64GB and when I updated it to 8.1 and then fresh install restore it, I got more space available somehow. I think Microsoft figured out how to have a smaller OS footprint than before.

Qc isn't their only problem. The possibility of their builders who use amd crying fowl about market share now that theirs a good amount of intel w8.1 tablets coming down the pipeline for dirt cheap

well, baytrail atoms, so not too bad, but a single GB of ram and tiny storage hurts. the one thing the smaller windows tablets need to give users is upgradable storage. let storage actually use microsd or pci-e like some ultrabooks for primary storage

Seems chipper!
I think it will be laggy with this hardware (1 GB RAM!)

if 512 mb seems enough for windows phone then. 1 gb is a good thing.

Only thing is this isn't Windows Phone

I would really like a 7" tablet running windows phone OS. Posted via the Windows Phone Central App for Android

2 GB is enough for windows but 4 GB is better.

1gb ram good for windows phone users who whine for 1gb ram games

Can Windows run on 1GB and 16GB storage?

Yes, with Win8.1, a new feature called WIMBoot which allows the system to boot directly from compressed image file. See this well written article by Ed Bott: http://www.zdnet.com/microsoft-fights-android-and-chrome-os-with-dirt-ch...

That's awesome :D Might need to grab one of those 64GB netbooks then, if there's 57GB of space O:!

Windows 8.1 *
FIFY ;)
Windows was once running on 192 kb of ram (at least that's what Wiki says)

Indeed it can. Microsoft has made huge strides in shrinking the hardware footprint required with Windows 8. One gigabyte is plenty for doing typical stuff like surfing the web, and working with Office applications. Also don't count on the camera(s) being up-to-par either.

The internet of things is working! I need more! Put it in my toaster oven, or better yet my TV. My TV, PC, phone, Xbox One all in synch sounds good.

I thought baytrail ran windows pretty well though

No, for all tasks. Except intense games (although I had DOTA running on an Envy) For all non gaming tasks, like apps, Office, suring etc it was awesome :)


This is good for kids and people wanting to test a Windows or cheap can't afford anything more but hard users nah. Posted via Windows Phone Central App

Hard users use tablets? (exception: Surface Pro like devices)

Sure they do. Often as a second screen, but not always. I'd use a tablet over a laptop or PC any day provided it could still do what I needed.

Does anyone know if these tablets have microSD slots?

I'm going to wallpaper my house with them if they get much cheaper.

Meh. I'm down for it. But if the screen sucks then it'll defeat the purpose because I enjoy reading the MSN apps. So a balance of cheapness and screen quality is what I'm looking for...what about Windows 10 upgradeability for tablets in general?

This is perfect if you need a disposable tablet.

I would buy it for my son.... But i want me to release the ability to install store apps to a portable drive... Say SDXC 64GB-128GB now. 16GB with 10 as the OS leaves little room for programs from the store. Requiring all x86 only programs.

Btw he is 3 and we have a new baby so a $65 tablet they break would be a meh... It's broken.

This is first world problems right?

I would hate this little machine.

I would love to see this in the us this would boost growth like crazy as long as they perform at least ok its more then enough better then a chrome book good for Xbox game and apps streaming Microsoft word they would sell them every where! Dell and hp could learn a lot from Lenovo and these companies sadly which I could never buy a consumer product from hp or dell due to quality assurance its either Lenovo or no laptop.....

I thought 1024 X 600 was below the system requirements for Windows Store apps... or did something change? On my old UMPC that I tried 8.1 on, that has that resolution, it'll give you an error if you try running Modern app.

Wow their really competing with android with budget tablets

A tablet that cost $65 has 1GB RAM but the latest budget phone cant? Come on that must have been a Nokia decision.

I have a Samsung Ativ Tab 3 and it's utter crap. It just sits there now as a £500 Digital photo frame. And that has 2GB Ram. The screens pretty nice but it's painfully slow at doing anything and pretty much crashes anytime I use it. These budget tablets are definitely something to avoid until Windows 10 IMHO.

Mom tablet. Something to fiddle around for facebook and reading

Could you even run Metro apps on a screen with that resolution???

The problem I see, is that the hardware must be really low end, to the point the device is in fact uncomfortable ot use. Low battery life, limited view angles for the screen, slow RAM, cheap speakers, and the feeling of a unreliable construction. As a lot of people has stated, maybe is good for a small kid. But not for someone who wants a decent tablet. Time will tell if we're wrong

The only problem with this is the screen!

I'd totally get one. That's less than the $80 I paid for my 520 when I wanted to test out WP. In this case, I'd love to have it as a bigger device for reading, email and whatnot. I just hope they come to the U.S. and have decent batteries.

Keep going lower we are almost there, just go as low or lower than $49 than windows could beat these android bastards

I think I just found the door prizes for the company Christmas party.

Ah, hitting a new low I see ;)

I'd take cheap Windows over cheap Android any day! Now, if Microsoft would finally allow installation of Modern apps to an SD Card we would have an instant winner for Windows tablets! Come on Microsoft! Release the Kraken!!!

Absolutely. 16gig Win tabs are useless until they can compete with WP devices. Even my 32gig tablet has less app storage space than my phone, and that has a 64gig card in it. If only it could use it. I'll never understand why MS want to discourage me from buying more apps from their store. Odd marketing technique.

well, 1024x600 won't even run store apps, so you don't have to worry about installing them or not on a SD card.

I was JUST talking about getting a cheap e-reader for my kids. This would fall into that category easily

If they have microHDMI and Bluetooth you can connect it to a monitor and use a BT keyboard mouse so you don't have to look at that ugly screen :)

1gb of ram does seem small could you use rapid boost to help it out? If so I gb pf ram may not be an issue and 16 gb of memory hopefully Ms will release data sense for windows 8.1 and that would solve that issue too.

I would assume you can use Rapid Boost as it's full Windows.

Resolution doesn't sound right.
Isn't 1024 x 780 the minimum required to run Metro apps?
You can work your way around that by enabling downscaling. But that wouldnt be the kind of standard solution to be expected in a new device.

I expect it'll run Win8.1 so no such limitation. I can't see them releasing a Win8 only tab. It would be a bit odd.

I would totally buy one of these to use during my down time at work. For $65 I wouldn't have to worry about breaking it.

If is Miracast compatible this is all what I need! I do not care about games and storage!

I'd would definitely get one to run my cnc router, don't need much power for that

If it had 32gig storage then great, even if they added another tenner. 16 is pointless though. No point in getting the tablet if there's no room for apps. Now, if it had an SD slot and allowed apps to be placed on the card... but no, WP is a better option on such devices purely for that one function. Otherwise, pointless.

I don't really see the appeal of a sub $100 tablet running Windows pro. The RT experience would be much better. Just because something can be accomplished, doesn't mean it should be accomplished.

Tempting, but I'll wait for Windows 10, I'm not in a hurry

Do you think it will support Miracast

This looks horrible, but not bad for something under 100 dollars. Posted via the Windows Phone Central App for Android

So cheap price. If it continues bye bye android tab.

These entry level (or even the midrange with 32gb storage) tablets are useless unless MS allows us to install modern apps into an SD card.

I'd buy one of these to play SCUMVMM games on it

All for budget tablets, kind of price point I'd buy at for my under 6's to play on. Always feel a little jumpy when I give them my surface to play their maths game or whatever on, so something at this price point would be awesome, and a lot cheaper than the kid focus tablets from vtech etc and more friendly than an android one, plus it'll sync nicely with the rest of the families ecosystem.

What did you guys want from a 65$ tablet? If you want performance, go with Surface Pro 3.