Track your exercise routines with WinGym for Windows Phone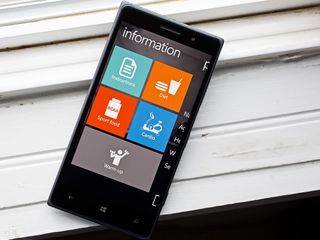 Whether you are trying to keep a New Year's Resolution or already a gym rat, there are plenty of fitness apps in the Windows Phone Store to help you manage, track and set up your gym routines.
The Windows Phone app has over 130 exercises with guides on how to perform them correctly and the ability to add your own custom exercises. You can create and monitor your exercise routines and receive notifications to help remind you when it's time to hit the gym. WinGym also can be structured for male and female exercises.
In briefly exploring WinGym, it comes across as one of the more basic Windows Phone fitness apps but not too short of features.
WinGym's exercise routines are gym oriented weight lifting exercises. While some of these exercises will leave you winded, you won't find any cardio exercises or run tracking options with WinGym. The app is billed to help you lose weight and build muscles.
The main pages for WinGym cover a lot of ground and include:
Profile Page: Here is where you set up your age, height, weight, sex and find access to the app's settings. Settings cover resetting the exercises stats, reset your body parameters, accessing the help screen and view the about screen.
Routines Page: WinGym has the ability to create custom exercise routines based on the individual exercises in the app's database. Here you can set a reminder and time your exercise.
Exercise Page: Here is where you can tap into WinGym's exercise database. Exercises are sorted by muscle group and can be searched by keyword. Each exercise will have a tutorial or detailed description on how to perform the exercise correctly.
Statistics Page: As you perform your exercises, your performance will be charted on the Statistics Page. Additionally, you can enter your body parameters and track how they are effected by your exercise regiment.
Information Page: While WinGym's focus is on gym workouts, the app has a nice collection of generic health and fitness information. The topics covered include diet, sports food, cardio workouts, warm up routines and general instructions of getting fit.
Setting up a routine allows you create a custom name for the routine (upper body, arms, Monday's workout, etc.) and once created you can add any of the 130 exercises to the routine. When you are ready to begin the exercises, just hit the timer button and WinGym will record how long you exercise. Reps, weight amount and other details are not recorded but you can view a graph of your exercise times on the Statistics Page.
Weight loss and body parameter changes are done manually by editing your original entry and there is no log to track these changes. However, you can view a chart of the changes on the Statistics Page of the app. Just tap the heading of the Body Parameter Graph to change which measurement you want to view.
Overall Impression
WinGym is a nice Windows Phone fitness app and falls into the more basic category of this genre of apps. I do like having the ability to create routines and create reminders to help keep you on track. The database of exercises is respectable and the descriptions/how-to pages help in making sure you perform the exercise correctly.
If I had to pick WinGym's greatest weakness it would be with the exercise tracking features. I do like the graphing of your activities but you need to at least have the ability to note how much weight was used with an exercise and the reps performed. I also wouldn't mind seeing the ability to enter weight and body parameter changes other than editing your original entry.
All in all, WinGym is a good app for someone looking to manage their gym exercise routines and keep a watchful eye on any body changes that results. The Information Page is a nice touch to offer some broad coverage on fitness issues that fall beyond pumping iron.
WinGym is a Windows Phone fitness app worth trying but just as exercise routines are not "one size fits all", the same can be said of workout apps. If you give WinGym a try, let us know what you think of the Windows Phone fitness apps in the comments below.
Windows Central Newsletter
Get the best of Windows Central in in your inbox, every day!
George is the Reviews Editor at Windows Central, concentrating on Windows 10 PC and Mobile apps. He's been a supporter of the platform since the days of Windows CE and uses his current Windows 10 Mobile phone daily to keep up with life and enjoy a game during down time.
Does the trial version have all the functions?

Yes, it has. Only fewer exercises, but all functions. :)

The more the better. I've been using deekfit gym lately as it's the best for my crossfit needs. It's tagging system seems the best way to try these types of workouts. this one sounds a bit too simplistic but good to keep any an eye on I guess!

I find GymACE to be the best program. Especially for people who already lift and need to create custom workouts. I've gone through them all on android and windows so it's definitely that good. Of course we all have different needs. You guys should review GymACE see how you like it.

Yeah. Still using GymACE here, will try this one out though.

I've been using Fitlife620 for years since my wp7 days. Not sure if its downloadable anymore if you haven't previously used it. I'm always looking for a new and actively developed app but the one in this article is missing too many features. No rep or weight info? Cant believe that

I think this is little mistake or our interface is too dumb. Actually, if you click on exercise inside the routines page, you can enter sets and reps and weight. :( So you can track your exercises.

Isn't it called an elliptical machine that the third image is referring to: I'm guessing English isn't their first language. ---- Edit - Apparently the image wont show in post, just in the editor. The image is here: http://www.windowscentral.com/sites/wpcentral.com/files/styles/xlarge/pu...

They also refer to decline bench press as "lie down bench press". I just can't use that when there are other options out there.

Thank you for feedback. We will fix that. Yes, we are russians, English not our native language, but we are fixing errors. :)

I think this is little mistake or our interface is too dumb. Actually, if you click on exercise inside the routines page, you can enter sets and reps and weight. :(

We also have Lite version. http://www.windowsphone.com/s?appid=87c2b243-cb00-49b3-87e1-7a2095a78a81 It has fewer features and exercises, but it is free.

New version. 1.9.7.0. We have added export to text files, one step to the OneDrive integration.

Friends, we have a little Android app based on WinGym - https://play.google.com/store/apps/details?id=com.cloverrepublic.wingyme...
Windows Central Newsletter
Thank you for signing up to Windows Central. You will receive a verification email shortly.
There was a problem. Please refresh the page and try again.