WinMo Watch: NerdSplosion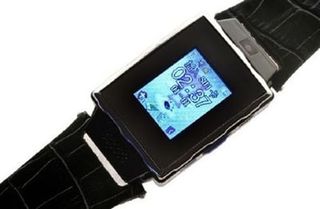 Take a gander at what CrunchGear has dug up: A Windows Mobile-based watch with specs that are actually halfway decent:
Network: GSM 850/900/1800/1900MHZ
CPU: AM403 DGT ARM926 @ 266MHZ CPU+533MHZ
1.45 inch Touchscreen
1.3 MP Camera
Support T-flash memory expansion up to 1GB ( includes free 512MB Card)
Bluetooth (headset necessary for calls) and Wifi(!)
WiFi, seriously? The little guy is set to go on sale on April 25th for $629, though the fact that it was originally slated to be released today and the fact that a device only 10 days out still has "tentative specifications" is keeping us from plunking down our hard-earned cash. Also, that touchscreen might be a little small to be composing emails on via WinMo's built-in handwriting recognition, dontcha think?
On the other hand (er, on the other wrist), compared to other nerdwatches I've owned, this fares pretty well. I place it above the calculator watch but below the one that broke out and transformed into a robot. You know the one, stop pretending you didn't wear it then and don't miss it now.
Windows Central Newsletter
Get the best of Windows Central in your inbox, every day!