Everything you need to know about wireless VR
Taking VR into a world without cables.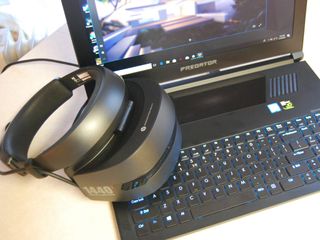 The major PC-based VR systems, like Windows Mixed Reality (WMR), HTC Vive, and Oculus Rift, all come with a cable that connects to your rig. It's necessary for transferring data back and forth, but it also often gets in the way, tangling or wrapping itself around your feet. The solution? Remove the tether and start enjoying VR wirelessly.
Let's get you up to speed with what's been going on recently in the world of cable-free VR.
See WMR at Microsoft Store (opens in new tab)
What is wireless VR?
One of the biggest restrictions with the current generation of VR headsets is the cable. It acts as a physical tether to your PC, and if you want to enjoy a room-scale experience, it will get in the way at some point.
There are all kinds of temporary solutions that can elevate the cable or keep it from tangling, and there are also mobile computing solutions that essentially boil down to wearing a backpack with a PC inside.
True wireless VR is a complete removal of the long cable connected to your headset. You will still need a PC to run the software, but data is transferred wirelessly back and forth between the two pieces of hardware.
There are indeed VR systems that can already run out-of-the-box without the help of a PC or any cables. I'm talking mobile VR, and though it isn't quite up to snuff with the PC-based stuff, it can still deliver a satisfying wireless experience.
What about mobile VR?
Mobile VR, including Gear VR and Daydream View, offer wireless VR experiences that run off of a compatible phone. Don't get me wrong; this type of VR is very enjoyable, but it's just not quite the same as a Rift, Vive, or WMR. The display isn't as clear, you don't have two motion controllers, and you don't have a gaming PC for horsepower. You likewise don't get the same six-degrees-of-freedom (6DoF) tracking, which removes the ability to have a true roomscale experience.
A step up from the phone-based VR systems are Oculus Go and Lenovo Mirage Solo. Both of these headsets offer the same mobility, though they don't need a phone inside to work. They have their own hardware, including display and processor (CPU), and they don't have any cables.
Again, these headsets aren't quite the same as the PC-based systems. You're still not getting true roomscale functionality — Oculus Go uses 3DoF movement while the Mirage Solo has 6DoF but keeps you in a small virtual box — and the controllers are set at 3DoF. If you want premium VR, you need to check out the PC-based options. But what about using them wirelessly?
How to get started with wireless VR
Wireless VR has come a long way in the last few months. TPCast has accessories on the market that will turn your HTC Vive or Oculus Rift into a wireless setup, and there's expected to be a similar solution for WMR coming sometime soon.
A router connects to your PC, a wireless receiver connects to the top of your headset, and data is transmitted wirelessly. It makes your headset a bit heavier and bulkier, but, I mean, it's wireless! Expect to pay about $280 (opens in new tab) for the Vive version and about $320 for the Rift version.
There's plenty more expected from the world of wireless VR in the future, but if you're interested in getting started today with current-gen headsets, be sure to check out our roundup of the best wireless VR accessories.
Here are all the wireless VR accessories worth picking up
What does the future hold for wireless VR?
Hardware manufacturers understand that wireless VR is the only way to go, and there are quite a few new options that are still in the works. The HTC Vive Pro was announced alongside an HTC Vive wireless adapter based on Intel's WiGig technology, but there's still no concrete release date.
Speaking of Intel WiGig, it's a wireless tech that utilizes a 60GHz band to deliver data. That's some serious bandwidth, offering speeds up to 7Gbps. Other upcoming products, like the DisplayLink XR, build on WiGig to offer up a product that could be potentially suitable for the next few generations of VR headsets. TPCast is also working on an updated version, but it's not expected to be released until the second half of 2018.
As for standalone PC-based VR headsets that operate wirelessly right out of the box, there's still Oculus Project Santa Cruz to look forward to. It was first revealed in 2016, and while it's still being developed, it should be positioned as a higher-end Oculus Go.
Related VR resources
Windows Central Newsletter
Get the best of Windows Central in in your inbox, every day!
Senior Editor, Laptop Reviews
Cale Hunt is formerly a Senior Editor at Windows Central. He focuses mainly on laptop reviews, news, and accessory coverage. He's been reviewing laptops and accessories full-time since 2016, with hundreds of reviews published for Windows Central. He is an avid PC gamer and multi-platform user, and spends most of his time either tinkering with or writing about tech.
Thought for sure this was the e3 reveal. However I do expect no Xbox vr until something like this is high fidelity for 400
Windows Central Newsletter
Thank you for signing up to Windows Central. You will receive a verification email shortly.
There was a problem. Please refresh the page and try again.