WMW? XYY, the latest Where's My Water? installment for Windows Phone 8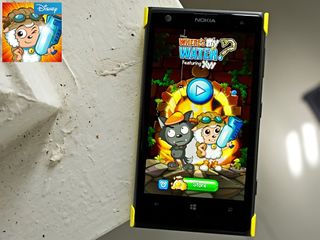 WMW? XYY is the latest installment to the Where's My Water? series of Windows Phone games from Disney Mobile. It features the Chinese TV cartoon character XYY who is on a medieval adventure through China. Game play has you solving puzzles to help XYY find his way through an underground city and save his friends.
The game also features the Big Bad Wolf, who has his own series of puzzles to solve. Where previous installments of the Where's My Water series involved physic based puzzles featuring water mechanics, WMW? XYY adds oil and fire mechanics to the mix. While WMW? XYY is an appealing gaming title with nice graphics and mildly challenging puzzles, the game may come across as too easy for some.
WMW? XYY Layout
The game layout for WMW? XYY isn't much different from the other Where's My Water? games. The opening screen has options to start the game, access WMW? XYY's settings and visit the game's store for in-app purchases for coins that can be used to buy power-ups during game play. Settings cover sound effects/music levels and language selection.
WMW? XYY has two gaming options. You can help XYY navigate his way through underground tunnels or help the Big Bad Wolf capture the sheep. WMW? XYY has over eighty levels of physic-based puzzles between the two gaming options.
Game Play
Game play calls on you to tunnel paths for various substances to reach either XYY or the Big Bad Wolf. XYY relies on water to extinguish fire walls that block his path through the underground. The Big Bad Wolf needs oil to power his underground tunnel-drilling machine.
Along with the oil and water you need to supply the game's main characters, you will also have to deal with a fire element and vines. Water will cause the vines to grow while fire will burn it away and oil turns it solid. Fire streams that block your paths can be pushed back by water or you can extend the fires reach with the oil.
You dig your paths by tracing your finger across the screen. Where you drag your finger, a path will be dug.
The gaming screen layout has your character positioned somewhere on the screen with various pipes, gates and obstacles you will need to navigate around. At the top of the gaming screen you will find a series of buttons to the top right of the screen. The buttons include:
Game Hint Button: If you get stuck and need a push in the right direction, you can use the coins you earn by completing the puzzles to buy hints. Hints appear as colored lines showing you where to dig a tunnel.
Power-up Button: Here's where you can buy one of three power-ups to help you survive the puzzle. Each character has their own set of power-ups that range from a vacuum power-up to help guide your oil to an absorber to soak up the fire.
Reset Button
Pause Button
As you guide your water and oil through the puzzle, you have the opportunity to collect bells and lanterns by running your oil and water across them. The more bells and lanterns you collect, the better your score for the puzzle. There are also bonus items that are scattered throughout the game that you can unearth.
There is one unique feature of the Big Bad Wolf puzzles in that you have a trigger (yellow glowing lamp) that when hit with oil, reverses gravity. You will need to time this trigger just right to send the oil in the right direction. This feature helps add to the challenge of the game.
Overall Impression
For the most part the Where's My Water? series of games are entertaining, nicely presented Windows Phone games. They are challenging, un-complicated games that are nice choices when you have a few minutes to pass.
While WMW? XYY doesn't fall far from the tree, I found the gaming levels to be a little on the easy side (and by no means am I a puzzle solving prodigy). The puzzles did become more challenging the further you progressed in the game, but the levels didn't seem to become very difficult to solve. WMW? XYY isn't a boring game and does have some entertainment value, but it may be better suited for your Windows Phone Kid's Corner than your main gaming library.
While the game isn't as challenging as the other Where's My Water? games, the biggest drawback to WMW? XYY is the lack of a trial version. The full version is currently running $.99 and while not too expensive, a trial version would have been nice get a taste of things.
WMW? XYY is available for Windows Phone 8 devices and you can find WMW? XYY here in the Windows Phone Store.
George is the Reviews Editor at Windows Central, concentrating on Windows 10 PC and Mobile apps. He's been a supporter of the platform since the days of Windows CE and uses his current Windows 10 Mobile phone daily to keep up with life and enjoy a game during down time.
Not available on this device... L920 8.1 in UK.....

Available to me for $0.99....L920...8.1...Ghana (Africa).

Just read somewhere about a massive update called WP 8.1.1 Can that news be true ??? Any info George ??? Or perhaps Dan or Sam ???
Anyone please.... Sorry for going out off topic..... Curiosity....;)

Yeah...saw it too and even commented. Not disputing any feature especially the ones we don't have. But most of the listed features are fantasies....maybe in this game.....and erroneous...maybe from guess work.

Hope its true. The features list(well it isn't official yet) is impressive.

Probably meant Windows 8.1.1 which has recently rolled out for Windows 8 devices. Edit: Saw the list on reddit. What a load of BS.

Unfortunately not available in UK :-( I have L1020 WP 8.1

Not available in Germany on my HTC 8X

Not available on my 920 WP8 in UK.

Yeah, can also confirm not for UK. Ah well, its not like we don't have four nearly identical versions of the same game already. xD

Disney is simply the best developer for WP. Period.

im not impressed, not available in the uk. forget it

Also not available in Denmark.

Boo. I want my Xi Yang Yang fix in the UK :(

Not available on Lumia 1520 running Windows Phone 8.1 in UK
Windows Central Newsletter
Get the best of Windows Central in in your inbox, every day!
Thank you for signing up to Windows Central. You will receive a verification email shortly.
There was a problem. Please refresh the page and try again.