Word 2016 or Word Online: What's the difference?
By Ryan Blundell published
It's time to upgrade to version of Microsoft Word - but is the desktop app or Word Online the solution for you?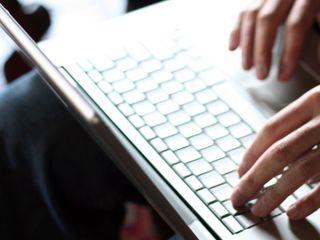 With the continuing trend of apps and services offering online solutions, it's difficult to stay committed to desktop versions. That being said online versions may not necessarily be as robust. Unless you are comfortable sitting on the fence, here's how Word Online stacks up against its local counterpart.
We'll take a look at some of the benefits and shortcomings of Microsoft Word Online to help you choose. Who knows? Perhaps you can find harmony between the two.
We are looking at Word Online as a standalone service, part of office.com from a free perspective, rather than part of the Office 365 subscription-based service. For an analysis detailing whether you should buy Office 2016 or Office 365, you can read this buyer's guide.
Sharing documents
Being an online version, one would think that you would have more options for sharing available. Depending on your computer and Microsoft products, Word 2016 offers several options for sharing. You could save to OneDrive to use its sharing services, send through Outlook as an attachment, present online using a presentation service or even post to an online blog.
Word Online currently offers you the choice inviting people to view and/or edit though either and email invite or through a shared link. For your purposes, those options may do well enough for you.
To share through Word Online:
Click on File.
Click Share.
Click Share with People to choose one of the following:

Invite people: Choose to share through an emailed link directly.
Get a link: Create a link to copy and paste anywhere.

Click Embed to generate HTML code that will allow you embed the file on a web page or blog.
Table of Contents
Your document may require a table of contents for an enhanced navigation experience, allowing readers to jump to important sections. Word Online does not allow for the creation of a table of contents, or other advanced document elements for that matter. If you are using Word Online to access an existing document that already contains some of these reference tools, they will display normally while in View mode. The same cannot be said for Edit mode as the reference tools will only be seen as untouchable placeholders.
To add Table of Contents in Word 2016:
Highlight text that is to be added to the table of contents.
Click Home.
Click Heading 1 under Styles. The headings are listed in the Navigation pane to the left.
Click on the document where you want the table contents to be.
Click References.
Click Table of Contents.
Select an Automatic Table of Contents type from the presented list.
Ink annotations
At the time of this article, Word Online is lacking the option to use Ink on a document. Okay, you can print onto paper and attack it with a ink pen, but digital inking provides a unique way to convey thoughts on a document. It allows for quick signature capturing on touch screens or the homework grading/editing finesse of a high school teacher.
To access Ink in Word 2016:
Click on Review on the top ribbon.
Click Start Inking under Ink.
Choose Pen, Highlighter or Eraser for the appropriate function.
Choose Pen color and thickness.
Use stylus or mouse to draw on the document.
Document templates
Templates are one of the best features for Microsoft users who are just starting out. They help to save time and effort formatting your document. Both Word Online and Word 2016 offer free templates sorted by categories such as Calendar, Resume, or General notes. The difference between the two is that Word 2016 simply has a larger selection of templates which contains much more professional themed entries.
To Access Templates in Word Online and Word 2016:
Click File on the top ribbon.
Click New.
Choose from the presented grid of templates.
Benefits of Word Online
Word 2016, being a paid-for service, obviously has more options and features than its free online counterpart. This doesn't mean that Word Online doesn't have advantages of its own mind you. Besides the cost factor, and not having to necessarily subscribe to Office 365, here is what Word Online can offer.
Auto-saving
If you have a Microsoft account, you also have a OneDrive account. When working on documents in Word Online, you may notice some dialog appearing next to the file name at the top of the screen. As you type, you'll see the word "saving". This indicates that your document is being automatically saved to OneDrive. How often have you been working on a report and have forgotten to hit save for a while? As a Word 2016 user who may have even adopted the constant CTRL+S habit while typing, you have to agree that the auto-save feature is rather convenient. This leads to the next advantage.
Portable documents
Saving to OneDrive means you can access your files from any device. You could start working on a document at work and then access it at home. There's no need to waste time emailing attachments to yourself or manually upload to OneDrive, it's done for you. The convenience is augmented exponentially if you include access to your files through a mobile browser, saving space on your mobile device and making your transit more productive.
Real-time collaboration
Collaboration with Word 2016 is not available unless you count tagging in your colleague to trade off using the keyboard. If your files are saved to OneDrive, you can send links to your co-workers and invite them to edit right along with you. As you work, you can actually witness co-authoring first hand as their input is marked by colored flags with their names. They could be working on the introduction to a speech while you are adding in the closing remarks 10 pages later. Couple this with a Skype call and you can power through a document quickly.
Back to basics
While Word Online may not be as feature-filled as Word 2016, sometimes, you just need a word processor to capture information with. Power users would see and feel the difference, but to the average user Word Online has enough functionality. You still have the essentials such as choosing styles, reviewing your spelling and checking for accessibility. Too many choices may lead to too many bad decisions after all.
Switch between Word apps
While using Word Online, you may feel the need to continue your efforts on Word 2016. At any point, you can go back to Word Online and resume editing from there. Keep in mind that if you revert back to Word Online, any unsaved changes made in Word 2016 will be lost.
To switch from Word Online to Word 2016:
Click on Edit in Word. The file will automatically open in Word 2016, with your cursor in the same position as where you last left it.
Click Resume Editing Here in the popup to return to using Word Online
Closing thoughts
What you should keep in mind is how you choose to use Microsoft Word and if some lacking functionality is truly important to you. Word, in any form, is a powerful word processor built to help make your documents to be seen and read as they are intended to be. Essentially, those who are looking for the basics can rely on Word Online; those who are going to a fully-fleshed out presentation should lean towards Word 2016.
With the 365 Business Edition, the Online Edition load the same documents faster than the Desktop versions stored in the same location. The Desktop versions has far more feaatures.

Also, Microsoft has begun rolling out Differential Sync and Office 2016 (Office Insider Fast) has full auto save. You can literally close the app while typing and it's saved online.

That's good to hear. Looking forward to getting the update.

Wait, wasn't autosave a function of Word since Office 2007 or 2010?

Yes, I believe Office Web came around then but not with auto save. *The auto save save feature from the Desktop with the differential sync is new and only transfers what's being added instead of the whole document.

Is Business Edition dramatically better than Home in any way(s)? If so... How to get it, if you're a "Small Business"?

Aside from the licensing issue, the most basic Office 365 Business editions offer services you won't get with with Home. You get corporate branded email on Exchange, SharePoint, Active Directory, full control of users/groups/BYOD devices, security and greater speed to name a few. However, I've seen companies with thousands of employees that only use Word, Excel, Outlook & Exchange and on the flip side, small businesses utilizing most features of 365. If you you want to get your feet wet, create a new Outlook account on your Windows PC, and purchase one month of Business Essentials (around $6) to see if it's right for your Business. if not, you can just purchase standalone software.

I'm pretty happy with Word Online, but I had no idea about these limitations, very useful information if I ever decide I need some of this stuff I'll know how to get it.

For most things, I prefer using the Online version and Edge really shines with this task.

I think the online version is good too. For business plans you can get a nice saving for the same services if you can get stuff done in the browser

Hard to beat the features of even Business Essentials i once you can get in the habit of working in a browser.

I use the Online Version for really quick updates and edits. Mostly at home, however at work my team and I use the Office 2016 version (O365) as it seems to handle large documents much easier. Since it allows simultaneous editing, it is also very effective for us as well.

As an aside, I am assuming Office 365 is the online version? Or am I wrong?

With the Office 365 Personal/Home Editions, you also get the Office applications and 1TB of OneDrive storage for each user.

So is it the online version or the "standard" version? I have Office 365 and just assumed it would be the more streamlined software (the online version), but I don't actually know.

If you have Office 365 Personal or Home you can install the desktop apps. If you have a business plan it depends which you subscribed to

I have Home, so I already have the desktop apps. I should really use that Table of Contents function then, it's great.

Home is a really great deal. We have a family of 6 and Home offers 5 of us 1TB each and a total of 10 installs of the desktop applications.

Compared to 365's desktop applications, the free, online only version, is pretty stripped down. But it's great for most quick tasks. I prefer the free online version and use it enough, when I open my browser, a second tab opens to the online portal.

Ahh, I had no idea the online version was free. When I got 365 I was enticed by the OneDrive storage (which I need), my use of Office itself is very limited, but it still comes in handy. That being said, of the Office Suite I use Excel the most, is there an online version of it as well?

There is an online version for most apps. The portal is located here https://www.office.com/0/?auth=1

There's an online version for word, powerpoint, excel and onenote

Not really, there is a lot of differences between the two. Price and features stand out, and a lot of people may not know that there is a free offering.

Online ver is unusable for me at work because of the limitations. Every doc we work with req the more advanced stuff. Online free is good for quick viewing but not much else for us

I agree. They should keep both options open and not limit the consumer and maybe add a save to onedrive option on the desktop ver under the save as tab.

And that's ok. I'm the same as someone who writes a lot of technical reports but that's why the full version is available for us. I'm sure someone who doesn't do much other than just text typing in word will find this article useful.

If they take Outlook away from me, I'll quit!

The very idea of a browser version of Word is anathema to me. Browser apps are a solution to a problem that didn't need to be solved. It's foolish to think that an app within an app makes sense. All it does is create sloppy software standards that are only acceptable to people who don't know any better.

Personally I think there are merits to both approaches such as the ability to use web versions on any computer you sit in front of. But I really love the power of a local app in terms of a full feature set and I would never give that up when I'm at home. I mean I even use apps for things that work great on the web such as youtube even on my laptop.

Like ppl who are all about Google Docs right? If a kid is trying to take my lunch, I'm gonna have to come up with a solution...

Here is my question. On my Surface 3 with Office 2016 (O365) installed, I can take my pen and just start inking a document. However, with the SP4 using Office 2016 (O365). I need to turn on the inking feature. The question I have is this. Is the direct inking on the Surface 3 caused by one of the following situations: Surface 3 is on the Insider Fast ring Surface 3 is older Surface Pen SP4 is using Enterprise license Neither of these are in the Office Insider program.

*Edit* This is a toggle in the Options>Advanced>Pen. You can select how you want the Pen to work by default.

Good question. If you have administrative privileges on the SP4, check gpedit.msc for Windows Ink Workspace or TabletInputService.

Online word is just like using teamviewer when you share with others. That is amazing.

I pay for O365, and I just use the version that's convenient at that time. I like that with the paid version of O365 you get the desktop versions too. I only have it because of the Lumia 950XL deal they had a while ago. The 1TB of storage is nice.

It would be nice to see a comparison between Office Online and Google Work apps
Windows Central Newsletter
Get the best of Windows Central in in your inbox, every day!
Thank you for signing up to Windows Central. You will receive a verification email shortly.
There was a problem. Please refresh the page and try again.