Wordness, Scrabble meets Othello on Windows Phone 8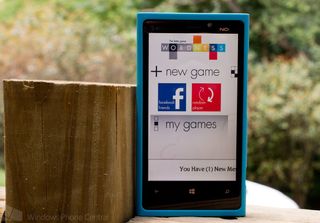 Wordness is an interesting Windows Phone 8 word game. It has a Scrabble feel to it in that you have to create words from a 5x5 tile board of letters. It has an Othello feel to it in that you compete for ownership of the letter tiles. You take possession of the tiles (or own them) when you use them in a word.
On top of challenging game play, Wordness pits you against online opponents. You can challenge your Facebook friends or find an opponent at random from other Wordness players.
Wordness is a fairly simple game for your Windows Phone 8 device to pick up but it is very challenging to master. Wordness is a peachy addition to the Windows Phone gaming library.
When you first launch Wordness you'll need to sign in with either your Facebook or Google account. From there the layout of the app is fairly elementary.
You have your game screen where you initiate games and lists your completed and active games. You can challenge a specific Facebook Friend or choose a random player. With the free version, you are limited to one active game. To have multiple games going at the same time, you'll need to buy the full game by purchaseing coins (more on this in a second).
You also have a themes page where you can choose a color pattern to suit your tastes, your profile page that lists your coins and a More page that has links to purchase the full game, check your game inventory and read the playing instructions. Coins can be purchased to unlock content, such as the themes, and range in price from $.99 for 100 coins to $4.99 for 1,000 coins. You can also use coins (200 of them) to buy the ad-free, full version of the game.
The game inventory is basically a description of the various elements of the game board. The playing instructions are just that, instructions on creating words, owning tiles and stealing them from your opponent.
Game play is online, turn based so the pace is dependent on how quick your opponent takes their turn.
You create a word with as many letters from the board. A word must be a proper English word and tiles that are used to make words have different states. These states, as described by the instructions, have the following characteristics.
A player owns the letter tiles from which they has made the word from. If a player makes a word from the letter tiles owned by their opponent, they will not only own the opponent's tiles, but would cause to subtract the opponent's score as well. Colors in light tones differentiate ownership of a tile. If your word is missing an letter, magic tiles can rescue you. Magic tiles are limited and can be purchased within game using your coins.
The tiles that are owned by a player in such a way that all its surrounding tiles are also owned by same player, those tiles would be regarded as locked tiles. If opponent tries to use locked tiles neither he will be awarded nor would the score of the player owing the locked tiles be subtracted. Lock can only be unlocked if other player gets the ownership of any of the surrounding tiles. Colors in dark tones differentiate locked state of tile.
Any tile that is neither own nor locked by any of the player will be regarded as free tile (and have whitish color).
When every tile on the board is either owned or locked by any of player, the game will be over. Whoever has the most points, wins.
While Wordness is a entertaining game, there are a couple of downsides to the game. First, you can only play games versus an online opponent. You don't have a computer opponent to hone your skills with. Second, the game loads awfully slow at times. It took a considerable amount of time to authorize the game through my Google or Facebook accounts. The lag time could be from demand on the gaming servers or just a need for a little fine tuning under the hood.
Then there's the ads which can be a little overwhelming. With most ad-supported games you can stomach the ads or they are placed in a manner that you forget about them. With Wordness, the ads knock you down like a UFC fighter. From the banner ad that runs along the bottom of the screen to the pop-up ad that appears after each turn. Wordness has a lot of appeal to encourage gamers to buy the full game without the need to get beaten down with ads.
Windows 8 Version
Along with the Windows Phone 8 version of Wordness you also have a Windows 8 version for your laptop, desktop or tablet. The layout is very minimalistic with the main menu having links to your games, to add a new game and view the "more" pages (themes, instructions, how to play,etc.). An ad banner runs the bottom of the screen (which can be removed by using coins that can be purchased in-app).
You'll still need to log in through your Google or Facebook account and games initiated on your Windows Phone can be picked up from the Windows 8 version (and visa versa). If you end up being a Wordness junky, the Windows 8 version will definitely help you stay in tune with your games without having to carry your Windows Phone all over the house or office.
If you're looking for a challenging, somewhat addictive word game, Wordness is worth a try. Wordness is a free, ad-supported Windows Phone 8 game to download. Along with the ads, the free version will only let you play one game at a time. To get rid of the ads and have multiple games going at the same time, you'll need to buy 200 coins (about $2) within the game.
You can find Wordness here in the Windows Phone Store and the Windows 8 version here in the Windows Store.
Get the Windows Central Newsletter
All the latest news, reviews, and guides for Windows and Xbox diehards.
George is the Reviews Editor at Windows Central, concentrating on Windows 10 PC and Mobile apps. He's been a supporter of the platform since the days of Windows CE and uses his current Windows 10 Mobile phone daily to keep up with life and enjoy a game during down time.