World of Tanks Blitz blasts its way onto Windows 10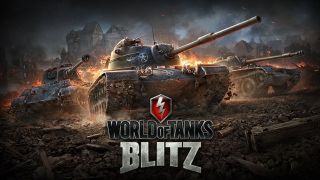 World of Tanks is the immensely popular multiplayer strategy PC game that puts you in the driver seat of classic guns on wheels. The company behind the title has just announced that World of Tanks Blitz is available for Windows 10 as a Universal listing. It's the mobile version of the free-to-play game that brings with it more than 200 armored vehicles to play in action-packed 7 vs. 7 battles, ideal for your tablet and smartphone.
Interestingly, this is not the first time we've covered World of Tanks Blitz for Windows 10 as the app was already published on the Windows Store, but no one could download it. Now you're able to grab the game on your tablet or phone and practice your shooting. Best of all, it's free so there's no problem if you decide not to continue playing or simply do not enjoy it after installing.
Download World of Tanks Blitz for Windows 10 (opens in new tab)
Thanks to everyone who tipped us!
Windows Central Newsletter
Get the best of Windows Central in in your inbox, every day!
Rich Edmonds is Senior Editor of PC hardware at Windows Central, covering everything related to PC components and NAS. He's been involved in technology for more than a decade and knows a thing or two about the magic inside a PC chassis. You can follow him over on Twitter at @RichEdmonds.
This game is like the tank equivalent of Pokemon. Got to catch (and upgrade) them all.

Don't you think guys that UWP is working? #optimistic :)

We can only hope, I don't know what's working anymore. If we get something good we rejoice. if a major app leaves, we keep moving. Who knows what's working?

Hope one day we may see Call of Duty Black Ops 4 as a massive 100gb universal app. Lol ..

And to be honest my friend, I'll download it. Lol!!!

Seems to be helping, for sure. I'd like to see some of the apps that got pulled (Mint.com, banks, etc.) come back. Those returning to the platform would be quite an endorsement.

Wow 4.7GB but it's worth it

I first heard about this game on NGC megafactories, then I came to know how popular this game is.

it says 4.7 but whe u start downloading its actualy 6.1gb Wasted faaar too much moeny and time on PC WOT, iOS Blitz, now time for W10 Blitz!!!

Awesome. And a fantastic trailer!

Is this worth going for 6.7 gb... Cause i read a review that when you install it bumps up to 6.7 instead of 4.7... Please i need your suggestions

Is it regional? Can't see it in the store

The same here. :( EDIT: Accessing link through mobile device works just fine.

I haven't played a good tank game since Assault Rigs and BattleTanx on Playstation 1. Is this worth it?

If it installs on SD card which I assume it does then no big deal on the size if your phone supports external storage! 64 GB cards are everywhere at decent prices nowadays.

Its only 2 gb when its installed :) checked it in the memory app :) so don't be confused :)

It doesnt really install at all? Tried 3 times

Doesn't download for me at all. Tried for several times.

No keyboard mouse support for Continuum? So no way to play in that mode. Ugh.

You can use C in mirror mode.

On Windows10 it has keyboard support. I think it's just detecting your device as a phone so it automatically enables touch control. I'd drop the developers some feedback about control options for continuum. I'm emailing them about moga support right now.

This really should be an Xbox game. #SaveXboxWP

The full version is already on xbox

at first its 4.7gb, than 6.1 but really its 1.6...

Are you guys ready to get HEAT spammed by E 100 and one shot by arty on your Lumia?

No scumbag arty in this I believe.

This game has near Xbox 360 graphics.☺

Blah, I stick to my War thunder. Better physics ;-)

Well, following the download link I get "To use this game, upgrade to Windows 10." But...I'm already running Win 10: PS C:\> [environment]::OSVersion.Version Major Minor Build Revision
----- ----- ----- --------
10 0 10586 0 Something wrong here.

My battery. My poor poor battery lol
Windows Central Newsletter
Thank you for signing up to Windows Central. You will receive a verification email shortly.
There was a problem. Please refresh the page and try again.