WP8 to share same kernel as Win8, voice integration for email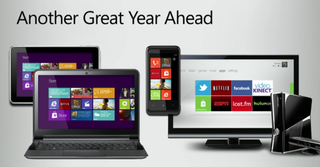 Stephen Chapman over at ZDnet did some investigating into some Microsoft job postings and employee résumés. What he found was evidence pointing to the possibility of both Windows 8 and Windows Phone 8 being built on the same kernal.
Résumé of a former Program Manager:
Résumé from a HTC Senior Product Planner:
Chapman doesn't stop with the above, here's another résumé quote that will be of interest to many users:
Finally, we have a quote from a résumé that lists Windows Phone updates:
While the above quotes aren't concrete proof that any of it is true, we can at least speculate that Microsoft are pushing for a unified ecosystem (opens in new tab) where PCs, tablets and phones all run the same kernal and UI, that they intend to bring voice control to emails and we're already aware of the Tango update being minor (opens in new tab) so two minor updates seems a possibility.
Source: ZDnet (opens in new tab), via: MobileTechWorld
Rich Edmonds is Senior Editor of PC hardware at Windows Central, covering everything related to PC components and NAS. He's been involved in technology for more than a decade and knows a thing or two about the magic inside a PC chassis. You can follow him over on Twitter at @RichEdmonds.
@thurrot tweeted this the other day:Paul Thurrott My #1 BUILD prediction: Windows 8 isn't just for PCs and tablets. It's for phones too.Interesting times!

This is great news, though admittedly not totally unexpected.I think Windows 8 will really drive home their ability to do this, and the modularity of the kernel will really help it make sense.Looking at Windows 8, they clearly have it setup to simply be something that you add a UI on top of (look at the standard Windows 7/8 shell versus the separate tablet shell). This bodes quite well for WP8.With that in mind though, I suspect that they will not share a UI, nor should they! What works on a phone will not necessarily work on a tablet or desktop. Keeping the lower level unified will help create better stability and security (specifically in the long run after kinks have been worked out, which benefit all three simultaneously), and each system can build from that to meet the demands of its specific target.This is exciting news. I think Microsoft is about to shock the world, assuming that it all comes true, and they can actually release on time. Before Summer 2012 would be optimal to beat the next iOS releases, thus avoiding some stolen thunder.

I think it's spelled "kernel" and not "kernal"...

It can be spelled both ways. It's only fairly recently (last decade or so) that I've really noticed it being spelled "kernel", before that it was inevitably spelled "kernal".

Is there any chance 1st gen phones will be able to upgrade to Windows 8?

We don't know. Nothing that has been posted here says one way or the other.I sure hope we can upgrade if it is out before my 2 years is up.

I highly doubt that it'll be available before your contract is up if you purchased your WP around release. I would expect that there will be at least 1 year from the date Mango is officially released on phones to the date that Apollo will be released. Obviously this is just a guess, but they have already committed to releasing a major update once per year, so it makes sense.

It would not surprise me at all for Microsoft to rebuild Windows so that the core system can be compiled and run on server, desktop, tablet, phone, and even Xbox.

It does make sense to do this, running WP7 apps on the Windows platform is very easy thanks to .Net so this move would give consistency across platforms without having to break application compatibility.
Windows Central Newsletter
Thank you for signing up to Windows Central. You will receive a verification email shortly.
There was a problem. Please refresh the page and try again.