WSOP: Full House Pro comes to Windows 8, play poker with online multiplayer and Xbox Live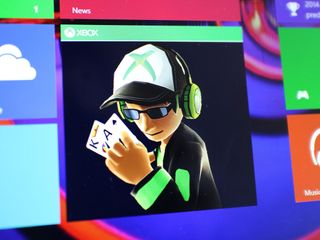 Ready to add one more Xbox Live game to your Surface 2? Then you're going to want to grab WSOP: Full House Pro for Windows 8. We've seen the game before on the Xbox 360, but have patiently been waiting for the Windows version. Sadly, nothing here for Windows Phone users. If you want your poker fix you're going to have to remember Full House Poker, which sadly has no support for Windows Phone 8. Enough of the past, let's focus on the future with WSOP: Full House Pro on Windows 8!
Head into the Windows Store and you'll see the app available for free. There's Xbox Live integration and online multiplayer. What else could you want? Here's the full feature list available or you:
Free To Play
Online Multiplayer 2 - 9
Leaderboards
Ring Games and Tournaments
Personalize your Avatar
Play in Real-world Casino Venues
Actual WSOP Announcers Lon McEachern and Norman Chad
XP Boost Items
Customizable Environments
Touch Screen Support
Unique Chip Stack Formations
Amazing Chip Tricks
We'll have a full review up in a few days once we've spent some time playing. Though we recommend Poker fans grab this game in the meantime. It is free after all!
Download WSOP: Full House Pro from the Windows Store (opens in new tab) for free. Just be careful, the download clocks in at 922.0 MB.
Thanks for the tip everyone!
Windows Central Newsletter
Get the best of Windows Central in your inbox, every day!
It's a pair of aces in your hand.

Sweetness! I've been waiting for this app for awhile. Downloading right meow.

Where are all the bingo and poker apps for windows Phone?

I've been wondering if they will port Bingo and this over. Maybe they are waiting for the 8.1 update since it is more in line with RT

Awesome! I love this game on the Xbox 360. Hopefully they bring it to the Xbox One and Windows Phone too.

How was this game on the 360? I downloaded it but I never actually got around to playing it.

Horribly laggy every time I've tried it. I'm hoping Win8 version is better

Well I don't have a choice, I have to use the Windows 8 version as I only have the non laggy Surface RT.

This is great lots of people love poker games on windows!

Play this alot on the 360 so it's good to see wins 8 users added to the mix. Free chips twice a day! :) Posted via the WPC App for Android!

I was about to download it until I saw the 900MB download... Almost a gig for a poker game!?? Why? I'd like to try the game, but since I use my Surface Pro to do video editing in Adobe Premiere with huge video files I can't lose a gig of space for a poker game...

Next, make a windows phone version!

They had one on WP7. http://www.windowsphone.com/en-us/store/app/full-house-poker/c72fc606-ca34-e011-854c-00237de2db9e

Lol, "This app uses features your phone doesn't have" - WVGA 480x800. That's on an ATIV S :D

And where's the wp8 version? :s

Full House Poker and Shuffle Party are my favorites.Microsoft needs to add Full House Poker ASAP to WP8.

Sadly we are missing several gems from the Mango days... I keep my Focus around to play Pirates and Tentacles. :p

Ahh. Tentacles... Thanks for taking me down memory lane. Great game.

You seem to be quite slow picking up on tips these days.

Oh really..Why didn't you post the news then..

I tiped them twice, first time more than a week ago when the release date leaked, and I made a forum post, before the article was up, so STFU.

Thats a concern for WPC then..

Even though it's free-to-play, sometimes they trick you into buying virtual chips to start/continue after you've lost it all. Is this the case with this game, or is it actually F2P?

Can surface 2 install apps to SD card?

No support for Surface RT. What rubbish.

Huh? I did read the details. That's the point: it's not available for Surface RT. And that's rubbish.

My 2520 is playing the game...

It's quite a demanding game. Runs ok on Surface 2.

And it works on my RT . . .

I'm running it on my Surface 1 RT.

That's great to hear, because the specs say Tegra 4+

Exactly, just goes to show that even Microsoft has given up on the Surface RT :-(

I want what Ballmer wanted. Unification of Windows and Windows phone

It will be possible for developers to release an app for both Windows and Windows Phone in a couple of weeks with the release of Windows Phone 8.1.

Loved FHP on WP7:)Downloading it now on my computer, can't wait to give this a spin.

Okay then, waiting for the WP version which needs to come!

I am sooooo pissed I can't play FHP on WP8. What is wrong with MS?

I hope they scale down the graphics for Surface RT compatibility. Graphics are not that important on a poker game anyways so what's the big deal? Might as well even out the playing field.

I want zynga poker of Facebook on wp8

I'd say it's downloading, but nope, it's 'Pending'. No idea what it's 'Pending' for, but it says its 'Pending'. Times like this I really do miss just downloading through the desktop. -.-

It is soooooo laggy on Surface 2. How is it with yours??? the main menu is laggy as hell. like almost all the game on surface 2, like dungeon hunter 4 et asphalt. The graphics drivers are really not optimize on windows 8.1 for tegra 4. Fifa 14 is soooo ugly and laggy too. I do not understand.

FIFA 14 and this lag on a Surface 2 which supposedly has a superior GPU. FIFA 14 has no lag at all on Surface RT yet this isn't available, go figure!!!

Got excited before I realized it wasn't for WP.

Runs well on 1st Gen Surface ( case gets warm after some time). Downloaded last night and already reached LVL 10. The only lag I have seen is when in a game if a player leaves the table and a new one joins the load for the new player can be slow. A few times it was quick, but most loads are slow....but the hands during load stay the same. I have to say it's a good game.

Do you have to play online? Can you just play against the computer like the old wp7 app?

7/13 lost 10k's chips on crashing wsopfhp app. https://www.windowscentral.com/e?link=https2F2Fcli... has wsopfhp website locked... is this the end? any lawyers bored and wanting to sue? MS promoted this f'd up app.

Had a lot of fun yesterday, fighting the fact that WSOP pops up and tell me they have lost connection. So therefore, had to sign in again. Yesterday I played 2 50,0000 games was chip leader and they shut me down. Lost my entry fee and well you can guess the rest. Today, a 25,000 I limped in with 8 10. the flop came up 2 10 10, the played called all in for 29,000. Before i can call WSOP pops in and guess what, claims I have lost connection. By the time I got back to the rejoining I was so far behind and the blinds were 2500 5000 I had no chance. Untill I drew a straingt k high and wouldn't you know it, the avatar player on the river drew a Ace to beat me. All in all I won 1 game and had a wonderful time watch two players win game after game and build their stack well into 200 grand. Oh by the way, I have played so much that I am at level 117. Have seen it all.