Personalize your Microsoft Band the easy way with X Band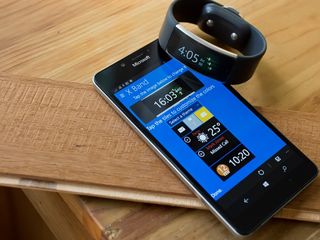 X Band is an easy-to-use Windows 10 app that allows you to customize the appearance of your Microsoft Band. Available for Windows 10 PC and Mobile, the app offers the ability to customize the Band's theme colors, as well as importing custom images to use as your Band wallpaper.
The interface is super easy to use and includes a small collection of preset color themes and a color picker to create your own color combinations. X Band is currently priced at $0.99 and offers a no-nonsense way for personalizing your Microsoft Band. The app is compatible with both the original Band and Band 2 with the latest version of Microsoft Health installed on your Windows 10 device.
The layout for X Band is about as simple as it can get. The main page of the Windows 10 app displays your current Band color theme and wallpaper with options to modify both. There is a menu button in the top left corner of the display that reveals options to view the developer's credits and to rate the app in the Windows Store. At the bottom of X Band's primary display is a refresh button and save button, that also sends your selected theme and wallpaper to your Band.
Tapping on the wallpaper displayed on X Band's primary screen allows you to select a wallpaper image to import to your Band. X Band does not have an internal image library available or the means to access online libraries. Instead, the Windows 10 app provides you access to images in your local galleries. Once an image is chosen, a frame overlay appears on the image, where you can position and crop the image to your liking.
Color themes can be custom created by tapping on the various samplings from your Band's display. The samplings represent the Bands base, highlight, secondary, low light, high contrast and muted colors. Tapping on any of the screen samples pulls up a color picker where you can slide your finger around to choose a color.
If you prefer, X Band does include eighteen pre-set color themes to choose from. These pre-set choices include themes such as Kale, Lime, Tangerine, Coral, Storm, Berry and more, each of which can be tweaked to your liking by using the color picker.
Once you get the theme and/or wallpaper to your liking, all that is needed to send the style to your Band is to tap the save button at the bottom of the app's display. Theme and wallpaper customizations are independent of one another to allow you to personalize the wallpaper without altering the color themes. This is a nice option if you prefer the stock color themes or wallpapers from the Microsoft Health app.
In using X Band to personalize the Microsoft Band 2, I found it to be a stable, simple and easy means for customization. I would have liked to have seen effects filters for the Band wallpaper images, but there are several third-party apps available to let you prep an image before importing it to your Band.
X Band is a convenient app to have installed on your Windows 10 Mobile device to personalize your Microsoft Band on the fly. The Windows 10 PC version of X Band isn't too shabby either. X Band is currently priced at $0.99 and is an excellent way to add a personal touch to your Microsoft Band.
Download X Band from the Windows Store (opens in new tab)
Windows Central Newsletter
Get the best of Windows Central in in your inbox, every day!
George is the Reviews Editor at Windows Central, concentrating on Windows 10 PC and Mobile apps. He's been a supporter of the platform since the days of Windows CE and uses his current Windows 10 Mobile phone daily to keep up with life and enjoy a game during down time.
I keep trying new themes or background on my band 2 but always come back to the ones that came with it. reason its very hard to have your own photo without hiding some info on the band. Just as the photo of the English flag in this demo shows. its way too bright.

Looks pretty good, but would always prefer to have a trial available - That's one advantage for Windows users over iOS as I'm not sure they do offer trials of apps? Personally I use Band Daily Wallpaper (Disclaimer: bit of a shameless plug as it's my own app, but relevant and I do use it daily) as I just like to have a new image every day without having to launch any apps etc. It just updates automatically with the Bing image. It's got a free trial that never expires (purchase optional) and is W10M only - Basic app but does what it says on the tin and great for those who don't. This app looks great, along with others like Pimp my Band for more in-depth customisation. Will definitely give it a go if there's a trial in the future. I've also used Fan Band in the past and really like that too

Just loaded your app. Looks good. I like the idea of new wallpaper every day. Thanks for the tip!

Is Pimp My Band still not working correctly on Win10?

It doesn't work correctly for me. Errors out when trying to save a photo. I may have to switch to this or another app as I haven't seen any updates for Pimp My Band.

Had the same issue. Every time I tried a custom image it either gave that message or crashed. Make sure you size the image EXACTLY. I dont know if the app is supposed to have native image crop/resize capabilities but that was what wasn't working for me. Once I sized the image correctly prior to attempting to use it, all the problems went away. For the Band 2 that is 320x128.

What do you mean by 'working correctly'? Have you contacted the developer?

It gives a message saying something like "It looks like your running a Windows 10 preview. If you have problems roll back to 8.1"

I'm using PMB version 2.1 with Release 14915.1000 and I don't get a message. It seems to work perfectly. Used it to update my Band2 to Ninja Cat :-)
Have you tried it since the Anniversary Update?

Unfortunately I can't get the Anniversary Update. I'm on a L925 and stuck at 10586.494

works perfectly after AU update. There was a bug in the original W10M release that was fixed in the anniversary update. The only thing PMB needs is update the image on a schedule like Dynamic Theme does on the phone and computer

Does anyone actually have a functioning band at this point? Gave up on mine after 3 failures. .

Yup 2, & 5 others with friends/relatives, all of them 6-mth or older now, none of them returned; None of them LOT no. 1608 or newer (the supposed slightly improved band), N.B. I didn't DV you. Not saying issues don't exist, they def. seem to be affecting a BIG chunk of buyers -one way or another. Then again, when folks don't have probs you never hear from them, unless they're "enthusiasts/nerds." And even then it's not as prevalent....

I'm on my third. First one had a strap tear. Second had a battery life of 8 to 10 hours. Third worked great for a while (24 battery life) but recently I'm down to about 12 hours on a charge. The strap is starting to tear on this one too. Luckily, I bought a 3 year warranty from Best Buy and they don't argue too much when I bring them back in. :)

No sync, battery just 4 hours on basic smart watch features. Sent back yesterday for servicing. Hoping it's replaced totally.

I am either on my 4th or 5th band; I am starting to lose track. Every few weeks to a few months, my Band 2's battery suddenly dies and won't let me charge it above 0%. It is very irritating to have to keep on sending it back for a replacement. I have never had the strap issue, but I know a relative had though.

I recently got a new band after I had a strap tear. I suddenly had a drain one day on it after a long hike and couldn't get it to charge...it appeared to charge while on the cable and would even work while attached, but as soon as I'd take it off it would say it needed to be chanrged and then shut off. I was using the cable that they sent with the replacement Band so I couldn't figure it out. As soon as I switched back to my original cable, though, everything worked fine. So In my case it appears the charging problem was the cable.

No problems with mine! Three day battery life, syncs fine, no issues with the strap.

Mine works great! (And, I know for others it has not.)

Have mine since May. No problems aside from that one time that the GPS stopped working. A restart solved that issue.

I prefer wallpaper studio 10.

When I hit save/apply, it just back to the default band wallpaper. I emailed the developer as well. His info is the help about in the app.

My 5th band 2 just split the band yesterday. 2 battery issues and three band splits. I gave up. Went and got a blaze. 1/2 the functions, but 1/2 the weight too. Guess I'm a Fitbit guy now. Sucks BC I have over two years worth of Microsoft health data. I'm just sick of having to drive three hours every two months for dismal build quality.

awesome band backround does all that for free... and its non buggy @ all.. works perfect
Windows Central Newsletter
Thank you for signing up to Windows Central. You will receive a verification email shortly.
There was a problem. Please refresh the page and try again.