Xbox 360 - Huge Xbox Live Arcade game sale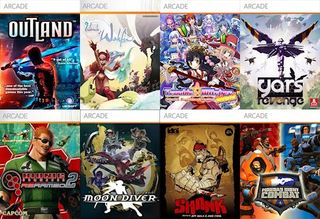 Xbox 360 owners take note: an incredible number of Xbox Live Arcade games are on sale this week! The focus is co-op games, so I'm including whether the games include local or online co-op. But there are some single-player treats too. What's more, several of these games have never been on sale before, so it's an excellent time to buy. There's also a rumor that a few other games will go on sale for Friday only.
Here is the XBLA sale list. To purchase these games, head over to Xbox.com or buy them through the Xbox 360 consoles.
There's something for everybody on that list: platformers, action-RPGs, shoot-em-ups, and first-person shooters, oh my! I picked up Outland, Islands of Wakfu, Trouble Witches Neo, Moon Diver and Bionic Commando Rearmed 2.
My console gamer brethren, which games will you be picking up from this sale?
Paul Acevedo is the Games Editor at Windows Central. A lifelong gamer, he has written about videogames for over 15 years and reviewed over 350 games for our site. Follow him on Twitter @PaulRAcevedo. Don't hate. Appreciate!
Thank you MS! I LOVE sales like this, I only wish they happened more frequently. If a game gets a 50% markdown I almost always buy unless it is a total stinker.I am on the fence about Ghostbusters and Bionic Commando Rearmed2. Anyone recommend? I would recommend The Maw, Outland, and Shank.

Ghostbusters is kind of crummy IMO. We were playing in a 4 player team and just couldn't beat the 2nd boss after several tries.If you like the first Bionic Commando Rearmed, the sequel's perfectly good! And if you haven't played the first, I'd get that one before part 2. The Achievements in 2 are a bit tough/time consuming, but nothing too bad.

Thank you Paul. Looks like I will pass on Ghostbusters. I bought Island of Wakfu and Demo for Moon Diver to see if I will dig it. :)Now it would be nice to see a sale like this on the Win7 arcade games. I would be dropping dolla bills like crazy if that happened.

Kind of on the same topic...Anyone know what the xbox live game for windows phone is tomorrow?

We'll post as soon as we find out. Microsoft didn't announce it last week like they usually do,

Serious Sam HD does not have local co-op. I bought the game at full price months ago thinking it did, and it does not.

Thanks for the correction. I remembered the Xbox 1 and GameCube versions had split-screen, leading to my wires getting crossed on the 360 version.

Yar's Revenge ???I had that for my old Atari 2600 (one of the best games for the old system btw)

Yes, it's a sequel/remake. The game is now an on-rails shooter, similar to Sin & Punishment on Wii.

That's so funny, I just finished surfing IGN, Game Informer, and Joystiq, and none of them mention this sale! Then I click on over to my favorite WP site and BAM, XBLA sale info! Thanks!Plus, I have an HTC Arrive so I get Mango today too!!! Only 3 more hours til I get to leave work...
Windows Central Newsletter
Thank you for signing up to Windows Central. You will receive a verification email shortly.
There was a problem. Please refresh the page and try again.