'Xbox All Access' gets you a new console, Xbox Live Gold and Game Pass for one monthly fee
The service brings everything Xbox under one banner on a two-year contract.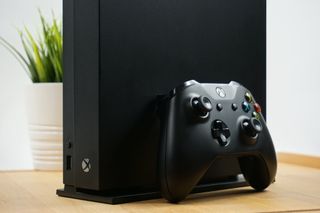 (Image credit: Matt Brown | Windows Central)
After leaking last week (and a tease this morning), Microsoft has made its latest Xbox service, dubbed "Xbox All Access" (opens in new tab), official. Taking a cue from the phone carriers, the service which is available now brings together Xbox Live, Game Pass, and a console under one subscription plan on a two-year contract.
According to Microsoft, the offer is only available for a limited time "while supplies last." But whether you're looking to hop in with an Xbox One X or and Xbox One S, both options are available. The only catch is that the offer is only available at Microsoft Retail stores; there's no online ordering available.
As for pricing, you can pay $34.99 per month to net a new 1TB Xbox One X console, along with 24 months of Xbox Game Pass and Xbox Live Gold. The 1TB Xbox One S bundle comes in quite a bit cheaper at $21.99 per month for a new console with the same 24 months of Xbox Game Pass and Xbox Live Gold included.
There's no upfront cost, but to sign up, you'll have to be approved for a Dell Preferred Account. There's also no interest applied so long as the purchase is paid in full within 24 months.
From Microsoft's description:
For now, at least, this offer is only available in the U.S. However, it could prove to be a valuable asset for Microsoft to pull people into the Xbox ecosystem without the barrier posed by the high upfront pricing of a console. It's also a boon for developers, as it has the potential bring an even larger player base for Xbox Game Pass.
If your interest is piqued, you can check out all of the details at the official Xbox All Access site (opens in new tab).
Windows Central Newsletter
Get the best of Windows Central in your inbox, every day!
Dan Thorp-Lancaster is the former Editor-in-Chief of Windows Central. He began working with Windows Central, Android Central, and iMore as a news writer in 2014 and is obsessed with tech of all sorts. You can follow Dan on Twitter @DthorpL and Instagram @heyitsdtl.
I might have to take advantage of this.

I wish that there was an all access pass that did not include the console and instead included OneDrive storage or office.

It is called Xbox All Access after all. It would be nice if they made a "Microsoft All Access".

That's the logical next step as it gives an additional tier to this service as well as office 365. So I imagine if this is successful we may very well see a Microsoft all access service.

- removed -
basically the same as what Kieran said.

I agree. Be nice if you could bundle what you want into a nice package for one annual or monthly fee. With appropriate discounts the more you bundle together. Having the options from Office, OneDrive, Xbox Live, Xbox Game Pass, Skype, Mixer Pro. Would have probably had a better subscription rate for Groove too if they had something like this...

Then they had xbox entertainment studios, they could have added alot more value to movies, tv, music, merchandising and new gaming franchises - all of which would have drawn people to these subscription services. For most people Foresight is not 20/20 but 0/0.

I have bought many Work and Play bundles over the years. Unfortunately after Groove was scrapped, I haven't seen them anymore. It came with Office, Skype and Groove. Wish it would have included XBL, but I always find those on sale anyway.

I really wish we could do the process online

I think this is a great option and price is not to bad to.

Not entirely sure what the difference between Xbox All Access and getting a new credit card. Both, All Access and the average credit card offer come with 0% interest for 24 months. And presumably, if you qualify for one, you probably qualify for the other

This. Is. Not. The. Same. As. A. Credit. Card. You cannot make purchases and transactions with xbox all access, it's a subscription service for consuming media and playing games via an xbox console (perhaps the xbox app later on). A credit card is purchase of "credit" through minimum payments and this "credit" is used for transactions such as groceries, travel costs etc.

Subscription services do not come with interest rates, late fees & missed payment penalties. Only lines of credit do that. Additionally, subscription services do not ding your credit if you fail to keep up payments All Access is an Unsecured Line of Credit… Do yourself a favor and take a look at question 6 of Microsoft's "All Access" FAQ and you'll see that Dell Preferred account is "revolving line of credit" (source: https://www.windowscentral.com/e?link=https2F%2Fclick.linksynergy.co... )

In that case, it's still not a credit card but a payment plan just like a payment plan for a sofa or a car or a mortgage. Because you cannot use any of these services to buy any goods at all. Unlike any of the above services, your xbox will most likely not be repossessed but access to xbox live features and games maybe be cut off - like a mobile phone contract or landline were you cannot dial out or send text messages.

Thank you, but I never said it was a credit card. I asked what would be the difference between getting Xbox All Access versus getting a credit card (with the same credit terms) and buying the 3 things that Xbox All Access provides?

You said you couldn't tell the difference between xbox all access and a credit card. Therefore I told why xbox all access was not the same as a credit card lol.

"You said you couldn't tell the difference between xbox all access and a credit card." - Wrong again… My original & exact quote was: "Not entirely sure what the difference between Xbox All Access and getting a new credit card." Now I obviously meant getting a new credit card for the purpose of buying the exact things within the "All Access" program (Xbox One console, Gold & GamePass)… I guess I just assumed that everyone would know what the credit card would be used for…I mean since I'm making the comparison in the first place.

All depends when the Xbox Two is out. I suspect it is around 2yrs away, which means that there will be a lot of people coming out of the two year contract, just in time. Not such a good deal next year, depending what upgrade offer they give.

Xbox Some Access more like it. Doesn't quite reach the threshold for "All".

If it was online i would have already signed up

Lol the same dumb people who tie themselves into carrier contracts will be dumb to tie themselves into this contract as well, while losing on the chance to get cheaper Gold subscription (I never EVER paid full price for the 24 moth subscription. It always costs me around 2/3 of the price because I don't buy it from Microsoft) and cheaper console bundles. And if they decide to ditch the console, they're still bound to the contract. Lol. Good luck getting into even more debt, people.

So, you are predicting a huge success for XBOX All Access.