Xbox Elite Series 2 controller improves bumper and grip durability
Microsoft's upcoming Xbox Elite Series 2 controller looks to bolster durability across its bumpers and grips.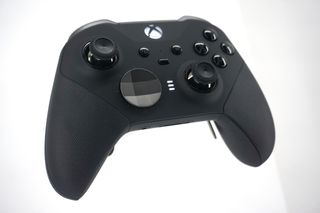 (Image credit: Windows Central)
Microsoft's E3 2019 conference wrapped last week, host to the unveiling of its Xbox Elite Wireless Controller Series 2. Delivering its latest revision of the premium Xbox accessory, Elite Series 2 packs a roster of handy enhancements. The extensive facelift makes room for joystick tension control, improved hair trigger locks, and an internal battery – paired with a dedicated integrated charging dock.
We've been following the Xbox Elite Series 2 for some time, recently getting hands-on early at E3 2019. Microsoft's leading gamepad emerges sleeker than ever, packing a familiar design and feature set unrivaled by alternatives. It now appears Microsoft has refined manufacturing too, slated to alleviate durability issues that plagued its predecessor.
Principal Designer on Microsoft Devices, Elliott Hsu, has confirmed bumper durability improvements for Series 2 on Twitter, "reinforced" under the latest design. Hsu followed by assuring durability and construction has also improved for the rubberized grips.
Yes, we've heard you. The bumpers have been improved! Reinforced for Series 2 by our engineers.Yes, we've heard you. The bumpers have been improved! Reinforced for Series 2 by our engineers.— Elliott Hsu (@djsku) June 15, 2019June 15, 2019
Microsoft's original Xbox Elite controller has faced well-documented shortcomings, with buyers documenting peeling rubberized grips, loose bumper buttons, among other issues. Microsoft has failed to formally address concerns facing the first-generation design, despite being a widespread concern.
The Xbox Elite Series 2 is slated for November 4, 2019, providing our first opportunity for extensive testing. While gauging durability improvements comes with time, it's a crucial factor as launch nears. Preorders are now live via the Microsoft Store, priced at $180 (opens in new tab).
Our pick
(opens in new tab)
Xbox Elite Wireless Controller Series 2
At long last, the Xbox Elite Wireless Controller has been updated. Series 2 brings big improvements to the table, such as Bluetooth connectivity, a charging dock, adjustable tension for the thumbsticks, and much more.
Matt Brown is Windows Central's Senior Editor, Xbox & PC, at Future. Following over seven years of professional consumer technology and gaming coverage, he's focused on the world of Microsoft's gaming efforts. You can follow him on Twitter @mattjbrown.
So why didn't they improve those for the white Elite? They even stopped production for a year and then restarted it and sold the white one like nobody ever complained about those things. I won't give them the benefit of the doubt this time, I will look how build quality holds up in 2021 and then think about getting one. For now, fool me once, shame on you, fool me twice ...

The could have at least extended the warranty like they did with the RRoD with the 360.

They did. Initially the warranty was 90 days. Once the grip issue came to light, they extended it to 1 year. That, and generally if you reported issues with the elite they replaced it out of warranty. I got 2 replacements, the first, 9 months out of warranty (stick drift) and then they replaced the replacement when the grips started to come off.

Ah, I think I did remember that. I guess I was thinking it was initially one year.

possibly cos its not that common?
Ive had one since launch, and I've dropped it dozens of times, got thousands of hours gaming on it. not a single issue they could have given owners who prove fault a discount coupon though, or some other remedy

I'm with you on that not had one issue with mine and got It with my xbox x.

I have one of their custom controllers from their Design Lab. I owned the Elite but sold it once I got sick of the grips coming off even after having them replaced. However, the grips on the Design Lab controllers appeared to be better. I was wrong. My custom controller is now also starting to suffer from grips peeling off. It's hard not to be skeptical they fixed it with v2.0.

That's great, because the original Elite Controller bumpers were more fragile than Donald Dump's ego! Controller price is way off though.

My hesitation is buying this new Elite controller when it launches this fall when that's only a year out from the new Xbox console. They've already said it will be compatible with the new Xbox console, but doesn't that therefore mean that they aren't really going to be changing the general controller for the new console? If so, that seems a bit disappointing. Don't get me wrong--the Xbox One controller is the best in the industry--but I was hoping they'd still find a way to improve it further.

They could very well make further small improvements, like they have at different points in this current generation. The controller you get with an Xbox One now is a good deal different than in 2013.

Nice. Now do they improved the configuration software?
Windows Central Newsletter
Thank you for signing up to Windows Central. You will receive a verification email shortly.
There was a problem. Please refresh the page and try again.