Here's a closer look at the new Xbox Elite Controller Series 2, unveiled at E3 2019
By Jez Corden last updated
Microsoft unveiled the new Xbox Elite Controller Series 2 at E3 2019, and we managed to get up close for a more intimate look.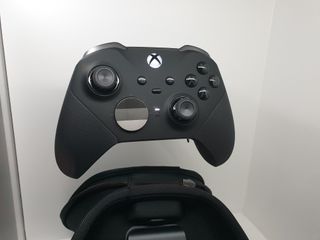 At E3 2019, Microsoft showed off its new Xbox Elite Controller Series 2, which we've been talking about for quite a while. Many of our previous rumors were confirmed, including an internal battery, complete with a charging dock, three profiles with indicator lights, improved hair trigger locks, tension control for the joysticks, and an array of other small refinements.
During the showcase, we managed to get a closer look at the new Xbox Elite Controller Series 2, so you can get a better idea of what to expect.
For the most part, the Series 2 looks relatively familiar at first glance, but the devil's in the details. The grips on the reverse now cover more of the bodywork across the back and seem to have less clearance off the plastic than the previous Elite controller. Owners of the previous controller have long reported flimsy rubber grips, which had a tendency to fall off after a while. Microsoft has never officially owned the problem, but I've had it happen to two Elite controllers in my possession. Hopefully, this new manufacturing process will solve those issues.
The new controller sports Bluetooth finally as well, making it a powerful and highly configurable option for PC gaming too. As you can see, the controller sports three lights which represent separate profiles you can arrange for different games, swapping out keybinds and so on. The triggers also have refined locking states, and have rubberized grips.
The charging dock looks similar to solutions we've seen from third parties over the years. It's hard to tell how it'll work in practice since we weren't able to get hands-on, but hopefully, it'll sport a magnetic functionality to help keep it stabilized.
We won't know just how good it is until we get to give it rigorous testing when it launches on November 4, 2019. As good as the last Elite controller was, issues with wear and tear on the rubber grips and triggers held it back from achieving true greatness. We'll have to wait and see if the new version has ironed out the manufacturing troubles. If you're ready to go, it's available now for preorder.
The Elite
(opens in new tab)
Xbox Elite Wireless Controller Series 2
At long last, the Xbox Elite Wireless Controller has been updated. Series 2 brings big improvements to the table, such as Bluetooth connectivity, a charging dock, adjustable tension for the thumbsticks, and much more.
Excellent and affordable Xbox accessories
Up your Xbox experience with one (or all) of these budget accessories, all of which are approved by the gamers of Windows Central.
PowerA Play & Charge Kit for Xbox One (opens in new tab) ($15 at Amazon)
This charging kit keeps your Xbox One wireless controllers juiced up, and it offers batteries for two controllers. At just $15, this is hands-down our favorite budget charging companion.
ElecGear 4 Port USB Xbox One S Hub (opens in new tab) ($19 at Amazon)
This brilliant little USB splitter hub attaches perfectly to the side of your Xbox One S console. It's ideal for use with chargers, controllers, headsets, and more.
Controller Gear stand (opens in new tab) ($13 at Amazon)
Proudly display your Xbox gamepads with this stylish and functional stand. The licensed design is minimalist and black, and it has a hidden storage compartment, making the price of $13 a real steal.
Jez Corden is a Senior Editor for Windows Central, focusing primarily on all things Xbox and gaming. Jez is known for breaking exclusive news and analysis as relates to the Microsoft ecosystem while being powered by caffeine. Follow on Twitter @JezCorden and listen to his Xbox Two podcast, all about, you guessed it, Xbox!
Never quite understood the fuzz people were having with their Elite Controllers breaking all over the place.
By now I'm just assuming they're people like an old friend of mine who broke each and every piece of handheld peripheral within a 2-4 months time-span - There's only so much violence a peripheral can withstand before even the most expensive one breaks. As for me... I own two Elite Controllers and both of them look close to pristine with flawless working condition despite heavy use so yea. Now as for the Elite 2... I'm a little heartbroken at the looks of the top shell now also featuring the diamond pattern - IMHO it takes away from the previous generations sleek design. I'm also not very fond of the idea it now featuring a built-in battery - 40h lasting capacity or not. Luckily it doesn't look like the Elite 2 has brought enough on the table for me to ditch my Elite 1s =) Heh... Maybe the Elite 3 will have wireless charging and a built-in microphone?

The grips have a tendancy to expand with heat then peel off. Had this happen on two elites, one of which was barely used and the grip started bubbling while it was sat in it's case for 6 months... Also had one begin to drift on the left stick after about 18 months. Both treated well and cared for. There where just a couple of design flaws unfortunately. The two I have now though seem to be OK... Just depends on how often you use them I guess.

You not having problem doesn't mean that people should not have issues. There were a lot more complains about problems with the elite controller than the regular ones.
I never understood the way people try to downplay the problems of other people just because they don't have problems.

Exactly. Take a look at used eBay sales and you see nothing but grips peeling and LB or RB failures. Poor designs can happen to everything and sometimes arent seen untill serious numbers get released. Remember the X release and people complaining about fan noise? Personally my external 2.5in hard drive is louder than the unit, but I'm sure some of the units out there have issues. It's called manufacturing defects.

I'm on my second Elite. Possibly my third. The first one had signifigant stick drift for the left stick and my second one has had the right paddle go out recently. Despite this, I love the damn thing. I just bought a bumper repair kit on Amazon. I hope I can fix it for $15 rather than spend $140 for a new on Amazon. The fact that I am ready to pay for a third if my homemade repairs don't work should speak volumes about how much I love it. Once you get used to custom binds and paddles, especially on a game like Fortnite, in my opinion, there's no going back.

Assuming that people are being reckless with their controller is pure ignorance For the record, my Elite controller has had both rubber grips expand and peel, and the RB has stopped working. With moderate use - a few hours during the week, and maybe 5-7 hours over a weekend - the grips fell off roughly 5 months since purchase. The RB broke and separated from the controller about a year later, but the signs were showing in less than a year (I could feel the bumper becoming less responsive as time went by). Using the controller is not being reckless with it.

Ah built-in battery. So where are all those people coming in and talking crap about "what if my battery dies and how they prefer AA batteries?
Where are you guys? Where are you hiding? Oh and 180 bucks for a controller? lol OK Even more expensive than the first.
And why not people will buy it.. I understand XB "fans" love their multiple controllers...

I've already seen XBox fans complain about the non removable battery, so yeah, they aren't happy. Me, I couldn't care less.

The price bump basically represents the inclusion of the battery pack and charger.

I mentioned the battery in the first article about this device, it was literally my first thought. And actually, yes I perfer AA batteries. I am still using some rechargeable Energizers from my 360 controllers over 10 years old. I'm probably the minority on this. The popularity of internal batteries in heap phones show this. Considering the price. I always thought it was ridiculous and not worth it. I tried a used one on ebay. It was WELL worth it at under 70 dollars. I would say this price is ridiculous as well, but I'm fully considering spending 200 on the Arctis 9X headphones, so who am I to judge.

Still prefer AA rechargeable BATs but Elite + BT is a must buy.
Maybe I can get a back plate replacement / mod from 3rd party and use my own Eneloops.

Does it have to be in the case to charge? That would be weird, but that is what it looks like in the picture. If that's the case, I hope I can also get a separate charger. Currently, I have my Elite on the end table by my couch on a nice charging stand that charges two controllers (the Elite plus a standard Xbox controller my daughter uses). This ensures it's always fully charged whenever I pick it up. I wouldn't want to leave an unzipped case sitting there, nor would I want to have to zip a case shut every time I'm done playing. I'd hate to lose that capability. By the way, I too have had a slight peeling of the left grip on the Elite. It's minor (only about 1/8"), so I've ignored it, but I can feel it when I hold the controller. It is disappointing, but in my particular case, probably also easily fixed with a drop of glue. The original Xbox controller, is older, has been played more (originally by me, and then by my young daughter), and is still in perfect condition.

Does this have USB type c for fast charging as well? this one along with existing ones to work with scarlet.... But the scarlet should change the mini not fast charger for a type c. And with this as the premier controler for the now to next several years... I would expect scarlet controllers to be more of the same... Again with USB c please

It definitely has USB-C, but I don't know if it has fast charging.

I just hope they got rid of the stick drift. I'm on my 3rd elite and all of them have had the left thumbstick stick drift to the right. It can be negated through adjusting the sticks on the devices app but it's still annoying. I am also curious about the charging. Is the stand removable? I don't want to charge it in the case. It just seems awkward and what about the heat?

I went ahead and pre-ordered this but I am still very concerned about the durability of the controller. My personal experience with the first Elite controller but highly disappointing. The grips came off on both handles and the left thumb stick developed a big drift. My desire to own the new controller appears to outweigh my negative experience with the first version of it!

Elite + BT? Take my money!
Wish we can pop the back plate out and swap it with our own rechargeable battery... prefer to hot-swap when BAT dies.

At e3, one of the rubberized grips from the 2nd generation elite started to come off and had to be replaced at the booth. That is, the controller was replaced....not the grip
Windows Central Newsletter
Get the best of Windows Central in in your inbox, every day!
Thank you for signing up to Windows Central. You will receive a verification email shortly.
There was a problem. Please refresh the page and try again.