Xbox Fitness will stay free for Xbox Live Gold members in 2015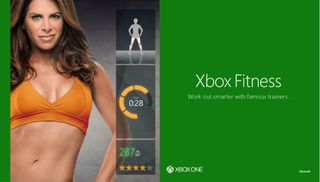 Microsoft has confirmed to Windows Central that the Xbox Fitness service included as part of the Xbox One console will continue to offer access to free content for Xbox Live Gold members past the end of December 2014.
When Microsoft first announced Xbox Fitness in September 2013, the company said that paid Xbox Live Gold members would receive free access to the service, and many of its programs, until the end of December 2014. Indeed, the official Xbox Fitness FAQ (opens in new tab) still says, "An Xbox Fitness Pass gives you unlimited access to the world's best workouts for free with your Xbox Live Gold membership through December 2014, only on Xbox One."
However, we decided to contact Microsoft to see if those plans have changed, and indeed they have. Here's what the company told us via an official spokesperson:
So if you own an Xbox One with a Kinect add-on sensor and have an Xbox Live Gold subscription, it looks like there will be at least some content you can download and use for free after the end of 2014.
Gold? I'm Xbox live Silver. What about me?

You'll have to purchase it separately.

Just go get gold. 99 USD for a two-year sub. $4.16 every month.

A lot of people spend more then that on coffee everyday.

Who pays $100 on coffee every day? :p

Joking. I don't have an Xbox.

Or get the Work & Play Bundle for $149. It had a write up on here earlier today. It's a better deal because you get Office 365, Xbox Music, & Skype Unlimited as well.

Awesome. It's such a good feature and forces me to work out correctly. Damn you Kinect!

Great news but I still have to purchase the P90X workouts :'(

Two of the P90X workouts are free with Gold. But, yeah, the full set is like $60.

The problem is that it is not the full set. There is something like 13 videos in the full p90x suite, whereas you only get like 5 with the $60 purchase.

The full set is different than the free ones. The free ones are from the original workouts 10 years ago where the full set for $60 is designed specifically for Kinect.

Download it from kickass.so

great news. xbox ftness is the best thing utilizing the new kinect on xbox one

Xbox Fitness is an awesome example of what Kinect can be, with full body tracking and heart-rate detection. It's amazing. But, I think the best examples of Kinect are 1. Fantasia: Music Evolved, 2. Dance Central Spotlight, and 3, D4: Dark Dreams Don't Die. Check them out. They're all superb (I also like Kinect Sports Rivals too, but I wouldn't recommend paying more than $30 for it).

Have you tried shape up, that's a great fitness game

I want to. I watched Stallion83 stream it on Twitch and it looks really clever and fun. I see that there is (possibly) a free trial of the game in the Xbox digital store? It's not clear. If you select the game it says "Try for Free", but it's not listed as a demo in the demo section. What does that mean?

Get me some of that yum yum

What exactly do you mean NIST..??

He's particularly enamoured by the orange sports bra.

Oh..So he wants some of the yum yum which is inside it..!!

You a boy or not..?? @rzkwp8

1. Yeah but I prefer not to indulge in such stuff until THE time comes. 2. And it's not as if everyone here is a boy. :P
3. Comments like "yum yum" are immature, childish, and make it look the poster just grew up. Besides its disrespectful to women. :P

So you do disrespect women. Okay, then, you'll learn someday. :P

I thought you'd play the sexist card. Unfortunately for you, you don't know you're music. Those lyrics are from a song called Shoop by a couple of very well known females, Salt and Pepper. Singing about guys. Checkmate. Thank you, I'm here all week! #thinkbeforeyouspeak http://www.justsomelyrics.com/308277/salt-n-pepper-shoop-lyrics.html

I asked about it if ye read mah comments again..It was not me who took it the other way..!! @Mr. Acronym

Apparently it was all a misunderstanding, sorry if I sounded rude. But I hope you do respect ladies...

Forgiven boy as it was all Mr. Acronym's play..!! I respect ladies and even I have got a girl so I know how to be with em..!!

Mr. Acronym..??? O.o Thanks! :D That's great :)

Mr. Acronym is NIST and NIST only..!!

NIST I wasn't replying to you, and I actually didn't know that song, my apologies.

No need to apologize the sexist pig..!! :P :P :P :P

Says a person who puts :p at the end of each sentence and thereby makes all of his comments either sarcastic or not to be taken seriously..!!

Could be possible. It has a very small port though. But since you're mentioning it, I'm sure you've tried and succeeded. That's certainly not any achievement I'd like to unlock.

I'd plus one you if I wasn't on my phone.

Oh my god...that's so original. Good job. I'm sure since you talk like you're 12, then you must be 12. You're so cool. So. Cool. F*ck the Kinect.

Aw. Did the Kinect beat you as a child?

I think he's still being torched by it..!! See his expression and language..!!

Yeah, you might not wanna point out immature and un-original comments when yours is "F*ck the Kinect"

Because it's neither immature nor un-original? Good try though. *Thumbs up*

Apparently you've missed out on the internet for a while. People have been bashing the Kinect on X1 for over a year now. Also, yes "F*ck the Kinect" is quite an immature way to express your opinion on the device.

The Kinect is horrible. Nothing like it should've been in the project Natal days. It's garbage. Only 5 year olds enjoy it. So just because you think using the word "f*ck" is immature, that's just your opinion. Cool. You're entitled to it just like I am mine. This is why I say, f*ck the Kinect. It's just as plain as that. No better way to spell it out for folks like you other than saying "f*ck it". F*ck.

Right, because backing up your opinion with insults is such a mature way to get you're point across. I'm really quite curious if you've even used one or just follow the trolls on the internet.

Insults? I never insulted. And yes, I have a Kinect and it was a waste of money. Luckily I bought it for 25 bucks from a guy that also thinks they are garbage. I tried using it and I tried to enjoy it but it's too horrible. Nothing like it should've been or could've been. Microsoft screwed up big by changing it the way they did. Again, this is all my opinion. Some enjoy it, most don't. Back to my original statement for me...f*ck the Kinect.

"Only 5 year olds enjoy it" that most certainly is an insult to those that enjoy it, and have the ability to get it working properly.

No, actually that was merely a fact I've witnessed with my own eyes. Lol. You're over thinking this way too much. You're going to hurt you brain. Just calm down. It'll be okay. Anywho, this has been fun. Good game.

So because you witness a 5 year old enjoying the machine, "only 5 year olds enjoy it" now I see why your opinion is so skewed. If less people had your mentality, technology like this would do so much better.

Trust me, I've seen more than just 5 year olds use it and almost everyone that used it, disliked it. Your argument is invalid because of the simple fact I do not care lol. Let me state this one more time for you...again, it's just my opinion. The kinect is not anything but normal technology. Nothing new to see here. Everyone that dislikes the Kinect knows what it could've and should've been. Either that or they just plainly don't like it for whatever reason. It happens. Things fail. The Kinect failed from the beginning and Microsoft keeps trying to fix it. They need to stop, take a step back and start over with it. Simple. Again...my opinion. I like this. So. Much. Fun.

I love the Kinect and use it every day. I'm 5 years old.

Oh shit, didn't even know it was free. Guess I have no excuse to not do a little exercise.

Sitting on the couch all day long playing Xbox is the best exercise ever. And btw, best with a big bowl of chips on the side.

Well demand it on the correct article or better yet, demand it to Microsoft.

That was soooo off-topic, dude.

Bulking up my thumbs and trigger fingers... Looking hench!

I would use Xbox Fitness more often if it didn't take 15 minutes to load every time.

Yeah it is agonizingly slow to load.

I wish they would add some yoga routines.

There are some yoga routines. Some free (with Gold), some paid.

I'm regretting not having the Kinect model. Mainly because the system UI is complete shit and the Kinect would help bypass must of that. The Xbox fitness is cool too and I already have gold.

You can buy the Kinect separately. It also comes wtih a free game (Dance Central Spotlight). I think it's well worth it.

do these come with p90x videos?

Two P90X workouts are free (for Gold members). Then there are many more that are not free.

There are a few free Beachbody videos such as Insanity and the original P90x (just a couple of each, not the full set). There is a 5 or 6 set of new P90x videos designed specifically for Kinect that is $60. I plan on buying them soon. There are other kinds of workouts that I never tried or explored. Some have NFL players in it, others are Yoga or Tai Chi. Some are free, some are not.

How about playstation user
What the best game for fitness

For that you must go to Sony Central

How is the app free of you have to pay for Xbox gold? ;D

There are some free demo workouts in it even if you don't have Gold.

Well, there are ways to get gold for free, so there's that.

Bring on some other news...everytime I open wc her cleavage shows up

At least you could hire a good model for the pose, lol

That's Jillian Michaels. She's a big-time fitness trainer and crazy fit. Also, I think it's her exercise program anyways.

Awesome. Get another year to try a new year's resolution.

They had to. They vastly limited the audience by releasing a X1 minus the Kinect. I really enjoy Xbox Fitness. I've done some of the Tony Horton / Insanity workouts (just did one this morning) and I do indeed work out harder compared to when I use the workouts from disc. I constantly compete against my previous best workouts / sets so I work out harder. On the downside there are times where I feel I am doing the motion of the routine perfectly and the Kinect mis-reads me and screws up my score / pace to break my previous record. I think I am going to buy P90x that was made specifically for Xbox One. All the other BeachBody worksouts I have used already existed with a Kinect overlay. Should be exciting.

I have to say. I had high hopes with it. We got the Day One edition of Xbox one. Although it glitches a great on a very constant basis for us I loved Xbox fitness. Glitches meaning I would do a section and it would stay on 0 points during the entire portion or multiple portions and I wouldn't get points. Wouldn't even register me moving. That was constant. then a few moths ago it stopped even loading. We of course pay our live gold membership. I can't even access. I click on fitness and it turns on the app but gets to the DONT over exert yourself screen and then goes back to my home screen. On the off chance I get into it I can only access the 2 programs I purchaseed and the Mossa workouts. That's it. I would have to purchase every single other program on there as they are locked. Nothing more. Completely useless program I see. Extremely disappointed.
Windows Central Newsletter
Thank you for signing up to Windows Central. You will receive a verification email shortly.
There was a problem. Please refresh the page and try again.