Xbox One will kick you into shape with Xbox Fitness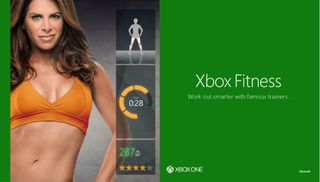 We like fitness around here at Windows Phone Central and Mobile Nations. We like it so much, we dedicate the entire month of February to learning and exploring the ways technology can help improve your overall health. Throughout the year we'll do our part to promote cool fitness apps whenever they come (like Active Fitness and Adidas miCoach). When the Xbox One launches in a two months it will be another way to use technology to stay healthy with the launch of Xbox Fitness.
Xbox Fitness is looking to take the most popular fitness videos and turn them interactive. You're going to get an extensive library from fitness brands like P90X (Tony Horton), INSANITY (Shaun T), Jillian Michaels, Tracy Anderson, and more. How are they going to make fitness interactive? By using the new Kinect 2.0 they'll be able to evaluate your form, measure your heart rate, check the force and transfer of weight in your body and much more. Video of it in action below.
By providing instant feedback, Xbox Fitness can eliminate the need for trainers for the majority of people out there. Best part of Xbox Fitness? It will be free for Xbox Live Gold members for through December 2014. After that fitness programs might be à la carte purchases.
What do you guys think of Xbox Fitness? Gimmick or cool use of the new tech inside Kinect 2? Looks like bundling a Kinect with every Xbox One might pay off as a way to further adoption of Kinect applications.
Speaking of fitness. Daniel will be getting the heart rate monitor for the Adidas miCoach app and test it out over the weekend. It uses BT 4.0 LE to connect to your Windows Phone device.
Looks like Xbox One owners will be in better shape than those with PS4s. Oh no he didn't.
Source: Xbox Wire (opens in new tab)
Windows Central Newsletter
Get the best of Windows Central in in your inbox, every day!
Well, I'm not 30-40, so...

What difference does it make?

DAMN!! but definitely a womans body ;P

You read my mind buddy! After seeing that face, even though was not interested in this particular artical. Just came in to check out the comments if anyone had similar thoughts

Microsoft has a great vision for XBOX ONE which is aptly named.
Its a single system that's useful for all kinds of people, not just gamers. Bundling kinect helps a lot in pushing all these things.

They grabbed everyone. Jillian, P90x...nice

I personally prefer Tracy Anderson over Jillian (from the video). Wow!

Really hoping they have Windows 8 / Windows Phone app to track your data/performance when you're not working out. Maybe they'll use SmartGlass for tracking your stats when you're not in front of the Xbox One. Can't wait to try this.

I sure hope more of these games on Xbox One are wheelchair compatible. It breaks my heart watching my nephew watch all of us play during family gatherings.

My heart is broken for the little guy. Hopefully we'll see a lot more Kinect 2.0 games that you can play parts of them while sitting.

Fable 4 could be good attempt to find out if he likes Kinect, there is a demo out there

Uh....Fable 4 hasn't even been announced yet.

Duh? Fable 4 the journey? Its demo is vailable, i played only that. Last time when did you open gamespot or ign?

Fable: The Journey. NOT Fable 4. The Journey is a spin off. Not a numbered title.

well its probably most games will utilize kinect with headtrack and stuff like that that dont require you to use your legs.
Even project spark will let you record your voice and animate your arms and head and eyebrows and mouth, im sure it will work perfectly fine for your nephew. for what they showed in Project Spark steams, its just one of those games that you cant wait to come out.
Im sure the new kinect being bundled with xbox one will let more games have that kind of integration. not full body but also parts like voice and arms and face.



Spend TIME with him...
take him out to enjoy the beautiful part of the world[Nature]

So this was posted mainly because of the shot of Jillian Michaels, right? :P

Too bad she'll never look my way since I'm a guy. :-/

We need porn lol just joking

I really wanna try this. I used to weigh 100 pounds. Now I'm somewhere near >136.. :/

I used to weigh 136... Now I weigh 200ish...

Well - The weight is not the best indicator to evaluate the fitness or looks of someone. We all know that Muscle is heavier than fat

Weight skews BMI and skewed BMI is linked to plenty of stuff we can worry about.

That is genuinely impressive! Not just the array of trainers, but the free membership for an entire year!! But now I feel kind of bad for UbiSoft, who had easily the best workout software on Xbox 360 in YourSelf Fitness.

You do t get it for a year. You get it for a month and some odd days if you the Xbone at launch.

No, its good to 12/14. That's pretty much a year for launch folks, but several months for those of us that wait till after the holidays.

No hip hop abs?? Tilt, tuck, and tighten...

The hip hop abs/rockin body challenge pack is on sale this month :)

Will each fitness program have to be purchased separately?
It would be incredible if we only had to pay one price and got all the programs.

All of Xbox Fitness will be free for Xbox Live Gold members until December 2014. After that who knows.

Nice!! I like that for sure!

Article need a correction, it will be free until Jan 2015.

EDIT: At the end of the page: https://www.windowscentral.com/e?link=https2F%2Fclick.linksynergy.co...

This is gonna be pretty cool

Cool. Was upset that fitness evolved was Wii only last version

That looks a LOT like Nike fitness.

I don't know that I have enough room to do all of this, but that won't stop me from trying.

Wife is gonna love this. She just had a baby and wants to get back in shape within the next couple months. Do I smell a way to get her to condone my, I mean, our $500 purchase??

That looks pretty cool. Can't wait to try it. Has anyone tried the app "Pocket Trainer"? It's an excellent app if you're looking for a core workout.

Awesome! I've done both P90X and Insanity. Getting instant feedback is freaking great.

Now, if there was Crossfit Kinect, that would be interesting. :P

an Xbox is a gaming console, gaming consoles are purchased by gamers...since when did gamers care about fitness.

What the hell are you talking about? Gamers care about the same things as others, they are humans to you know.

Hahaha epic comment +1 x100000000000

Just because you aren't into fitness doesn't mean all other gamers aren't as well.

I play games while using my exercise bike regularly....It beats sitting on your ass and getting fat on the couch while you complete another mission on GTAV...Also, I do P90X and currently Focus T25 so PLEASE don't be the spokesperson for gamers like myself....Enjoy your Cheesy Poofs Cartman.

Mmm nice om guessing this bike close to tv right that would be pointless if u cant even see xD

Sure an Xbox may be a gaming console, but the Xbox One has so far been shown to be much more for many more people. You don't like fitness? Don't use it. There are plenty of other features of the Xbox One that will cater to your tastes.

Gamers are just meant to eat cheeto's, drink coke, and pet their cat while they don't move from their computer chair are they?

sorry., its just that the gamers I know are people who sit in front of a screen for 9 hours a day. they pretty much only work game and sleep...perhaps they might take a 40 min walk outside.

but don't take it so hard...sheesh

I don't know any gamers like that, actually.

look, I apologize if I offended anyone here, I cant delete my comments ... bla bla bla bla...lets just please let it die here.

This is really cool... they must have been watching all of us through out current Kinect systems to find out what we do in front of our TVs all the time! I have Nike + fitness and it is cool but I love P90X, Insanity!

This really looks like Netflix but for Fitness videos! This is such a great idea... if they are adding that Nike + type social and progress tracking to the videos everyone is already doing that is just awesome! This alone will make my wife want an XBox One... she is always donig TurboFire, etc... it looks like all that stuff is there!

This is neat and all. But it definitely won't replace my gym membership.

Very nice. Grabbed mr. Horton and Shaun t. Big names there and of course Jillian Michaels

personally I play Insanity by Shaun T and it's a cool way to play sports. I will definitely buy Xbox One. but can you get more workouts in the future? I want Hip-Hop Abs by Shaun T, too.

Awesome! Hopefully my fat-ass wife will get motivated! If Xbox One makes her skinny I will be loyal to Microsoft FOREVER!!!!!

That's a bit harsh to your wife :/

With all of the pretty people on the screen I am more likely to feel depressed using this to exercise. How about we get some fat guy to host the exercise game, some guy who is so out of shape that he cannot even do the tasks correctly, but he cracks jokes the whole time. That would be much more relate able.
Besides, laughter is the best exercise!

Why would I listen to a fat guys fitness tips? Who says those pretty people on the screen didn't used to be fatties who got their arses into gear?

I really like the Nike Kinect game- only wish it was more accurate. With Kinect 2 there shouldn't be problems with floor exercises and tracking. I have Insanity and have to say its awesomeness. It'll be great to have those videos interactive.

Really hope MS pulls it all together and we're seeing the start of their ecosystem kick it into high gear.

I was just thinking about this last night. I've got Nike+ Kinect right now which is the best of the fitness titles I've tried. I really like the Insanity workout program better though and wish they'd have made something interactive out of it. I'm all over this one :D

Considering the cost of these programs on thier own, giving them away with the Xbox One offsets the price of the console so you can justify it as a personal health expense :D
Windows Central Newsletter
Thank you for signing up to Windows Central. You will receive a verification email shortly.
There was a problem. Please refresh the page and try again.