Xbox Games for Windows Phone 8.1 updated, removes self from App list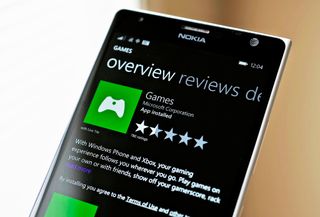 We are big fans of Windows Phone 8.1. We're really liking that apps, like the Xbox Games Hub, can be updated independently from the OS itself. This will allow Microsoft the freedom to update more frequently than before. Today we're seeing one of those updates for Xbox Games on Windows Phone 8.1. It's an odd update though.
Head into the Windows Phone Store and you'll see version 2.0.1405.2000 of 'Games' for Windows Phone 8.1. A few days after the availability of Windows Phone 8.1 we saw the app pick up its first update. There was no changelog then and there is none today. Though we are noticing a few slight differences.
Update the app and you'll notice that 'Games' no longer appears in the App list. Where did it go? We have no clue. Unpinning the app from your Start screen basically means you won't be able to access it. We did a search for 'Games' with Cortana and it didn't show up in phone section either. So you might not want to unpin the Games hub from your Start screen if you like it there.
Is this truly the end of having your games all in location on your Windows Phone? Maybe. Last month we detailed why Microsoft decided to put games into the App list. It's a little odd that they'd remove the Games hub completely, we really liked it. Though we should point out that the Games hub still works if you access it from your Start screen. We just can't find it after updating it and removing it.
We'll let you know the official word on the potential removal once we find out more. Notice anything else with the update? Sound off below.
P.S. Want Games on your Start screen? Just use any third-party apps that pins apps to your Start screen if you accidently updated. Apps like Transparency Tiles should do the trick. Thanks for the heads up everyone!
Download Games from the Windows Phone Store.
Thanks for the tip everyone!
Get the Windows Central Newsletter
All the latest news, reviews, and guides for Windows and Xbox diehards.