Xbox Live, Outlook, OneDrive and more Microsoft services down for some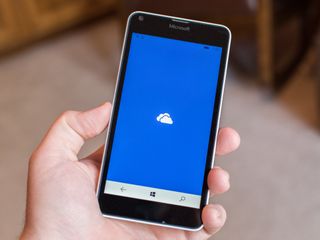 If you're hitting a snag trying to use any number of Microsoft services today, you're not alone. Along with a Xbox Live outage, it appears that signing into OneDrive, Outlook and other Microsoft services is down for at least some users.
For its part, Microsoft has acknowledged the Xbox Live outage on its service status page (opens in new tab), noting problems with everything from signing into your account to buying games. As for the other services, a number of users are reporting issues on Twitter, and a quick look at Down Detector shows Outlook, Skype, OneDrive, and Office 365 are all affected to some extent.
Hopefully whatever is wrong gets cleared up quickly. We'll update this post with more once things are in the clear.
Dan Thorp-Lancaster is the Editor in Chief for Windows Central. He began working with Windows Central as a news writer in 2014 and is obsessed with tech of all sorts. You can follow Dan on Twitter @DthorpL and Instagram @heyitsdtl. Got a hot tip? Send it to daniel.thorp-lancaster@futurenet.com.
The windows store doesn't work on my phone neither

Same here. Cortana as well

I'm actually relieved to see this. My PC had just rebooted from installing 15063, and couldn't sign into OneDrive despite multiple restarts to try to get it to work. I'm relieved that it isn't an issue with the update, as I NEED OneDrive all the time. All a matter of perspective. ;)

Same here, strangely it does work on PC in the same build 15063

no problem with the store for me but feedback hub is down

oh, I am one unhappy camper.... I JUST picked up my copy of Mass Effect Andromeda only to find I can't sign into my Xbox Live account.

You're lucky. I wanted to talk to Daniel Rubino but Skype is down :(

I wanted to generate an app password, it is down for me :-/

Just downloaded 15063 to my SP3 and had some items regarding Edge that I wanted to provide feedback but Feedback Hub gives a message that it cannot connect at this time.

Store as well acts up oddly..

Is this why the latest fast ring mobile update isn't showing up for me?

I was already freaking out damn! Rebooted my PC several times already :-(

Not working for me, either.

Ahh, please come back up.

I couldn't update Defender signatures on one of my devices as well. I'm guessing it's related to this because Defender said there was something wrong with the internet connection or something.

I think this is a good lesson on why a cloud first world has its own share of challenges that need to be addressed. There should be robust failsafe's in place for situations of this nature in the future.

the strange thing is same account works on one device and not the other. they are sharing the same wifi before anyone asks =] but yeah it is down to some extent. please let us know the updates... I just need my account.

I think it's a sign in issue. Any device that was connected and signed BEFORE the outage does work. Anything new, including access from browser, nope.

I was getting piss off, i lost part of my work on a ppsx (luckly it was just one slide since i just recently made it and took a break for lunch).
I recently (today) changed my password and i was starting to wish i haven't

This is the second time in less than a month that Microsoft services downs for me. Havent they learned how to be falling proof? (I'm not saying is ease, i just want them to be, they are better than that and they also -i'm talking to you google- make money with my info, in a better way but this isn't as free as advertised)

Google has its fair share of outages too. We use the gafe thing at my work (I work at a school). No one is perfect. Looking at the map there are a lot of outages in the UK and ISPs all over America. So who knows whats going on. It might be on Microsofts end. It might be on a carrier. Who knows at this point.

I haven't experienced that before, and 2 in a month is a lot for me, i always read about xbox been down but i don't have or play a lot of Xbox connected games, so i don't feel that to much.
I just hope they fix it ASAP.

Can't play titan fall 1 on my Xbox one

I agree there should be an AI in place with algorithms that can self correct these problems when something of this nature happens. By taking into account past events and future possibilities. Very simple solution.

It's pretty frustrating to see a company go all in on the Cloud only to constantly be having issues with it. I am realistic, I TRY not to complain. However, I spent all night last night not being able to use any of the Xboxes in my house and today trying to use OneDrive for work and it isn't working. I am glad to see WC jump on this, though so I could confirm it's not just an issue at our office.

Yeah, it's going to still take me a while to put my faith into the cloud. It just isn't easily available everywhere. When you know that your connection isn't persistent and can change every other day, you just stay wary of going "all in."

just decided to reset my phone before this article was published :-(.... (can't connect were having trouble signing in)

I was about to do the same, but i can live without it for a while (anything less than 96 hours is good for me, after that is a different history)

Groove not working either. Skipping songs and booting me out of my login.

I got the blank blue screen updating my 950 to 15063. Had to use recovery tools to restore back to 10586 but now I can't restore my data on the phone. Hopefully they fix this soon.

And if you're using Edge on 15063, it appears that commenting on Windows Central is broken, too.

I noticed that as well. Its annoying.

Back up for me. OneDrive and Store.

Same here. I can't check my email, Skype is down, and I can't sign in via my Xbox either. Seems like everything Microsoft is just down now.

Surprised they're having so many issues in the last month especially with Xbox. Must be back end changes going wrong in advance of the anniversary update. Hopefully they're not being attacked...

Store acts like drunk tiger atm.

I can access Microsoft Account settings now. Working for me

This shed light on a very important limitation of UWP apps on Xbox One.
​On a PC, your account is cached locally so you can still sign in for a few days even in case of ISP or Microsoft outage.
​But on Xbox One, you cannot sign in at all, there is no cached or local account like there was on the 360. And UWP apps refuse to launch if you're not signed in !
​
This means in case of outage anywhere from your Internet connection to Microsoft servers, you're completely unable to use UWP apps on Xbox One. Unable to use Groove with local music files, unable to play videos from a HDD in Movies & TV, and later unable to work in Office Mobile or any other app.
This is definitely a critical issue for the future of productivity and 3rd party apps on the Xbox platform, as the whole thing cannot be trusted to be available when you want or need it.

Excellent point. Microsoft needs to address having some sort of offline mode.

Update: Everything seems fine now my email, Skype, and Xbox are now working.

Every thats being ran by Microsoft is having issues thought it was the update personally until i checked the services every thing is down even there Hotmail page is down, Xbox, app store and other stuff hope it gets sorted soon 👍

It's back in India... Store is downloading..

Store is fine for me, but OneDrive is down. Ugh.

Not fixed yet. Web based email works, but Windows 10 client still claims my account settings need fixing.

It went up for me about an hour ago. I see the Xbox Live status page shows it is up.

Still claims that my account settings are out of date each time I sync ...

Perhaps MS is triaging the response. The first thing I saw come back up was Outlook, and also the ability to sign in to my Microsoft account on the web. Only some time later was I able to sign into my Xbox Live account and hence my Xbox One.

I can't log in into Outlook on my L650 (i'm on the production ring) but I can log on Outlook via web and app on my PC.

I'm getting errors about my Office 365 expiring - it hasn't. Wonder if it's related.

I keep getting "Your Outlook account settings are out of date."

Same. Its been all day for me. Should be fixed by now!!!!!!!!

The speech input is not working on my phone either and email does not work.

I am trying to work on a Report which is due on Friday, but OneDrive is getting in the way...

Cortana still asks to sign in, even when I am. Sigh

I had to do a full hard reset to get Cortana, speech input, and email working.

So...Outlook still not working yet right?

Everything is working fine for me.

Article should be updated to say the issue was resolved steadfast...

I'm still having issues ugh

So wtf. My emails still aren't working on my phone

No email, no calendar appointments, no access to feedback hub - 950xl prod build. "Account settings are out of date".

Why is MS silent about this.

Still no joy here in the UK Lumia 950, no groove or feedback.

Wow this has almost been a full day now...

Same here... Still ""Account settings are out of date" on the Mail app for Windows 10.

Throwing myself in here too, still getting the "account settings out of date" error. It started about halfway through yesterday. I've removed the account twice (bad idea since I have no contacts now), and changed the password to force it to look for the new one. Still no go. Interestingly, it updates fine on the Outlook UWP app on my work workstation, the Office 365 Outlook app on the same computer, and the Outlook app on an Android I use. It only seems to be my 950 that's affected.

See reply from Jacob F below. That worked for me!

It's been almost 24 hours now. Email, calendar, contacts, all effected. Strange to see no word yet from Microsoft regarding this issue. It's a real pain you know

I did not have special issues here in Germany, but I noticed problems with push mail (I had to refresh mail by myself all the time). But in the last months I have general issues all the time with almost every Microsoft product. Somehow I think Nadella's leadership is really bad and leads to unmotivated culture. Since he became CEO the company fired over 25000 people. Even all of them might be unnecessary, this is a bad sign for the other employees. And I still don't believe they did not have any value. I followed some blogs and vlogs by really smart Microsoft employees who got fired. I think those problems are part of this process. While Microsoft managed to create a pretty stable OS for millions of different configurations they can't control, they are not able to create a stable infrastructure on their own servers. Even their mobile platform, with just a dozen of different phones, at least I have stability problems. I'm just waiting for first outlook.com BSOD

Workaround for phone mail, calendar and contacts: https://answers.microsoft.com/en-us/insider/forum/insider_apps-insider_m...

That worked, thanks for that! Would there be any reason to not keep it set up this way? Meaning, should I delete and re-add by choosing "Outlook" as the option sometime later when this starts working again?

Still doesn't work after almost 24 hours. Seems that the server-side may be solved, but an issue exists on the client side (perhaps some token, etc) that lingers on. I can log in using web and IMAP, but normal Windows 10 Mobile email still states there is a problem with my settings.

Fixed itself about 30 mins ago... Hmmm
Windows Central Newsletter
Get the best of Windows Central in in your inbox, every day!
Thank you for signing up to Windows Central. You will receive a verification email shortly.
There was a problem. Please refresh the page and try again.