Xbox Live - Pool Pro Online 3 now available with online multiplayer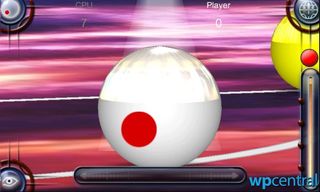 As we promised yesterday, Namco Bandai's Pool Pro Online 3 is now on the Marketplace. And guess what? It's surprisingly good!
Pool Pro Online 3 offers a realistic simulation of three pool games: 8-ball, 9-ball, and snooker. Foggy on the rules (like me) or new to pool? The built-in tutorial and reference section make learning a snap. Seriously, I have no real-life aptitude for pool but I've still managed to win several games so far.
To aim, simply drag anywhere on the screen or use the slider at the bottom for more precision. Guidelines (which can be switched off) show which directions the cue ball and any ball it makes initial contact with will take. Optionally, you can add English to the shot (hitting it somewhere other than center) by pressing the appropriate button at the corner of the screen. So far I haven't felt the need. Finally, pull down on the stick at the right side of the screen to take the shot.
Putting the Online in Pool Pro Online
Earning money in single-player to buy new equipment and pool halls is all well and good, but online multiplayer's where it's at. This is where the good news comes in… Pool Pro Online 3 is the first mobile Xbox Live game with fully competent, real-time online multiplayer!
Each game type has a public lobby, from which you can invite other players to a game. In fact, we spotted legendary Achievement hunter Zebrasqual boosting just this morning. If you'd rather play with someone else, simply press the Invite button and send one out to somebody on your friends list. Unlike Battleship, they actually need to accept right away – no asynchronous multiplayer here, from what I can tell. Once a challenge has been accepted, both players must agree on a bet before the match begins.
Chatting up a storm
From there, you'll simply take turns and play a traditional game of pool. Each player has a turn timer, so you can't just take forever to line up a shot. While you're waiting, feel free to tap the Chat button at the top of the screen. New messages create a nice sound effect, making it easy to keep a light conversation going during the game.
Once the match ends, the winner walks away a bit richer and the loser slightly humbled. Chat unfortunately cuts off at that point. But you're free to choose a Rematch; as long as both players stay connected to the server, the gameplay can continue.
That online experience is exactly what we should expect from any Xbox Live game with multiplayer features. For some reason, it's just taken almost two years for a game to accomplish as much on Windows Phone (and with little fanfare). But now it's finally happened, and hopefully the tools Namco Bandai employed will also be available to other developers going forward. Even if they're proprietary, Windows Phone 8's more intuitive development experience and improved hardware access will hopefully make clunky online Live games a thing of the past very soon.
The pool hall's doors are open
Pool Pro Online 3 costs $2.99 and there is a free trial. If you enjoy pool or multiplayer gaming, it's a safe bet. Get it here on the Marketplace.
Thanks to our bestest pal dKp1977 for the tip!
Windows Central Newsletter
Get the best of Windows Central in your inbox, every day!
Paul Acevedo is the Games Editor at Windows Central. A lifelong gamer, he has written about videogames for over 15 years and reviewed over 350 games for our site. Follow him on Twitter @PaulRAcevedo. Don't hate. Appreciate!
I immediately bought it right after it appeared on the marketplace. I love it so far. Graphics are nice and clean, gameplay is smooth, easy to learn and hard to master. It's well worth the $2.99. And btw, Paul.. I owe you one. ;) Thanks for the kind mention btw. I feel really flattered. :D

It is good, judging by the trial. Looks nice, and the controls are straightforward without any experiments with accelerometers or swiping/flicking to shoot. I also think the aiming aid that helps with simple shots but leaves bank shots and the effect of English on the cue ball to the player is just right. Overall a nice surprise. Did eat A chunk of the spare space on ny phone, but I'll definitely buy and reinstall it after I've finished the grind for the last Gun Bros achievement and gotten rid of that bug-ridden time waster.

First Xbox Live game I've actually purchased and not just demo'd. Really awesome game and the turn based online play is absolutely perfect. Kudos to Bandai!

Glad to hear it's a really good game, I'll download the demo today and check it out.

Am i the only one, with problems at the online mode? when i try to invite one of my friends, i only get a error code -1 ... play online with someone else except friends, working great ... update needed :(

Good game, but I like International Snooker's looks and way of play better... This one has more options including online play that's true

That one isn't Xbox live now is it

Anyone else not getting most of the scratch earned from games? It seems if I play several single player games in a row I get dropped from the server, and when I log back in my scratch is reset. My stats are still correct, but of the 9000 or so I've earned so far only 2500 or so is actually there to spend.

Its a good game, but multiplayer sucks becuase everyone is using the guidelines, makes it really unfair for people who arnt.

Dose the game have fps lock at 30?