Xbox Live - Skulls of the Shogun for Windows Phone extended hands-on footage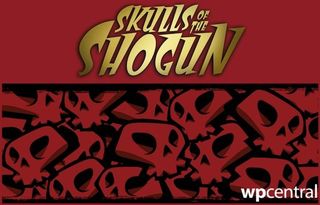 Our recent visit to 17-BIT, Seattle-based makers of upcoming Xbox Live strategy title Skulls of the Shogun included a studio tour and interview with founder Jake Kazdal. As much as I enjoyed those parts of the visit, I was still dying to get my hands on the game itself once again. We had a few minutes with the Windows Phone game at E3, but that wasn't much time to get a grasp on the story mode. Luckily, this time I got to play through the entire first campaign level as well as set up a Skulls Anywhere online game. See our latest hands-on video after the break!
Skulls of the Shogun features a lengthy single-player campaign centered around Japanese warlord General Akamoto. After his betrayal and murder, Akamoto finds himself resurrected in the afterlife and very angry. The first mission lays out the stakes (including the promise of an unseen villain) while explaining the various gameplay systems. Skulls is a fast-paced game that anyone can learn, and yet it offers plenty of depth for strategy fans.
We already knew that Skulls would be a highly approachable game. Playing it in a 'versus' setting at E3 convinced us of that, as well as its multiplayer potential. The beautiful artwork is no shocker either – Skulls is clearly one of the most attractive hand-drawn games in some time. I hadn't actually noticed the excellent soundtrack before, but it's not too surprising given the high caliber of pixel art on display. I just hope the soundtrack becomes available to purchase from somewhere besides iTunes when it's finally released.
The gaming area at 17-BIT. Note the development console to the right of a standard Xbox 360.
The element that I really tried to show off in this video is the quality of the writing in the single-player campaign. Here you don't wince and speed through text in order to get back to the action. No, you'll pay close attention and see what clever quip 17-BIT has worked into the dialogue. Every little mundane conversation and tutorial text is full of wit and inspiration. Skulls isn't a role-playing game, but its writing certainly evokes beloved RPGs like Super NES classic Earthbound. The net result is you'll care about Akamoto's journey throughout the campaign instead of just the Achievements you'll unlock along the way.
Skulls of the Shogun is due out later this year for Windows Phone, Xbox Live Arcade, and Windows 8. Don't forget to check out this article for our interview with Jake Kazdal and more studio pictures!
Paul Acevedo is the Games Editor at Windows Central. A lifelong gamer, he has written about videogames for over 15 years and reviewed over 350 games for our site. Follow him on Twitter @PaulRAcevedo. Don't hate. Appreciate!
Request: increase YouTube video resolution when viewing videos from the app, if possible? I always want to watch but can't :(

We'll check but our app just uses the standard WIndows Phone-YouTube API meaning we don't have much control over it. It seems dependent on your connection.

Just sign up for the html5 youtube player and then use "Show in Browser" to open the site with the embedded video...click it and enjoy it in high res :)

My main questions sense this is going to be on xbox arcade, wp8 and w8 tablets is do I have to pay for each device such as if I get the surface whatever wp8 I buy do I have to repurchase I can see at least the tablet and phone sharing purchases but not the xbox.
sense this is a live enabled title will it share achievements lists with the tablet and phone or will I be able to stack the title as I am a achievement whore which I know many many people who will double buy *sometimes triple to quadriple pay for the same item to ge the achievements again to inflat there score*

Achievements are stackable, and you do need to purchase each version separately. One plus: apparently campaign progress is shared between versions.

stackable for tablets to phones?

I was also wondering how that works for sharing saves as thats really great but imagine if there is a achievement for completing the campaing just download the save to your phone from your xbox or vice-versa and bam achievo unlocked

There's only 3 versions: XBLA, Windows 8, and Windows Phone 7. So yes, the PC/tablet version will stack with the phone one. About the campaign progress Achievements unlocking, that's a good question. I talked to them about that a bit but they didn't go into detail. Will be interesting to find out when the game comes out.

I thought it was a windows phone 8 (not 7) game thats why it hasn't released so for that is windows 8 games the same as tablet titles coming or is the tablet games use windows phone 8 games.

Example for the mircosoft surface what list of games would it get the phone or windows 8

Yeah, I guess they kept it on WP7 since they'd been working on that version for a long time, and more people will be able to play it that way. But remember... totally mentioned in the videos. Please watch 'em. ;)

I am work and its hard at times to watch videos lol sorry :S

This game will be avaliable for Windows Phone 7.5/7.8 or just Windows Phone 8 will get it??

In the video it's running on a Windows 7 device... Jake talks about that in the previous interview vid, too.
Windows Central Newsletter
Thank you for signing up to Windows Central. You will receive a verification email shortly.
There was a problem. Please refresh the page and try again.