Xbox Music for Windows 8 receives an update - new features and bug fixes onboard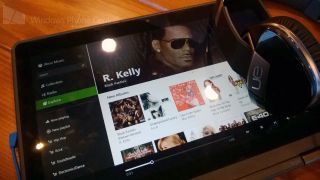 Microsoft's digital music service, Xbox Music, has received an update for its Windows 8 application. The new update brings a collection of new features and bug fixes to enhance your listening experience. Whether using an Xbox Music pass for unlimited streaming or purchasing songs individually – this latest update is out to impress.
In addition to increased stability, a number of long awaited features have finally made their way to the application. To start, you can now more easily manage and play music within your collection (or even within the store itself); simply press a button to shuffle all of the music in your collection and receive a surprising playlist.
If any of you have been complaining that you couldn't play a song by simply double clicking on it, that feature has now been enabled. No longer must you click the item, then select the play button – just double click the old fashion way and the tunes will jump into action.
If you get bored of the current tracks you are listening to, you can now play and access the most popular songs from your favorite artists directly on their details page. Whether you are a long time listener and want to rehear your favorites or if you checking out an artist and want to see the best they have to offer – this new feature is designed to please.
If you don't have a specific artist in mind, but have a genre you are keen on listening to, head over to the newly improved Explore section. Users can now view the top songs from any genre; previously you could only view a top list that mixed all genres, but this latest updated brings more control to your music discovery.
If you like Live Tiles than you may be in for a delightful surprise; you can now pin your favorite artists, songs, and more to your Windows 8 Start Screen for easy access.
Lastly, buying albums and songs have become easier than ever, you can now use Microsoft gift cards directly within the store.
To check out the latest features, you can click here (opens in new tab) to teleport yourself to the Windows Store and download the latest update.
Do you use Xbox Music – are you enjoying it?
Source: Window Store (opens in new tab)
Windows Central Newsletter
Get the best of Windows Central in in your inbox, every day!
Not really. I still can't have the album art "now playing" slideshow full screen, like we could in the Music app from Windows 8.0 and in Zune. Since upgrading to Windows 8.1 half of the "Now playing" screen is occupied by an ugly playlist, with no way to hide it. If anyone feels the same they can vote to bring the old "Now playing" screen back here: http://xboxmusic.uservoice.com/forums/209733-xbox-music-suggestion-box/suggestions/4724036-please-bring-back-fullscreen-options-and-bios- Currently this is the 4th most requested feature, and instead of implementing this, they implemented the "play all songs shuffled" feature, that was only the 9th most requested feature, and has only about half the votes compared to the full screen album art feature.

That doesn't mean the app hasn't improved.

Thanks for the link, have voted it up. It's great to see them actively updating their apps, but taking the beautifully designed, 'now playing', slideshow away was just silly.

Very nice. Can't wait to check this out in a while! Next most wanted feature: auto playlists and sharing playlists / syncing with others. :)

Sharing a playlist with other Xbox Music users would be f***ing genius.

Yeah without auto-playlists, I'll never leave Zune for it. So frustrating how much of a step back they made after nuking Zune!

There's always an element of stepping back, deciding which features should be included (and when), and then rethinking a better way of coding them. Otherwise they may as well not refresh the service. It takes time but usually pays off in the end.

No. Zune is far superior to XBM in every aspect. It might be the best music experience software wise hands down.

Ok, sure, but it needed to be rewritten to support different devices and work across more platforms. So as I said, there's always an element of stepping back, deciding which features should be included (and when), and then rethinking a better way of coding them.

Completely agree. I am enjoying the updates for sure. I certainly hope that the Xbox Music app is decoupled with the OS in Windows Phone Blue. It too needs massive updates for sure. Once they add Auto Playlists, and hopefully podcast support, I can finally, FINALLY ditch Zune.

Yep, it definitely needs updates and features added. And when it gets feature parity with Zune (minus the obvious service splits, eg videos) it will be a much better product than Zune ever was (and Zune was pretty great). Decoupling is massively important, I feel. It's already there in Windows. In fact it wouldn't hurt to decouple all the OS apps that aren't strictly OEM or network related. There is no reason that updates to Messaging, Photos, Camera, etc need to go through Operator approval; they should only have dibs on the core OS and nothing else.

Any idea if they will fix the phone integration? Download an album on a tablet or PC and it shows up on all Xbox music devices. Not so with the phone. I want the ability to find music using Bing music search on the phone and download it to my phone and tablet...

This probably won't happen until WP8.1. In fact, I know it won't, and it's a shame. Windows Phone is the only platform you can't add songs to your Xbox Music Collection from. Ridiculous.

Yes we desperately need this!

Thank god. That the Xbox apps are seperated from the core OS. Hope this is for the rest of Microsoft's built in apps

Are you sure about that? I interpreted the separation of Music+Videos in WP8.1 to mean 2 separate apps (like W8.1) instead of one and not necessarily being separate from the OS (which I agree needs to happen for all default apps).

They already have the phone integration, but u need a Xbox Music Pass.

You can't add music to your Collection from WP. For example, if you add a song to your collection via Windows 8/iOS/Android, that song will show up on all your other Windows 8/iOS/Android/WP devices. But, you cannot add a song to your Collection that will show up on all other devices from WP. You can download songs, but they won't show up in any other device.

I was about to say that. And, if you set your Xbox Music up to do the Match, then it's accessible anywhere anyway. In fact, I had to turn that OFF because I got tired of seeing ALL my music magically on my phone, knowing that MOST of it would be streaming...and we have horrible cell service here on the border. Plus I don't have room for over 5000 songs on my phone.

You don't need room for 5000 songs - as you said, they'd be streaming. But yeah, the functionality of XBOX Music on Windows Phone is terrible. I'm trialling XBOX Music Pass and I couldn't believe it when I discovered the convoluted process involved in making tracks in XBOX's catalog available offline. Click on each one individually, choose Download and then confirm? Ridiculous. You can't even download a whole album at a time. At the very least the phone app should automatically download anything you've added to your collection on any device. Hopefully the fact that XBOX Music and XBOX Video are being removed from the core OS in Windows Phone 8.1 and will instead by standalone apps will allow for more rapid development and releases.

This is not accurate. You can download entire album by tapping the select button and the tap on "select all" or select the songs you want to download and then tap the download button.

Ah I hope you're right, I'll try it later. Thanks for the tip!

When I download a song on my phone it shows on my PC. I have XBOX music pass.

Really? That has never worked for me, and I have a grandfathered Zune subscription, Surface Pro (Win8.1) and Lumia 920. Downloading a song on my Lumia never shows on in my Collection, let alone start to download on my Surface. If I purchased the track or album, yes that does work. But that's not what we really are talking about here.

No, it doesn't. http://support.microsoft.com/kb/2764172

Here's what I don't get/understand. There are Windows Store gift cards, and there are Xbox gift cards that you can use to buy music, videos, etc. Except you can only use the Xbox gift cards on an Xbox, even though you have Xbox Music and Video apps. Can you even use Windows Store gift cards to buy things in Xbox Music/Video? And can you use Windows gift cards on Windows Phone? All very confusing.

Actually its been unified now as long as they are linked to oje Microsoft account. Xbox branded gift cards add a balance to your windows store account and vice versa.

Ya, and don't expect to be able to redeem an XBox Music Pass against an existing membership (until it expires)

I don't use it - maybe if I had an RT device...but I haven't found any good reasons to leave Zune behind yet. Still my favourite media player. Nice to see updates though. Really wish they would make the WP8 Xbox Music app at least half-decent...but they're not quite there yet.

Zune is still better for almost everything. I say almost, but I can't think of a single thing that Xbox Music does better. Not sure how they messed up, "Rename Zune to Xbox Music," but somehow they did.

Yep - makes me sad really. When they first announced Xbox Music, I'm sure we were all expecting a nice upgrade from Zune. Instead, they gave us half of a complete mess, and are making us wait for something that's up to par with what we already had a while back. It doesn't make sense that they didn't just build upon what they already had...such a waste.

I agree 100%, Zune made music discovery fun and easy, Xbox Music looks promising but has a long way to go.

I don't get it, either. Zune is so clearly superior that it just baffles me.

I agree. As much as I wish and want to use the Xbox music app, I simply never use it because Zune is better in every regard. Unfortunately there's no Zune on my RT though...

Not even paying attention until I can edit metadata or cloud locker is added.

I still can't understand how my Zune and XBM have different songs even though they are both pointing to the same directory. Zune says 2100 songs and 12 playlists. XBM says 1770 songs 8 playlists. Windows Media says 2100 songs 1 playlists... Come on MS!

I've been using Xbox Music since it was Zune and have always loved the service. The more updates, the better! I'm glad they're showing some attention to the "Explore" feature. The Zune software was always so great for music exploration and discovery...Xbox Music, not so much...

The tile for XBOX Music is orange (WP is green), everything is accented with green in the app... Ok.

I always thought that was really strange too...I wonder why they did that haha.

Any chance you can pin playlists to the start screen?

You can pin artists, songs, albums and playlists..

... and Radio Stations as well, I just discovered.

Also, I wish the search had instant response, so results would show up as you type.

I must say they are doing a great job updating this product and drastically improving both the service and the application. Just a year ago I was constantly getting errors and the overall application was confusing.
Now I feel both of those items are fixed and they are making great improvements.
I still use Zune Desktop to organize my music because it's such a rich environment.

Yes, for R. Kelly!! *Ques up "You Remind Me Of My Jeep*

I only want it to do 2 things. List and play music Direct off Network Storage, without having to browse for it every time. Play TO a Network attached HiFi. WMP on XP could manage this for gods' sake! Without that, the hole thing is a bit of a turkey sat on my Surface

Would be nice if the Explore screen would actually suggest music based on your music collection. Not everybody likes top 40.

I agree 100%. Can't stand seeing all that junk music on that screen.

It's my main issue with the app: the unwelcoming Welcome screen. I think they are paying Microsoft to be featured there. If so, they have my presidential pardon: it's better than a Geico ad.

Where are the album reviews? That basic feature which was in Zune is still missing.

Can't wait for all this to make its debut in wp8!!!!

So many grammatical errors in this article...

WPCentral is great, but just about every article has grammar or spelling issues, or just weirdly worded phrases.

Eek, painful to hear that. :'( I went back and double checked the article to fix a few things. Thanks.

Yup, Zune is STILL more feature rich, still more intuitive, still better but I will admit Xbox Music is improving. The real crime is how it was ever allowed to launch so far behind in features/usability in the first place. Simply mind-blowing ineptitude. This is our music you're messing with Microsoft. The music that fires our passions, stirs our souls, bathes our miserable days in light and lifts our spirits. Well, something like that anyway ;)

The problem with xbox music is that the demographic that uses it causes all the top songs and albums to be from a a limited selection of genres. They are VASTLY different from the itunes charts. Not that he isnt a great artist, but it is unlikely that all of Eminem's songs are worthy of ranking in the top 50 out of every song in the marketplace. For reference look at all genre top songs in Xbox Music, and then look at the top songs on itunes here: http://www.apple.com/itunes/charts/songs/ ...kind of ridiculous. Drake's albums hardly budge from the top album spots as well. What we need is a more eclectic sampling, and the only way to do that is to get more listeners adding their tastes into the playcounts and downloads. Additional rant: Ellie Goulding isnt even in the top 150. I just...I can't even...

Interesting point. I'd never considered this as a consequence of using a less popular music service.

I wish they would make a desktop app or at least update WMP with a Xbox Music rebrand and Windows 8 look and ribbons instead of Windows Vista look. Its still way more powerful. "Play To" streaming works only with WMP, mp3 tag editing is not possible in Xbox Music, in XM I cant have a "Songs" view as a list, but sorted by Artists and Albums with Album covers. You can either have a grid of artists, a grid of albums, or a plain list of Songs. No "Hybrid" view.

This article is a little hard to read. "Any of you" or "many of you" 3rd paragraph. Also 2nd paragraph are you talking about creating playlist or managing/editing music?

Agreed, I struggled with a it a bit. I still don't know what the supposed new feature described in the second paragraph is supposed to be, it makes no sense.

Sorry about that - I apologize. I went back and made the necessary changes. Thank you for pointing it out and keeping me alert, Planblover08.

Needs: (1) Smart playlists, (2) sharing playlists to other devices like Windows Phone 8 [maybe they know of that device?????], (3) better store experience, such a better suggestion of songs to buy, more top 100 lists by genre, more variety of songs shown in the front page.....

Are they going to bring back the 10 songs that you can download and own per month? I am grandfathered into that plan but there is no way to "buy" music on an Windows 8 device. You can still do it on WP8 but not on a Windows 8 Surface/Laptop. Hopefully they improve the store on W8 because it is quite crippled. Still using the Zune software for this reason. Also like others have mentioned, I can create song lists on my Xbox One and WP8 device but all I get is an empty list on my phone. How they thought the step back from Zune to Xbox Music was acceptable is beyond my comprehension.

Guys, all the features, except by the "pin" feature, have been available since the last update. The today update only brings "pins".

Geez finally! Long overdue!

Xbox Music still crippled compared to Zune. I still can't plug a flash drive that I use in my car and have XBM recognize it and allow me to load my car playlist. Those countless hours I spent going through a 18000 song collection and identifying favorites were a waste since XBM ignored the designations. I sure hope there are many more updates to add usefulness lost in the switch from Zune.

Bought the $50 music pass and starting to use this service more. The app is very appealing visually

Where did you get it for $50? It's £90 (~$150) here in the UK for a year!

Microsoft Store here in the states had it for $50 a few days ago. Sorry it's so expensive there!

What ever happened to the beautiful fullscreen playing view (with artist images that cycled - like on the Zune desktop app)? So annoying that it's gone ... unless I'm missing something

Amen brotha, I'm wondering the same thing. Why did they get rid of this? It was a gorgeous interface that differentiated it from the other music services. Now, its as static as the rest.

Xbox video was also updated today anything useful there because Music is getting useful but not getting as good as comparable services, Zune, iTunes anyone? Hello? Bueller ?

Call me when actually managing your library isn't an exercise in futility. For now in sticking with Groove.

This is very true, it simply isn't designed for library management. You can't even rate tracks (I used to rate everything, slowly building up a playlist of 4+ rated songs)! And no smart playlists. Then again, what's the point of a smart playlist without the ability to add any attributes to tracks upon which the smart playlist might be based? Having said all that, lately I seem to have stopped caring about the organisation so much and am just enjoying the music. Everything I want is there, I'm less and less aware of what's on my computer and what's playing from XBOX's catalogue and having everything on all my devices is helping to render a meticulously organised library (such as I've always maintained) less important.

Am I the only one who wants podcasts in xbox music? I still use itunes because it let's me collect all my beloved podcasts. But it seems Ms is ignoring this feature since the days of zune. Zune, what a great little programme ;-) And the music catalogue is still tiny compared with apple.

Music, Video, Podcast, and phone sync should all one app.

I've never really been a podcast kind of person, especially not now in the on-demand age. But as for XBOX Music's catalogue, it's pretty huge. They have most music than almost any other on-demand or subscription service. Not sure about a comparison with Apple but it's not tiny!

Is there a way to manage a playlist? I can't seem to find a way to reorder the songs in a playlist. Also, is there a way to select a song and "add it next" so that it gets added right after the currently playing song in the playlist?

Or where the hell are the smart playlists? Tired of waiting for status-quo features like this.

You can right-click (or swipe up) after selecting a song to move it within a plalist. I'm sure in the web version you can drag-and-drop but I could be wrong. I don't think there's a way to queue up a song right after the one currently playing, only at the end of the playlist or tracks you've already queued up.

Would be nice if they update the Xbox One app to match functionality. XB1 is lacking the ability to play radio based on genre or keyword.

I use it but its far from perfect. For instance I just bought some music on my phone, in the win 8 app there's an option to say download music you bought on other devices which i have set to on. But it errors saying its already been downloaded to the max number of devices. So i guess that one device! So to get the music on my pc I copy it off the phone. Now its in xbox music twice as its recognised it from a different album by the same band, so all my devices now have a copy of the song and a streaming version of the song.

Did they fix the artist images during playback? I loved the graphics and images during playback. Why did get rid of this with 8.1?

I don't know if it's a new feature which has sneaked in with this update or if it's been around for a while but out of interest I just searched my Collection for a very obscure band which I once bought an EP from when they supported a slightly less obscure band in 2005. It's on my dekstop PC because I ripped the CD, but to my surprise it came up in the search results on my laptop where it is definitely not saved, and I can play it, with artwork too. Just in case this band had somehow ended up in XBOX Music's catalogue I searched for myself as I have a few of my own tracks in my collection which certainly aren't on XBOX Music! Sure enough, my tracks were returned too. It's possible that the songs are being returned in results because my laptop is on the same network as my PC where they're stored, but I don't think that ever used to happen and, even if that is the answer (as opposed to the tracks being stored in the cloud somewhere for my personal use) it's still some pretty seamless integration!

Lol, i know that feeling. This software can be confusing and is far from good. But the look is just great I have to admit.

Predictably, after logging onto a PC at work over a VPN (i.e. to a PC not in my network) and logging into XBOX Music those obscure artists aren't returned in searches, so the music isn't stored in the cloud. Still, the fact that XBOX Music seamlessly displays music from any Windows 8 device on a network on any of the others, as seems to be happening for me, is pretty impressive.

double clicking a song doesn't work for me. right click collection, click open file at the bottom of the pane navigate to a song on your pc and double click it. it won't play. still have to click open in the bottom right corner.

Does Xbox Music for Windows Phone sync music back to Windows 8 yet? I'm tired of adding music on my phone, having it not show up on my surface, adding it on my surface, and then having two copies on my phone.

Zune imo, is the best music experience and hopefully all of those features will be integrated into WP 8.1 next year. I miss: Ability to buy multiple tracks from an album at once, slow ass song at a time purchasing. Ability to sort my music by what i own and my XBM pass songs Bring back the heart so I can mark my favorites and make it visible everywhere Phone syncing with a cable like Zune You know what just put every fucking feature rom Zune in it and call it good....wtf MS

#BringBackZune I am stuck with iTunes until they get their act together.

I'm still using Zune for everything but buying music. Better software, and I have a Zune HD to use with it. (still the best touch screen media player out there IMO)

Oh well... still cannot play my music by genre. Useless, still staying with Zune.

You spelled "received" wrong.

Sounds sweet. Can't wait to try it out on my Surface 2!

All this updating is of no use here in India until Microsoft enables Xbox music. Waiting so many years now.

Mike, Check your title. I before E except after C.

Since the Zune podcast libraries haven't been updated in forever, I had to go back to iTunes to manage podcast subscriptions and such. The fact that Xbox Music can't do this, which Zune managed, or decent library management with metadata editing should have the Microsoft Xbox Music team hang their heads in shame. Terrible, terrible excuse for a media management application.

Still waiting for them to fix the duplicate track bug in Windows Phone 8.
Windows Central Newsletter
Thank you for signing up to Windows Central. You will receive a verification email shortly.
There was a problem. Please refresh the page and try again.