Xbox One Afterglow controller brings a rave to your hands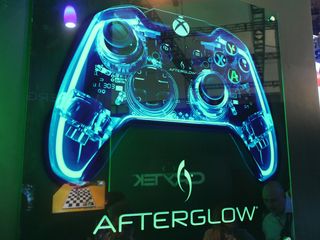 E3 2014 isn't just all about games. Accessory makers for the video game industry descend upon downtown Los Angeles to show off their latest wares. PDP is here showing off the latest entry for their Afterglow brand of products. PDP makes a few accessories for the Xbox One and Xbox 360 that you might have picked up at one point. Their TV mounting solution (opens in new tab) for Kinect on the Xbox One has been well received and is even sold at the Microsoft Store. Here's a quick tease of their upcoming Xbox One Afterglow controller.
Gaudy? Depends entirely on your tastes. While we might not be picking this up day one, it was pretty cool to check out. They had the Xbox 360 version of the Afterglow controller on hand-on, but only the image you see above for the Xbox One version.
With the Xbox One Afterglow controller you get a transparent case that allows you to see the circuitry inside. You'll also have colorful light wrapping the exterior of the controller. It can cycle through various colors or you can set one color. It can also be configured to show red when the rumbler pack inside is activated. This is supposed to add to the immersion of playing a game like a first-person shooter.
PDP didn't have a firm price set for this wild controller, but did say that it'll be available in early 2015. Anyone interesting in spicing up their Xbox One experience?
It looks pretty rad. I might just have to pick this up when it comes out.

but not on day one, right?

Nice. I wonder if there'll be a TRON game to match

I had the xbox 360 controller of this, it felt bad. I didn't like it.

Aww I loved it! It was wired tho, only downside

So do I. I still use it over my wireless controller. It has a great feel. The original x360 remote feels too straight. While the afterglow has bigger rounder handles that feel great in my palms. I could guess that if it was wireless, the battery would only last like a day.

Wired is actually better. All wireless technology has inherent latency.

Bought an Afterglow controller for my 360 last year. Terrible build quality. The rubber on the left thumbstick wore away almost immediately, followed by the right trigger snapping at the centre. Got a replacement which has lasted a bit longer, but the left thumbstick has become loose, making it difficult to play with. Flashing lights are no recompense. You get what you pay for, I suppose.

I had the Afterglow Wii Remote. Dropped it once and it broke. The quality really is bad.

Buy new thumb sticks or get caps for them

Or do the sensible thing and avoid Afterglow products forever.

All third party controllers usually have poor quality

Not completely true. I have the Xbox 360 Mini Pro EX controller which I use for some PC games. The build quality is really quite good despite being a third party controller. I like it. Afterglow definitely sucks, though.

So are these people the new Mad Catz?

I used to play with those on the original Xbox

Who needs glow sticks? I have a afterglow

Must be. Xbox one controller users micro USB or wireless

I was using the 360 version on my surface pro, only because i couldnt find a m$ one, now the xbox one pad support is on windows 8.1 I use my xbox one pad instead

I have an Afterglow PC controller and I HATE it. It's so damn bright. You can turn it off but damn.

I just want the white Xbox one controller. :'(

Not gonna lie, that looks awesome! I wonder how it feels in he hand though. Clear plastic doesn't always feel that nice to the touch for long gaming sessions.

I've always preferred first party controllers for all consoles. The feel is always better from my experience and IMO. But it makes sense when they spend years and a lot of money perfecting their stuff. I do like light up controllers though.. Posted via Windows Phone Central App

I doubt I'll need another controller when that comes out. Those who play on my console should have their own Ones and controllers, meaning the extras are unnecessary. I'm afraid they'll be too late for my interest.

It's like having a handful of Tron.

I'll bring that to edc and give a light show with two controllers...

XBOX TRON360 controller..

There's Crytek on the opposite:p

That is pretty cool, I would totally get one :)

I don't play games on my console and my controller is in a drawer somewhere (I use voice, gesture, USB keyboard and Smartglass). But, if they come up with an Afterglow version of a wireless keyboard & mouse I'd be interested.

I have enough light in my controller with the xbox logo throwing a huge beam in the night
Windows Central Newsletter
Get the best of Windows Central in in your inbox, every day!
Thank you for signing up to Windows Central. You will receive a verification email shortly.
There was a problem. Please refresh the page and try again.