Xbox One Afterglow controller brings a rave to your hands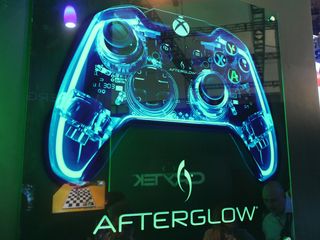 E3 2014 isn't just all about games. Accessory makers for the video game industry descend upon downtown Los Angeles to show off their latest wares. PDP is here showing off the latest entry for their Afterglow brand of products. PDP makes a few accessories for the Xbox One and Xbox 360 that you might have picked up at one point. Their TV mounting solution for Kinect on the Xbox One has been well received and is even sold at the Microsoft Store. Here's a quick tease of their upcoming Xbox One Afterglow controller.
Gaudy? Depends entirely on your tastes. While we might not be picking this up day one, it was pretty cool to check out. They had the Xbox 360 version of the Afterglow controller on hand-on, but only the image you see above for the Xbox One version.
With the Xbox One Afterglow controller you get a transparent case that allows you to see the circuitry inside. You'll also have colorful light wrapping the exterior of the controller. It can cycle through various colors or you can set one color. It can also be configured to show red when the rumbler pack inside is activated. This is supposed to add to the immersion of playing a game like a first-person shooter.
PDP didn't have a firm price set for this wild controller, but did say that it'll be available in early 2015. Anyone interesting in spicing up their Xbox One experience?
Get the Windows Central Newsletter
All the latest news, reviews, and guides for Windows and Xbox diehards.