Xbox One Insiders get 120 Hz support, folders, clip trimming, and more in May
May brings some amazing additions to Xbox One Insiders.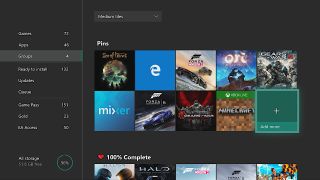 The Xbox One is constantly getting updated with new features and functionality. May might bring some of the biggest additions though because options like 120 Hz support, Groups for My games & apps, and trimming clips without Upload Studio are coming. Today, Brad Rossetti, the Xbox Insider Team Lead, shared (opens in new tab) what's going to hit the console in May 2018 for Xbox One Insiders.
120 Hz Support
This month, Microsoft added 1440p resolution support, variable refresh rate, and auto low-latency mode to Xbox One. Next month, the team is adding support for a new refresh rate. Gamers with gaming monitors or televisions that support a 120 Hz can now turn on 120 Hz for 1080p and 1440p outputs.
Groups for My games & apps
Groups are basically folders but it's an extension of Pins. You can create a new Group and place anything you want it in from My games & apps, just like a folder. Groups can even be added to the home screen for easy access. Unfortunately, Groups won't initially be enabled for everyone in the Alpha ring.
Trim Clips in Guide
Upload Studio hasn't received a substantial update in years and using it is quite cumbersome. The majority of Xbox One users usually want to trim clips instead of making elaborate videos. Luckily, the ability to trim is being added directly to Guide. This should speed up clip sharing because now you can quickly fix a video instead of launching Upload Studio and going through its prolonged process.
Improved Family Settings
Microsoft is adding a Details window where parents can easily find and manage their family settings on Xbox One. It tells parents which family and content settings are set up and configured. More impjrotalty though, it lets parents known which settings require attention.
Xbox Accessories
Xbox Accessories is getting a new look on Xbox One which makes it easier to navigate. It has a tabbed interface instead of the old list.
New Button Commands
Some of the existing Xbox One dashboard button commands are getting modified. You can now use the View button on Home to edit the order of items in the Groups folders. Pressing the View button in Guide will also now display more capture options.
More features may also be available to a small subset of Xbox One Insiders in the coming weeks. Rossetti said that those changes haven't been revealed yet. It's great to see Microsoft giving gamers exactly what they want. Folders and 120 Hz support were two of the most requested features and they're finally coming to the console. Hopefully this trend will continue in the future for years to come.
Keep an eye on WindowsCentral.com/Gaming for all the latest in Xbox and Windows 10 gaming, accessories, news, and reviews!
Asher Madan handles gaming news for Windows Central. Before joining Windows Central in 2017, Asher worked for a number of different gaming outlets. He has a background in medical science and is passionate about all forms of entertainment, cooking, and antiquing.
120 mode sounds like a great thing though the frame rates of the games will still be locked.

Is it support to help with VRR?

The frame rate in game is decided by the developer, but still, the developer could allow 120 Hz in his game as it'll be an option in the OS.
What I can guarantee you when you turn 120 Hz mode on is that the Xbox UI and menus will be in smooth 120 Hz (If you have a 120 Hz screen of course 😃)

Oh yeah, I didn't think about the menu! It will look amazing!

I see, so instead of a 60FPS "performance mode" in an XBX game, we could get 90 or more at times. I was thinking more of the older games that were locked to 30 or 60.

These are very impjrotalt updates.

Pretty good way to end the week! Great news!

That's easy for you to say.

I think there's a pretty big distinction between groups and folders tbh. Sure, they keep stuff together, but folders usually require an extra step to 'open' them before you see inside. I'm glad they didn't do anything like that.

Since we only use our Xbox One for media consumption, I wonder if support for 120Hz will only be for games or also for watching TV (our television support 120Hz).

Considering no games hit 120hz on console, I'd imagine it's for media. Even so, if it could hit 120hz for games, there's no reason it wouldn't work for media.

We don't need 120 fps though. You'd need quad Titan Volta for 4K120.

Maybe 1080p 120fps for the mouse and keyboard support. I could imagine some PC eSport games on Xbox in the future. Even the Xbox as the 'PC' on tournaments. Would be perfect advertising.
But that's just speculations about the future of Xbox. Right now 120Hz is for media consumption and especially for a smoother experience in the menus.

When TVs with 120hz screens start to become a thing then every console will support it, the PS4 for example already has support for 120fps but only on VR, if there was TVs with 120Hz screens I'm certain that Sony would also role an update to support it. Microsoft is weird, they add support for Freesync, 1440p and 120fps even though there is no TV that support this features. They are targeting a very very nich audience that use monitors with these specific features, it is a waist of resources but it is a welcome addition.

Really happy for the groups things

Groups nice, hopefully this update lands sooner than later

Can't wait to play racing games in 120 Hz. I'll have to get a real gaming monitor with FreeSync then...

How about a simple wish list for the store? I'm not asking much....even the freaking Nintendo Switch online store has one.

Mike Ybarra said they're working on it.

Agreed... the whole "no wish list" thing for the store is baffling. It also performs like crap.

120hz support is a subtle but nice feature! Xbox UI will now feels a lot more fluid which is something people will notice when they have 120hz display and may not want to go back without having one.

Any news about VR support? They announced high fidelity VR for the XboxX but so far no sign of it...

When did they announce it?

When they announced the Xbox One X way back.

And then said that they would wait for wireless.
I thought you meant there had been a recent announcement

Do you have a link where they said that they were waiting for a wireless VR?

These are nice, but how about a not glitched to hell marketplace and the ability to remove ads from the home screen for Gold subscribers? Just this morning, I try to check out the upcoming releases page, and it takes me to a blank screen with menus, none of which are for upcoming games. Then, when I go to the add on page, it takes me to the new releases page. A 120 refresh rate is awesome, but with busted basics, all it means is that my broken menus will at least run smoothly.
Windows Central Newsletter
Get the best of Windows Central in in your inbox, every day!
Thank you for signing up to Windows Central. You will receive a verification email shortly.
There was a problem. Please refresh the page and try again.