Xbox One X could be dropping to $399 at E3 2018
Various U.S. retailers indicate an Xbox One X price cut may be on the horizon – dropping the console to $399.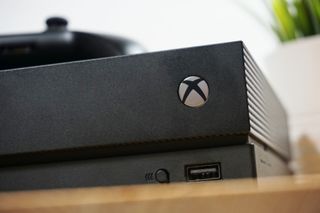 (Image credit: Matt Brown / Windows Central)
Microsoft is soon set to host its E3 2018 press conference, where it's expected to debut the biggest games, hardware, and Xbox-related products of the year. Details on the show's contents have been mostly kept locked down, though some major surprises look to be ahead for Xbox One users.
The Xbox One X currently retails for $499 in the U.S. and this price has mostly remained fixed since its debut last year. Although various retailers are offering discounts on Xbox One consoles in tandem with E3 2018, Microsoft is yet to discuss permanent price cuts. But for those in the market for Microsoft's flagship Xbox One X console, you may be in luck – an imminent $100 reduction looks likely.
Leading U.S. games retailer, GameStop, is currently listing (opens in new tab) Xbox One X consoles for $349 - $50 off a claimed $399 retail price. A similar advert hosted at Fry's Electronics (via Wario64) indicates a similar price drop too. GameStop and Fry's are also set offer further $50 savings, dropping the final cost of an Xbox One X to just $349 at these retailers.
While the Xbox One X launched around half a year ago, these listings indicate an aggressive price drop could be on the horizon. There's a chance of these being errors, but it seems unlikely between multiple retailers. Although these deals aren't currently live, keep an eye out this week.
Microsoft could be looking to counter a further price drop on Sony's PlayStation 4 Pro, which currently retails for $349 in the U.S. And if Sony plans to stay put, such a cut will put these consoles closer than ever. For now, we'll have to wait for official word from Microsoft. But without major Xbox hardware expected to surface at E3 2018, this would be a compelling deal for undecided shoppers.
Updated June 10, 2018: It appears GameStop has revised its E3 deals listing, returning to the current $499 RRP. It's unclear if was to correct an error or to amend a premature price drop. We'll find out soon at Microsoft's E3 2018 press conference.
Windows Central Newsletter
Get the best of Windows Central in in your inbox, every day!
Matt Brown was formerly a Windows Central's Senior Editor, Xbox & PC, at Future. Following over seven years of professional consumer technology and gaming coverage, he's focused on the world of Microsoft's gaming efforts. You can follow him on Twitter @mattjbrown.
Smart, but let's hope that this drop in price is coupled with an increase in exclusive content.

XboxOne S $299 and XboxOne X $399?
If the One X drops the S should too. Maybe $249.

anyway, in practice the price of the One S is much lower (often < $200)
maybe it's time to make the lower price (or at least $250) official

This was my Twitter prediction for E 3. At this point, even if ps5 would cost more than that.

399 is what the One X should have always been. I'm skeptical of this price drop but, if it happens, at least it will give the One X a fighting chance against the PS4 Pro. Let's wait and see.

$399-$499 was always the range.. MS broke the $500 barrier soundly with the X. Remember the NEO-GEO, well over $600, and that was in the 90s!

For a major console, the PS3 broke that mark soundly seven years earlier. The PS3 was originally priced at $600 back in 2006.

LOL. the BASE NEO was $650 16yrs (1990) before the Playstation 3, the $600 PS3 was for the 60gb model, the 20gb was $499. which helped MS dominate that gen.

Back then, when the neo lauched, most of us simply acknowledged the superiority with a nod as what it could paint could not be matched at the time.. The PS3 was nowhere near that level at $499...

All signs seem to indicate that the PS4 Pro isn't selling very well at all. The X seems to be doing pretty well by comparison. It's still a minority of sales, with the S doing much better. The real issue is that the S isn't doing so great against the base PS4, especially in the EU and Asian markets. US and UK numbers aren't so bad. Everywhere else is very lopsided though. Which was really how last gen was too, expect the US/UK numbers weren't close to even like they are this time around, they were heavily slanted toward the 360, and that balanced out the global deficit.

Actually it's exactly the other way around. The PS4 Pro is selling REALLY well. I personally wasn't expecting it since it doesn't even have a UHD player. And so was Sony but thing turned out quite differently. So much so that Sony delayed the launch of the PS5 because there was no need to rush out an answer to the One X anymore. PlayStation outsells Xbox pretty much everywhere. In the US, some quarters Xbox managed to sell more than the PS but even there it'*****-or-miss.
In Europe Xbox is pretty much irrelevant. I sells less than half of what Xbox sells. Same goes for Asia. Not sure about Africa and South America though I'd guess neither does particularly well in those continents. So without aggressive pricing, Xbox will never stand a chance. Specially the One X which, at 499€ is just ridiculous for how little it offers specially when the One S offers almost exactly the same for half that price.

I hope this means they are going to release a 2TB One X, this machine could really use some extra storage space.

Not likely. A 1TB SSD costs around $80? The standard 1TB drive costs around $40. Even with Microsoft large purchase deals that is not going to make the SSD go down to a price that would be beneficial to Microsoft's bottom line, would not differentiate the two machines, and really won't add that much more speed (I put one in my old PS4, not a drastic change). And just a 1TB would not be good enough it would have to be a 2TB SSD and that would add $200 dollars to the machine build on Microsoft's end. But, a standard 2TB drive would probably add an additional $20 to $30 on Microsoft's end and they could charge a $50 or more increase between the 1TB X (making Microsoft at least $20 of just the drive jump from 1TB to 2TB)

Not even close. A 1TB SSD cost at least $200.

2tb only makes sense if costs stay under $500. The 1TB config is more than enough, manage your games better. After adding over 4TBs of external ssd storage to my X AND running OUT OF SPACE, i realized the need for more and more storage came from the desire to simply hoard every game that came out, and the desire to have them all downloaded and ready to go NOW. So i recently paired back 3.5Tb external capacity and now only game with 1.5tb(including the internal). I now uninstall games after i finish them. Bottom line, if you think that a 2tb config is good. Id simply say its not enough and go back to my 5TB stance and justify it all day long.

So then 1TB isn't enough for you, as you need 1.5TB even after you've cut them back.

Well it is Christmas for Gamers after all

$350 for One X and I totally buy one today
Windows Central Newsletter
Thank you for signing up to Windows Central. You will receive a verification email shortly.
There was a problem. Please refresh the page and try again.