Xbox Rumor Report: Is Bloober Team developing Silent Hill and will it be an Xbox or PS5 exclusive?
This dormant horror franchise may finally be returning.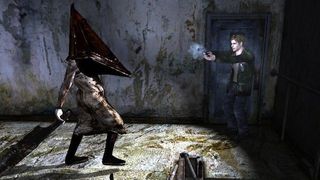 (Image credit: Konami)
Earlier this year, I went down the rabbit hole and dug up some interesting information that pointed to the developer I believed could be working on the next Silent Hill game. And according to some recent developments, it turns out I might have been right on the money. Today we'll be discussing Bloober Team partnering with Konami to potentially make a new Silent Hill and whether or not it'll be exclusive.
The latest developments
In some rather massive news yesterday, Bloober Team and Konami officially announced that it has signed a "strategic co-operation agreement" that'll see the two companies working together on new projects. In a statement released by Bloober Team, the developer revealed that they will be "jointly developing selected contents and exchanging know-how" with Konami. The Japanese publisher then said it was "excited to work with Bloober Team and other highly regarded development partners to produce games from existing and new IPs."
While Silent Hill wasn't specifically mentioned as one of these projects, there have been compelling details that strongly suggest Bloober Team is working on some iteration of Silent Hill for Konami. As a huge horror fan and supporter of previous Bloober Team titles, I'm incredibly excited by the possibilities here.
Is Bloober Team working on Silent Hill?
Now, let's bust out those tinfoil hats and rewind to earlier this year when the Bloober Team x Silent Hill theories first started gaining traction. In an interview with GamesIndustry.biz, the CEO of Bloober Team stated that the developer was working on an existing horror IP from a "very famous gaming publisher." He then went on to say that he believed it would cause quite a stir once it was revealed. And if my Twitter feed today is any indication, even just the idea of Bloober Team working on Silent Hill has absolutely caused some commotion. This statement from the developer's CEO certainly wasn't the only thing pointing to a Bloober developed Silent Hill, however.
At the beginning of February, I compiled a list of all the coincidences that pointed to this modern horror developer taking the reins on a new Silent Hill title. First up, we had famed Silent Hill composer Akira Yamaoka mention the next project he's working on is one fans are "hoping to hear about." This comes shortly after Yamaoka wrapped up work with Bloober on The Medium. While maybe not something I'd normally consider evidence, during an interview I had with the game's producer, he claimed that Yamaoka said he would work on any of Bloober Team's future projects.
Tinfoil Hat Time:

Akira Yamaoka says next project is one fans are "hoping to hear about."

Yamaoka just worked with Bloober on The Medium.

Bloober is working on a project they claim is bigger than The Medium.

Bloober is hiring a combat animator.

Bloober is making Silent Hill? pic.twitter.com/lMHIf6JxkPTinfoil Hat Time:

Akira Yamaoka says next project is one fans are "hoping to hear about."

Yamaoka just worked with Bloober on The Medium.

Bloober is working on a project they claim is bigger than The Medium.

Bloober is hiring a combat animator.

Bloober is making Silent Hill? pic.twitter.com/lMHIf6JxkP— Mi 🍔 les (@MilesDompier) February 5, 2021February 5, 2021
Bloober Team also mentioned that it's working on a project it claims is much bigger than The Medium and this sentiment was shared almost immediately after The Medium was released. Additionally, we know Bloober Team is in the process of expanding the team and recently hired a combat animator. This studio typically avoids traditional combat in its horror experiences, but since Silent Hill likely would require it, it potentially shows even more signs of a Bloober-developed Silent Hill project.
All of these coincidences, combined with Wednesday's official partnership announcement, make an incredibly strong case for Bloober Team to be at least developing one of the rumored Silent Hill projects. But who's making the other projects and will any of these be platform exclusives? Let's get into it.
Will these Silent Hill projects be Xbox or PS5 exclusives?
Before we get into the topic of exclusivity, I need to ensure that everyone still has those tinfoil hats firmly fastened to their heads because some of this is nothing but 100% wild speculation. With that being said, let's take a look at some very interesting details from the official Silent Hill Twitter account.
As it stands, Silent Hill Official is currently only following 25 accounts on Twitter and while followers don't often correlate to any concrete evidence, there's an interesting trend with this small pool of information. Of the 25 accounts followed by Silent Hill, four of them are key figures from Xbox. The account also follows the official Playstation Twitter, but I find it quite fascinating that this account is following Phil Spencer, Major Nelson, and Aaron Greenberg specifically.
Does this mean anything at all? Maybe not. Is it merely a coincidence? Possibly. While the rumors of a PlayStation--exclusive Silent Hill title have dominated forums for years now, it would be a rather controversial development to see Xbox land a new Silent Hill as an exclusive. It wouldn't be too outlandish considering the marketing partnership Xbox has had with Bloober Team on their last few titles. Video Games Chronicle reported that Konami has also partnered with a prominent Japanese developer, potentially lending some credence to the conversations regarding a Silent Hill exclusive for Playstation. I imagine with Konami involved, these projects will likely be multi-platform, but with the battle for exclusive content ramping up, maybe we see Xbox and Playstation swing some big money around to lock down a highly anticipated entry from a beloved, dormant franchise.
Share your thoughts!
What are your thoughts on Bloober Team potentially making a new Silent Hill? Do you think they're the right team for the job? Let us know in the comment section below! And if all this talk of spooky possibilities have you looking for something new to play, check out our list of the best horror games on Xbox.
Double your fear
Dual-reality horror

The Medium is a unique horror experience that lets players go back and forth between the physical world and the spirit world to discover the mysteries in Marianne's past. Witness the surreal dual-reality gameplay mechanics for yourself.
Get the Windows Central Newsletter
All the latest news, reviews, and guides for Windows and Xbox diehards.
Miles Dompier is a Freelance Video Producer for Windows Central, focusing on video content for Windows Central Gaming. In addition to writing or producing news, reviews, and gaming guides, Miles delivers fun, community-focused videos for the Windows Central Gaming YouTube channel. Miles also hosts Xbox Chaturdays every Saturday, which serves as the Windows Central Gaming weekly podcast.