Xbox Series S: Everything you need to know
The smaller, cheaper, Xbox Series S is official.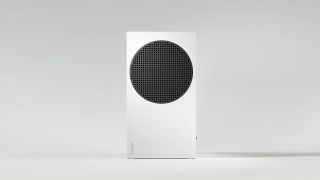 (Image credit: Microsoft)
The Xbox Series X is set to be the world's most powerful console, launching on November 10. Microsoft is also set to launch an arguably even more exciting console on the same day, dubbed the Xbox Series S.
What makes the Xbox Series S exciting is its price, which comes in at $299, making it cheaper than a Nintendo Switch in some markets. At this price, you get next-gen features such as gaming up to 120 FPS, aiming at 1080p to 1440p resolution, taking advantage of the fact many millions of people still haven't upgraded to a 4K TV.
We've been writing about the Xbox Series S, formerly known as Lockhart, for several months across tons of leaks and snippets of information. With the console finally outed as real, here's everything you need to know so far.
Leading 4K
(opens in new tab)
The full next-generation experience.

Xbox Series X is Microsoft's new flagship, as its most powerful console with over 12TF GPU performance and a custom SSD. It boasts up to 4K resolution and 120 FPS, full backward compatibility across four generations, and ray-tracing support.
Next-gen in HD
(opens in new tab)
Experience next-gen gaming for less.

Microsoft serves the next-generation for less with its budget-friendly Xbox Series S. The console packs the same high-performance CPU and SSD technology as Xbox Series X, while scaling back the GPU and removing the disc drive.
How powerful is Xbox Series S Lockhart?
Last year we noted that Lockhart would be around 4TF, which sounds far smaller than the 12TF on the Xbox Series X or even the 6TF of the Xbox One X. However, Lockhart will boast a modern NVME SSD to match the Series X on load times and leverage Xbox Velocity Architecture, while also boasting a far more powerful CPU than that of the Xbox One X. The switch to the new "RDNA" architecture also provides improved per-teraflop returns over the "GCN" architecture used by the Xbox One X GPU, making it far from a 1:1 comparison.
The SSD alone will make it a far more pleasant experience than the current-gen consoles, letting you fast resume multiple games, reducing loading speeds down to mere seconds or less. It will also support ray tracing lighting and shadows, which is truly absurd given its $299 price point. This is the cheapest entry point to real next-gen gaming.
Marketing materials we saw last year positioned Lockhart as an entry-level next-gen console, designed for those on a tighter budget, or parents who want their kids to be able to experience the latest games, but not necessarily at 4K resolution. Indeed, Microsoft's current marketing suggests that Lockhart will primarily be a 1080p machine, up to 1440p, far more capable than the current-gen Xbox One S on QHDTVs and monitors, which are far more likely to be present among casual gamers, as well as students' or children's bedrooms.
The exact spec sheet isn't known at this time, but here's how the Xbox Series S vs. Xbox Series X stacks up based on our current information.
Swipe to scroll horizontally
| Category | Xbox Series X | Xbox Series S |
| --- | --- | --- |
| Processor | 8x Cores @ 3.8 GHz (3.6 GHz w/ SMT) Custom Zen 2 CPU | 8x Cores @ 3.6 GHz (3.4 GHz w/ SMT) Custom Zen 2 CPU |
| Graphics | 12.15 TFLOPS, 52 CUs @ 1.825 GHz Custom RDNA 2 GPU | 4 TFLOPS, 20 CUs @ 1.565 GHz Custom RDNA 2 GPU |
| Memory | 16 GB GDDR6 | 10 GB GDDR6 |
| Memory Bandwidth | 10 GB @ 560 GB/s, 6GB @ 336 GB/s | 8 GB @ 224 GB/s, 2GB @ 56 GB/s |
| Internal Storage | 1 TB Custom NVME SSD | 512 GB Custom NVME SSD |
| I/O Throughput | 2.4 GB/s uncompressed, 4.8 GB/s compressed | 2.4 GB/s uncompressed, 4.8 GB/s compressed |
| Expandable Storage | 1 TB Expansion Card (matches internal storage exactly) | 1 TB Expansion Card (matches internal storage exactly) |
| External Storage | USB 3.2 External HDD Support | USB 3.2 External HDD Support |
| Optical Drive | 4K UHD Blu-Ray Drive | None, digital-only |
| Performance Target | 4K @ 60 FPS, up to 120 FPS | 1440p @ 60 FPS, up to 120 FPS |
| Color | Matte Black | Robot White, Black |
| Size | 301mm x 151mm x 151mm | Unknown |
| Price | $499, £449, €499 | $299, £249, €299 |
| Release date | November 10, 2020 | November 10, 2020 |
Xbox Series S design, ports, and features
The Xbox Series S is actually the smallest Xbox console ever made, able to easily fit into a backpack, or squeeze inside its bigger Xbox Series X bigger brother. It's roughly 60 per cent smaller in volume, even smaller than Xbox One X.
We were also told by multiple sources that Lockhart looks similar to the Xbox One S, lacking a disc drive, similar to the "All-Digital" edition, which has now turned out to be accurate. It will also sport the same SSD expansion port we've seen on the Xbox Series X, used with a dedicated Seagate-branded memory card. It sports a similar "Robot White" coloration to the Xbox One S, perhaps to bring it in-line with that family of devices. The key differentiator is the industrial-looking black fan grill, which gives it a very stark contrasting profile to previous-gen consoles.
Like the Xbox Series X, the Xbox Series S will work with your best Xbox One headset, and all of your favorite current Xbox One accessories, including controllers. It will also run every single Xbox One game (except Kinect titles), giving it the largest generational launch lineup in console history.
Xbox Series S, Series X, and GameCore
Lots of armchair devs on internet forums claim to be "worried" that the Xbox Series S will "hold back" game development on the Xbox Series X, as developers build games for the lowest common denominator. This doesn't happen on PC, and nor will it happen on Xbox Series consoles. Game developers have been targeting vastly different hardware profiles for literally decades, and the tools for porting games and optimizing games for separate hardware levels have only got better as time has passed.
Developers are able to target Xbox Series S through beta versions of GameCore, which is a new development environment set to replace Xbox One's ERA system in the coming years. Infosec engineer TitleOS previously revealed the June GDK documents recently, which mentioned both the Lockhart and Anaconda (Xbox Series X) profile modes.
GameCore will bring PC and Xbox development closer together than ever before, while also allowing developers to more easily target different Xbox hardware profiles with as minimal code changes as possible. Some upcoming Xbox Series X titles will be among the first to use GameCore in its early form, as Microsoft refines and improves the system for general availability.
GameCore will form a large part of how much more easily it will be for developers to seamlessly strip out different features in order to meet the specific needs of both the Xbox Series X and Series S. A good example showing how easily developers can tone down a game's visuals to match hardware levels can be found in Gears Tactics, whose graphics settings showcase in real-time how sliding different graphical features up and down can help or impede performance.
Xbox Series S launch date, price, and preorders
Microsoft has unveiled the Xbox Series S launch price to be $299, or at £249 in the UK, making it cheaper than the Nintendo Switch in some markets. It will launch on November 10, 2020, alongside the Xbox Series X. We've heard this will be a global simultaneous launch, moving far beyond the limited launch of the 2013 Xbox One. Every current supported Xbox market across the world should get the Xbox Series S and Series X day and date, on November 10.
Additionally, you'll be able to spread the cost of the Xbox Series S over 24-months using Xbox All Access, at $25 per month on a two-year contract, which also includes Xbox Game Pass Ultimate, giving you hundreds of games right out of the box.
As for Xbox Series X and Series S preorders, they'll open on September 22, 2020 for both consoles, ahead of the November 10, 2020 launch.
Related: Xbox Series X, Series S preorder stock checker
Counting down
With the Xbox Series X and PlayStation 5 set to be on the higher-end in terms of price, the Xbox Series S could be a particularly compelling option for specific audiences who want to join in on the next-gen fun without breaking the bank. Especially given the state of the economy in 2020.
What do you think of the Xbox Series S? Let us know in the comments.
Xbox Series X/S
Main
What is the Xbox Series X release date?
How much does Xbox Series X cost?
Why you can't preorder Xbox Series X yet
Windows Central Newsletter
Get the best of Windows Central in in your inbox, every day!
Jez Corden a Managing Editor at Windows Central, focusing primarily on all things Xbox and gaming. Jez is known for breaking exclusive news and analysis as relates to the Microsoft ecosystem while being powered by caffeine. Follow on Twitter @JezCorden and listen to his Xbox Two podcast, all about, you guessed it, Xbox!
I'll probably get both: Series X for the man cave. Series S for the movie room. Both hooked up to 4k projectors. And a PS5 too.

I'm probably going to get one of each as long as the Series S is $299 or less. It'd be great for streaming movies and for xCloud console streaming if the family is using the Series X in the family room.

If the Lockhart is not as powerful or capable as the One X I think it is a mistake. They should be targeting the "budget" Version of the console to be at the same level as last generation.
I think doing the above will make the condole very appealing to the casual person who may want an "entertainment" system in the living room.
Either way more options are always welcome.

It should be more capable then the Xbox One X. The CPU alone is a massive leap. The GPU will be much much more efficient then the GCN architecture on the One X to the point that 4TF will outperform 6TF GCN. Keep in mind also that most games targeted 30 fps VS the 60 that will likely be the new standard. Most 4k titles on the X are also dynamic resolution or a type of checkerboard. I think the S model will be leaps and bounds better then the current One X.

The CPU side is reported identical to the SeriesX so that, alone, makes lockhart more powerful than the OneX (which I love).
Hardware ray tracing has been confirmed.
SSD and VA have been confirmed. Possibly smaller to cut cost, maybe not.
The GPU is the same architecture as SeriesX but at 4TF it's a third of the power. But note that matching SeriesX gameplay at 1080p/60 only requires a quarter of the power of true native 4k/60. The system may not support 4k output but there is just enough power to render 4k/30 for at least some games. (The lower memory pool reported may be intended to prevent that.)
Fact is, to people with 1080p TVs or 1440p monitors, the difference between the Lockhart and SeriesX will mostly be in GPU loading; the SeriesX will be coasting while the Lockhart is running at 70-80% peak.
And if your display is 1080p/60 (no HDMI 2.1) there will be no significant benefit in going X right away.
I'll likely go X for future proofing since I'll be looking for a new TV in a year or so but if my 1080p TV were newer, I'd jump at Lockhart.
This is a smart move by MS to sandwich PS5. Now, if they really wanted to get nasty, they could an "Upgrade Edition" available solely via the XBOX store, minus controller, at wholesale. That could easily run $229-249. The key difference in strategies is Sony wants their games to sell as many consoles as fast as possible while MS wants their consoles (especially Lockhart) to sell as many games and subscriptions as fast as possible. Given how 2020 is playing out, Lockhart is going to kill it.

I'm weary of this when the media seems into it ,it usually signals a bad idea to me. Besides Xbox has too many skus on the market, i just don't see the need.
One thing i do wonder is if the ps5 ran the UNREAL ENGINE 5 demo at 1440p 30fps, how will a 4tflop Lockhart stack up running that same demo would it drop resolution and other visual effects. I ask this because there were a number of games from Japan that missed Xbox this gen. If games like the next final fantasy run UNREAL ENGINE 5 on ps5 at 1440p 30fps will Lockhart be able to measure up or will it become a way of developers skipping the Xbox platform again.
I do think if the Lockhart was a handheld device it would work anc be more acceptable. As it is it could be a potential Trojan horse that could help or seriously cripple Xbox going forward. Yes i hear Gamestack just like i heard UWP. At the end it's going to be dependent on devs.

xCloud and remote streaming are the handheld solution. As to what Lockhart will have to do to maintain framerate, consider that it has the exact same cpu and ssd solution as the Series X and the same chipset features. It's got one quarter the GPU but is targeting 1080p which is one quarter the resolution. The only other reported difference is the ram, but it won't be using 4k textures so it won't need as much. It should generally be fine for hitting whatever the Series X is hitting at 4k at 1080p. And the rumors around price are that it will be about half what a Series X costs. That's a big deal.

XCLOUD and remote streaming are not native ,streaming is fine but it's dependency on a solid network has only held it back ,mean while corporations like TENCENT are developing console quality native games for mobile. True it has a quarter of the GPU power but half or less that of the ps5. Reason i said if the ps5 targets 1440p will the resolution be halved to 720p. Doesn't that just make it a resolution box kind of like the 1S and the 1X which in my opinion held the 1X from competing visually with the ps4 in the first party dept. I just think one should consider the negatives as well knowing the opponents might play dirty again with an ad campaign to bury it.

MS will probably stop selling the current generation very soon.

Look at the official MS store on Xbox... They are emptying as we speak.

Just make the damn thing a handheld device and end all this power argument. I see Sony working on a narrative campaign to discredit Xbox Lockhart just like they did with the used game formula. Thing is first impression counts a lot so what ever impressions come with Lockhart will stick through out the generation. Most of the ps5 games shown didn't seem very impressive at 4k which makes me think some games might go 1440p 30fps to get that UNREAL ENGINE 5 demo look , which makes me wonder how much a 4tflop Lockhart can do, i mean the 6tflops 1X wasn't that impressive when you think next gen and that had a better GPU with more compute units than Lockhart. I will definitely love to see this to base my decision on. Not really interested in buying anymore resolution box like the 1X this gen.

The Xbox One X does not have a better gpu, and it is seriously limited by its cpu. We have data on the efficiency per clock of RDNA vs GCN which is what the Xbox One X uses, a ~4tf RDNA chip would perform similarly to, if not a little better than, a 6tf GCN chip. Not everything in the gpu pipeline is a function of flops. And Lockhart will have RDNA2, which should have further improvements. And keep in mind that Lockhart is targeting a lower resolution, so that extra headroom will be mostly focused on image quality. That plus the massive improvements from the SSD and CPU and Lockhart will dramatically improve the image quality of games while being able to keep any feature improvements from the Series line, even if it doesn't try to get a 4k image. If you don't have a 4k TV, or you don't really care about getting a 4k frame because the upscaling is good enough, and as long as Lockhart is priced cheaply enough it's an easy choice to save the money vs the Series X. Sony can't really aggressively attack Lockhart either, because they still have the competition from the Series X, which will be priced at around the PS5, but will be more powerful. They'd need to sell the idea that the Series X games won't be as good because there's a budget model, and all MS has to do to counter that is show off some games that look as good or better than what's on the lower powered PS5 running on the Series X. The only way this goes south is if MS screwed up and actually limited their ability, or the ability of third party devs, to make Series X games and Sony is able to demonstrate that. I'm really skeptical that that happened, especially given that MS has best in class development tools. It's that software stack maturity that lets them do this. And most games will be targeting the PC too, so there's already a need for a lower platform target. Series X games should, generally, look and run better than their PS5 counterparts, and games on Lockhart should look similar but at a lower resolution, maybe with a little bit less in some visual effects like raytracing, while seriously undercutting the PS5 on price.

I'm skeptical of this architecture thing as Microsoft said the Series X was close to a 2080 super whic has less tflops. I can understand RDNA 2 being more efficient but that does not mean it's more powerful. It does however have more features which is where the efficiency comes from.
I don't know the 4k games Xbox showed were not that impressive to test the lockhart specs. The games lookedlike current gen games but that UNREAL ENGINE 5 demo is where nextgen begins. I get the 1080p and I'm okay with it i just think the specs are somewhat low pretty much to cut cost. The 4tflop GPU clocked lower means they can save on cooling by just using fans instead of a vapor cooling system like with 1X , I'm sure they would have gone higher o the GPU if they could use fans and avoid the loud noise.
Sony has the market for now and they have been able to gather the audience every time with record breaking views. I can't rule Sony out ,with just that " This is how we share games ad" they landed a crippling effect on Xbox.
I agree Series X games should look better. I think certain ps5 games will go 1440p , like the AVENGERS game is going to be dynamic resolution on ps5. However it is the first party that people look at in visuals and if Xbox doesn't surpass ps5 it will be looking somewhat strange.

Series S will be great, for the money. Assuming my previous, £250-£299, guess holds up. I think they'll sell well.

Microsoft has more than Sony to think of in the console space.
Undercutting Sony at the low end is useful in building up the customer base for nextgen game sales but it also covers the low end where the SWITCH, while aging, still has a story to tell and consoles to sell.
And their console maxes out at 1080p in docked mode, no?
So Anaconda goes after the high end (and Sony) , Lockhart goes after the low end (and Nintendo), and XCloud goes after mobile gamers (and Nintendo). MS doesn't need to waste money developing mobile hardware when they can just preempt the billions of Android and iOS gadgets floating around.
And with 5G in deployment they'll have a reasonable mobility story, especially if they partner with a telco to sidestep data caps for XCloud. Talk of a mobile gaming XBOX never made much sense and it makes even less now. MS is coming into the new generation with a comprehensive plan to rope in anybody not already rabidly committed to Sony or Nintendo. And those folks are legion. A whole generation's worth. This is going to be fun to watch.

And MS announced this morning that EA Access will be included with GPU later this year. O_O That will be huge for value, and if some of those games go to xCloud, the Surface Duo just became a really expensive gamer's wet dream... whoa...

Forgot to ask... Where would you get a 1TB internal expansion card? Was already hoping the Series X would come with 2TB, so I'm gonna have to upgrade asap...

Nevermind, WC just dropped an article on exactly that question lol

I'm getting several to replace out all my current gen XB1's (4). Probably getting half on All-Access to change out my kids XBL accounts to GP Ultimate for 24 months. The RAM is much slower on the Series S!

I know the resolution for games is 1440p on the Series S, but what about for apps like Netflix or Amazon? Will those apps be able to show their content at 4k? I'm not a huge gamer, but I defintely want my next console to play 4k movies and I'm also kind of into the idea of a BluRay player... But, if the Series S can play 4k video I might tempted to forego the optical drive.

I think the One S displayed shows at 4K. It has a 4K Blu-ray player. The console is supposed to upscale even games to 4K.
Windows Central Newsletter
Thank you for signing up to Windows Central. You will receive a verification email shortly.
There was a problem. Please refresh the page and try again.