Xbox.com gets improved Xbox One support, but four key features are still unsupported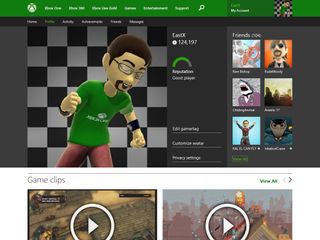 Last week, Microsoft announced that Xbox One users would finally be able to manage their profiles, friends, and more at Xbox.com (opens in new tab). As I lamented in our Xbox One console review last year, many basic Xbox Live features such as the ability to view Achievements and view Xbox One-specific profiles have been unavailable through Xbox.com. The omission has always seemed strange because the website has never had trouble supporting the Xbox 360 side of things.
As of this week, Xbox.com now almost fully supports the Xbox One's profile and social features! Users can view their Xbox One profiles, Xbox One friends and favorites, and even their personal game clips through the website. Xbox One Achievements have also been fully viewable since last week. As welcome as the website improvements are, a few basic features remain unsupported. Read on to find out what has improved at Xbox.com and what still needs to be tweaked.
Profile
To see your new and improved Xbox Live profile, follow this link (opens in new tab) or simply go to Xbox.com (opens in new tab), log in, and select Profile from the drop-down menu at the top-right corner of the page.
Your high-definition Xbox One Gamerpic (if you have one) will occupy the top-left half of the new Profile page. Next to it are your GamerScore (try not to develop an unhealthy addiction to this, kids), your Xbox One reputation meter (which differs from Xbox 360 reputation), and several menu options:
Edit gamertag: Oddly, you can't actually change your Gamertag through this link. It simply leads to a support page that instructs you to change the Gamertag from your Xbox One or Xbox 360 system.
Customize avatar: This links to the standard Xbox.com avatar editor, completely unchanged. The Xbox One itself has very little avatar immigration. Users can customize high-resolution Gamerpics using the avatar on the console itself but the avatar doesn't show up and animate anywhere in the Xbox One UI.
Privacy settings: This page actually does have some Xbox One-specific items down at the bottom, past the Xbox 360 settings. The main settings you'll want to consider are the options to share your real name with friends and to share it with friends of friends. If you're worried about your Xbox Live friends knowing your real name, should they really be on your friends list? Anyway, the real name feature is a recent addition to the Xbox One. Good to have access to it through the website as well.
Friends
At right of the main Gamerpic and menu options sits the Friends over view. The overview lists your total number of friends and displays the Gamerpics of six random friends. Those six friends won't necessarily be online or in your Favorites list, limiting the usefulness of showing them in particular. You can also select View All.
The full friends list has received a major upgrade to accommodate the Xbox One's advanced social features. You can choose from three tabs: Friends, Followers (an exclusive Xbox One feature), and Recent players.
On the friends list you'll find several categories:
Pending Friend Requests on Xbox 360: Friend requests work differently on each console, with the Xbox 360 subject to a 100 friend limit. Thus these requests get segregated from Xbox One requests (followers).
Favorites: Since the Xbox One has a much larger friend limit than the 360, users can add specific players to their Favorites list. This portion of the website allows you to remove favorites.
All Friends: The friends list shows all of your friends, whether they come from the Xbox One or 360. Prior to this week's website update, you couldn't see your Xbox One friends on the web list.
Although the website lists a messaging icon next to the names of everyone on the friends list, the icon doesn't seem to function at present. I tried with Chrome and Firefox. Hopefully Microsoft fixes the button soon.
Selecting a friend's name from the list will take you to his or her profile screen, newly revamped to include that user's HD Gamerpic, friends overview, and Gameclips. From there you can actually message that friend. Or select Messages from the drop-down menu at the top-right corner of any page and send messages to anyone on your 360 list. The Messages page has not been revamped yet.
Gameclips
The gameplay videos captured natively on the Xbox One are called Gameclips. Until the recent update, these videos were viewable only through an Xbox One console or by uploading them to OneDrive or Youtube.
Now we can watch Gameclips through Xbox.com itself! From the Profile page you'll find a link of every Gameclip you've ever created (which ends up being way too many if you play Peggle 2 or other games that flagrantly use the feature).
The Gameclip videos play directly in the web browser. They can't be maximized to fill the screen though – a fairly significant oversight. Nor can you delete clips from the website. You'll have to use SmartGlass or the Xbox One console for that.
We can watch other users' Gameclips from the website as well. Simply navigate to a gamer's profile page and you'll find them below that dude or dudette's oversized Gamerpic. Check out my arsenal of Peggle 2 Gameclips right here (opens in new tab) (requires sign-in).
Achievements
Below Gamerclips sits the user's Achievements overview. It displays the three most recently earned Achievements. If those Achievements came from Xbox One games, clicking on one will lead to its full-sized Achievement image. Non-Xbox One Achievements in the overview don't link to anything.
The Achievements overview also has a View All option, which proves to be a very exciting feature. The new Achievements list displays the box art, Gamerscore, and total number of Achievements earned in any Xbox Live-enabled game. That includes Xbox One, whose Achievements have not been viewable on Xbox.com until now, as well as Xbox 360, Windows Phone, Windows 8, and Games for Windows Live titles.
Selecting an individual game takes you to that game's full Achievements list. Again, any Xbox One Achievement will link to that Achievement's high-definition image. Those images make browsing Xbox One Achievements a lot of fun.
Speaking of improved Achievement viewing, we can also compare Xbox One Achievements with friends now! From any player's profile page, select Compare Games. The website will generate a list of every game you and that user have played, allowing for easy comparisons of game progress. Try comparing your Achievements with mine right here (opens in new tab).
Nearly there
It has taken a while, but Xbox.com finally supports most of the important social and profile features that Xbox One users would want. Being able to view our Gameclips and Achievements from a web browser is incredibly handy.
That said, a few key features still don't support Xbox One games. The Recent Activity list, for example, does not include recently played Xbox One titles. The same goes for the Download Queue, unfortunately. Nor can we create or change Xbox One-style Gamerpics from the website or even change our bios and profile information. Finally, Xbox.com searches still don't bring up Xbox One games in the search results.
Luckily, Microsoft has already promised to update the Recent Activity list with Xbox One support. No comment on the other missing features yet. But it's only a matter of time until Xbox.com finally supports Xbox One games inside and out.
In the meantime, if you're an Xbox One user, be sure to follow me and the rest of the Windows Phone Central staff! Use the links below and select Add Friend. Please, no Xbox 360 friend requests.
Windows Central Newsletter
Get the best of Windows Central in your inbox, every day!
Paul Acevedo is the Games Editor at Windows Central. A lifelong gamer, he has written about videogames for over 15 years and reviewed over 350 games for our site. Follow him on Twitter @PaulRAcevedo. Don't hate. Appreciate!
I think this is a great update. Especially since I posted first.

Going to go check it out right... Now.

Bio,About and Motto are all not supported again...aside that I'm happy about it.
And it's really hash to say no Xbox 360 friend request...are we not humans as well?

Great reply, I'm a 360 user too

He said that probably because they are only playing on the One and not 360, at least multiplayer wise. Also, you are humans as well, just lesser ones... ;)

It's because we have a 100 friend limit on Xbox 360. The staff doesn't need a flood of friends pushing them into that limit. Heck, I've been at 100 for years.

I just want an API to connect to my website so we can give the X1 community i'm leading a proper leaderboards and more kinds of integration...

Bio isn't planned yet for Xbox One so why would it be on the Xbox website?

Seems faster than the older version.

Well they are getting there, albeit very slowly. The omission of editing your avatar on the x1 was very surprising among the other features, which since have been implemented with the past updated. Its like they completely through out the old code and started from scratch.

I'm getting seriously tired of hearing about what they've cut or omitted or taking so long to fix. Why can't Microsoft just get it together and give everybody what we want without any hastle? Google's little event was amazing with innovation. It's no wonder WP and Microsoft products in general have trouble gaining traction. I loved the people hub, until Microsoft pulled the ability to post to facebook directly from the hub. So much for that awesome video they made comparing posting to social networks on iPhone and WP. MICROSOFT GET YOUR @*)# TOGETHER!!!

Well, as this article shows they are at least making improvements. Just not as fast as we'd like.

Also looking for the ability to share achievements on Facebook, a feature the Xbox 360 has had for a few years now.

Now all they need to do is update the games hub

Doesn't show my gamer picture, recorded clips and achievements artwork. Maybe because I have a Polish, unsupported to 5th September account. Well, looks I'll have to wait for XOne official launch in my country.

Looking forward into getting me a Xbox one soon

Links for you guys don't seem to be working right now.