Xiaomi unveils a gaming laptop with Kaby Lake CPU, NVIDIA GTX 1060, and RGB lighting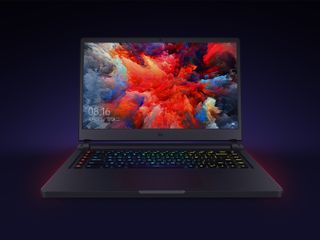 At its Mi Mix 2S launch event in Shanghai, China, Xiaomi unveiled its first gaming-oriented notebook. The company announced the Mi Notebook Pro last year during the Mi Mix 2 event, but this time around Xiaomi is setting its sights on gamers with the Mi Gaming Laptop.
The Mi Gaming Laptop features a similar design as the Mi Notebook Pro, with a brushed aluminum chassis devoid of any branding on the lid. It doesn't necessarily look like a gaming notebook, and that's by design as Xiaomi says it's designed to blend in at a workplace environment. What sets it apart is RGB lighting, centered around four zones around the body. As Xiaomi CEO Lei Jun put it, "it's mild on the outside, wild on the inside."
On the hardware front, the Mi Gaming Laptop comes with a 15.6-inch Full HD panel with thin bezels, and is powered by Intel's Kaby Lake Core i7-7700HQ. There's also an NVIDIA GTX 1060 GPU under the hood, along with 16GB of RAM, a 256GB NVMe SSD, and a 1TB mechanical hard drive. That's the high-end variant, and Xiaomi is also rolling out a base model with a GTX 1050 Ti, 8GB of RAM, and a 128GB SSD along with a 1TB HDD.
The Mi Gaming Laptop comes in at 20.99mm, and the keyboard also has RGB lighting along with four programmable keys. On the connectivity side of things, you get four USB 3.0 ports, along with two USB-C ports, HDMI, and a 3.5mm jack with a high-powered amp.
Xiaomi is also touting Dolby Atmos tuning for the speakers. The notebook has two fans along with a 3+2 design for the heatpipe and four air outlets, all designed to keep things cool during extended gaming sessions.
The Mi Gaming Laptop will go on sale starting April 13 for ¥8,999 ($1,440) for the variant with the GTX 1060 and 16GB of RAM and a 256GB SSD, and the model with the GTX 1050 Ti, 8GB of RAM, and a 128GB SSD will retail for ¥5,999 ($960). What do you guys make of Xiaomi's gaming laptop?
Does it get a European release?

Uau those are good prices for the specs

Looking good but there is one potential downside for people that consider getting lightweight workstation. Based on translated official page on Xiaomi's site, this laptop could weight up to 2.7Kg (presumably for highest end configuration with i7+1060+16GB+1TB). Comparing to Dell XPS 15 and 15'' MacBook Pro's this is much heavier but again, much cheaper too. Personally I wouldn't get this laptop not only because of the weight but because of the timing, and also prices will definitely be higher if you're outside China. Based on history of other Xiaomi's devices (especially laptops), this will be at least 15% more expensive since you have to go through resellers. Also, by the time this gets to resellers we will be even more closer to the release of new generations of CPU's and GPU's. Current gens are actually pretty old now so I wouldn't really recommend buying laptop to anybody unless your current device died and you need one ASAP.

Do note that it's not an ultrabook, but a GAMING laptop. These are never much lighter (mine is 200g lighter, but that's nothing).
But yeah, Xiaomi is on a roll. The only thing that irks me with this laptop is a physical frame rather than one slab of glass. It looks a bit dated because of that design.
For this price, it's definitely interesting. I am wondering how high taxes are in China, as it may turn out that it's some very low %, and the price in EU would be over 20% higher (not really worth it anymore).

I know, it's not advertised as an ultrabook but that information is missing in the article (weight) and considering there are a lot of people interested in powerful portable workstations I figured it is good to know. You're right about taxes and worth factor, if you're going to import it from China you'll get 20+% of import fees. However there's an option buying from EU warehouses so you won't get to pay import fees at all, although products are bit more expensive (but usually not ny 20%).

Fair enough, the info is missing in here.
And I'm not sure if you know how 'import fees' work. Those consist of duty and VAT. You only pay the duty if you import it yourself. But whether you buy it from Chinese or EU warehouse, you'll end up paying ~21% VAT tax (at least in principle). Normally, it gets offset if the tax in source state is the same (importer gets a tax return so you don't have to pay). But, if this price is like with US prices, pre-tax, it means this laptop will be some 20% more expensive just because of the tax, as it wasn't counted into the price.

As a Chinese, just let you know, unlike US, the price label here is tax (VAT) included. That means 1050 for RMB5999 (US$955) and 1060 for RMB8999 (US$1433).

A 2in1 like the Lenovo Yoga would be awesome. They're doing a great job with their laptops so far.

Price is on par with other gaming laptops. Hope they aggressively price them for next iterations, just like their phones

Now this is what a I personally want a gaming laptop to look. Sleek, understated and unbranded. Sure having wide vents with red tints to make it look like a firey exhausts of a racing car is nice... if you're tens old or perhaps a teenager. What most gamers really want is performance in a sleek and understated factor with decent cooling for extended gaming sessions. You sure as heck aren't gaming very long away from a wall port (unless battery tech changes drastically). Secondly lugging around a garish looking laptop or Razer's or a mac book makes you an easy target for thieves. So a simple, 'boring' understated laptop is the way to go. Also those who are concerned about weight of the laptop... of course it's going to be somewhat heavy - it's a gaming laptop. An ultrabook is just typically chasis, input, storage, motherboard + soc chipset, wi fi + bluetooth + screen and battery so it can be pretty thin and light. If you just do light web browsing than this laptop is not for you. It's for us who really do need a mobile light work station and want to game time to time. I understand why the storage amount is very low, SSD storage pretty expensive beyond 500gigs. I sure hope other oems follow suit with the same unbranded design for gaming laptops.
Windows Central Newsletter
Get the best of Windows Central in in your inbox, every day!
Thank you for signing up to Windows Central. You will receive a verification email shortly.
There was a problem. Please refresh the page and try again.