Xiaomi Mi Notebook Pro takes on MacBook Pro for a fraction of the cost
Xiaomi is targeting the MacBook Pro with its $840 Mi Notebook Pro.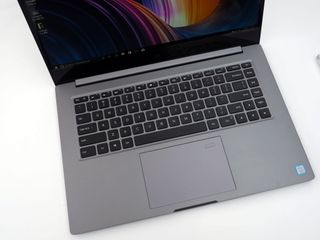 Xiaomi launched the Mi Notebook Air last year, offering a notebook that's thinner and lighter than the MacBook Air. The company rolled out an updated variant with Kaby Lake chipsets and a fingerprint scanner, and Xiaomi is now setting its sights on the MacBook Pro with its latest laptop, the Mi Notebook Pro.
The Mi Notebook Pro is constructed out of magnesium alloy, and features a 15.6-inch 1080p display with narrow bezels and a Gorilla Glass 3 coating. The panel goes up to a maximum brightness of 300 nits, 72% NTSC color gamut, as well as 170-degree viewing angles.
You can configure the Mi Notebook Pro with either an eighth-generation Core i5 8250U clocked at 3.40GHz or a Core i7 8550U clocked at 4.0GHz. Both models come with a dedicated video card in the form of the NVIDIA GeForce MX150, which has 2GB of video memory. You can also select between 8GB or 16GB of dual-channel DDR4 RAM, and the notebook comes with a 256GB SSD.
If you're looking to extend the storage, there is a slot for an NVMe SSD. Other details include 2x2 Wi-Fi ac, 1MP webcam, two Harman Infinity speakers, and a 60Wh battery that has a touted battery life of just over nine hours. Xiaomi also designed a custom cooling solution that results in 40% better heat dissipation.
The Mi Notebook Pro has dimensions of 360.7 x 243.6mm x 15.9mm, and weighs 4.3 pounds (1.95 kilos). With the current-gen MacBook Pro getting rid of the SD card reader, Xiaomi was eager to point out that the Mi Notebook Pro does include an SD card slot, along with two full-size USB 3.0 ports in addition to two USB-C ports and an HDMI out.
The keyboard is backlit and has a 1.5mm travel, which Xiaomi says should mimic the feel of a mechanical keyboard. The notebook also has Windows Hello integration and runs Windows 10. Like earlier Xiaomi notebooks, the Mi Notebook Pro is bereft of any branding on the lid — the only branding you'll see is a Mi logo at the bottom of the screen.
The Mi Notebook Pro will go on sale in China for ¥5,699 ($840) for the variant with the Core i5 and 8GB of RAM. The version with Core i7 and 8GB of RAM will retail for ¥6,399 ($940), and the model with Core i7 and 16GB of RAM will be up for sale for ¥6,999 ($1,030). It's unlikely the notebook will be available outside of China.
What do you guys make of the Mi Notebook Pro?
Windows Central Newsletter
Get the best of Windows Central in in your inbox, every day!
Harish Jonnalagadda is a Senior Editor overseeing Asia for Android Central, Windows Central's sister site. When not reviewing phones, he's testing PC hardware, including video cards, motherboards, gaming accessories, and keyboards.
Looks awesome! Would buy it if came to the US now that I am hunting for a new laptop.

Amazing device in paper, hope it holds in everyday use.

awesome device. Im sure people can pick them up using different websites.

One thing to keep in mind is that this is the 15" device, but only has 2 cores. The 15" MBP has quad core processors, which would account for a chunk of the price difference. But I am not really impressed with this, for work I have a MBP. This is more or less an exact copy in form, and I have found the MBP to not be the joy to use as some would like you to think.

Both the Core i5 8250U and the Core i7 8550U have 4cores/8threads.

Doh! You are right, this is Kabby Lake, which now uses 4 cores unlike the previous generations which used 2 cores.

No this is 8th Gen Coffee Lake, Kaby Lake still uses 2C/4T for its U Processors for its i5 and i7

It's not Coffee Lake, it's a Kaby Lake refresh with more cores. 8th gen chips will have a variety of Kaby Lake, Coffee Lake, and Canon Lake chips.

That's true. Intel 8th i5 and i7 has 4 cores/ 8threads and an overall 40% better performance.

Can you say more about it? "I have found the MBP to not be the joy to use as some would like you to think".

Another important thing to note is that this is a 1080p screen whereas the MBP's screen uses a much higher retina resolution.

Mi should sell outside of China... Asia - Europe and America

It's cheap - but so are some of the specs..

"It's unlikely the notebook will be available outside of China." Why?

My Xiaomi Mi Pad 2 build quality was great but the battery died on it and its no longer keeping charge. I' a little hesitant if the battery will last.

I love Xaiomi products!
I have the MiPad 3, had the Mi 6 phone before switching to Hauwei P10 and recently bought the MiBook Air and they all perfect fantastically! I've also heavily invested in their smart home kits, they are like a cross between Apple and IKEA and it's brilliant! Much love for Xaomi!

Resolution is a deal breaker, can't go back to 1080p.

Do you actually notice a difference?

yes, its like going from sd televison to hd, especially even more noticable on a 15"

That notebook looks like a really bad Chinese rip-off. Oh wait... I'll continue to buy the real thing. You get what you pay for.

1. How do you figure this is a MacBook Pro competitor - it doesn't een stack up that well against Microsoft, Dell, HP, or Lenovo, except on price (1080p?). 2. China only. What's the point. Have to admit, you made me look (of course, that was the point, right).

I see a lot of cribbers here. As if they can genuinely tell the difference on a 15.6 " screen between 1080p and SD."Bad Chinese Ripoff" ? They have absolutely no clue as to the manufacturing quality of Xiami. My daughter uses a iPhone and I use a Xiami. Manufcturing quality wise there is zero difference! BTW I can do wverything under the sky and it has not slowed down even after 2 + years of heavy use and ALL the updates! But then Applefans will be Applefans. Just last week had to go to Apple service center to get iPad 2 probvlem sorted out. There was another client with in warranty mac laptop. They could not fix it and talked about replacing it !!! What a joke!

wish they had scandinavian keyboard layout too.... I would import one in a heartbeat.
Windows Central Newsletter
Thank you for signing up to Windows Central. You will receive a verification email shortly.
There was a problem. Please refresh the page and try again.