Xiaomi Mi Notebook Air is now official, and you'll want to buy one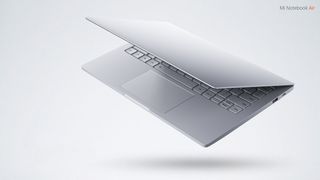 At an event in Beijing, Xiaomi unveiled its first Windows 10 notebook, the Mi Notebook Air. The Chinese vendor is going after the 13.3-inch MacBook Air, claiming that the Mi Notebook Air is 13% thinner at 14.8mm and 11% smaller while managing to offer a similar sized screen.
The Mi Notebook Air features a brushed aluminium body, a laminated 13.3-inch Full HD display with edge-to-edge glass, sixth-generation Intel Core i5 CPU, 8GB of DDR4 RAM, 256GB SSD, and an Nvidia 940MX video card. The notebook weighs 1.28 kilos (2.82 lb), and has dimensions of 309.6 x 210.9 14.8 mm. Xiaomi is claiming a battery life of 9.5 hours on a full charge, and the ability to gain a 50% charge in just 30 minutes.
You also get backlit keys with 1.3mm travel, and in terms of connectivity, the Mi Notebook Air offers two USB 3.0 ports, one HDMI, one 3.5mm audio jack, and a USB-C port. Oh, and there's no Xiaomi branding at the front, but you can customize the front of the notebook with stickers. While Xiaomi is selling the notebook under its own moniker, it is made by one of its ecosystem partners called Tian Mi.
The notebook will retail starting August 2 for ¥4,999, or $750. There's also a 12.5-inch model powered by the Core M processor that will retail for ¥3,999 ($525). With the Chinese notebook segment slated to shrink by 10.4% this year (according to IDC analyst Bryan Ma), it remains to be seen if Xiaomi can attract enough consumer attention in its home market for the Mi Notebook Air.
No mention as of now regarding availability outside China, but we'll let you know as soon as we hear more. Who's interested in the Mi Notebook Air?
DAMN WOW!!!! This is the reason I love Windows. So much choice in devices. This will be hard for Apple fans sitting on the fence waiting for a Mac upgrade to not think about giving this range a look at for those specs and price.

you think mac users know about specs...

40 years, and people still don't get what Apple's goal is when it comes to computing.

Mac users are not worried about spec racing. Thats something for the windows crowd. Chase the specs. Mac users buy macs because THEY WORK. They run fast, and smooth, and are quality. Just like in the phone race. The specs of the 950 xl are greater than the ip6+, but the iphone is faster, smoother etc because its optimised both in hardware and software unlike the abortion that is windows 10.

"Mac run fast and smooth" Oh no ... Mac is a great but overpriced device. And yes it also hang sometimes.

And my Hackintosh tend to be as smooth as Windows, but it's lagging. I'm happy with Windows 10 now. Posted via the Windows Central App for Android

Really, Not sure if that is true about modern PC's and Mac's now. Phones yes, computers I beg to differ. And Windows 10 on a 2 in 1 device is awesome to use. Really, you should give it a go one day.

I owned two surface 3, I have one sold and selling the other. I gave it a go already, and mac is better. plain and simple. The surface does not quite work as a computer, or a tablet. all because of windows 10. Thanks MS for screwing up devices, including my phone.

Duse seriously... "The surface does not quite work as a computer, or a tablet" i don't know how you define the use as a computer or a tablet but i use it exactly for those 2 purposes and to do real work, visiting customers, travelling, sitting in the office (and on my butt when i am on the sofa). Please tell me how you use it, now i am curious.

Lol. My PC isn't as bad as yours, though. Posted via the Windows Central App for Android

You seriously don't know what you are talking about at all. I am a software developer and my main development machine is a Surface Pro 4 (after upgrading from a SP3). The reason I use it is because it is a beast that I can run 3 screens on as a desktop and I can easily take it to meetings for notes and demos and such. It does both roles amazingly well.

well.... surface 3 is just a tablet or at most notebook for web, surface pro series r proper laptop.....

You're comparing a Surface 3 with an Intel Atom CPU to a Mac with an Intel Core iX processor? Of course there is a performance gap between those devices. What did you expect? The Surface 3 will never compare or compete with a Mac, as far as performance goes. It was meant to compete with the iPad and it does very well in that comparison. It's a functional tablet that can also run regular Windows desktop applications.

No they do not run smooth. I have seen stupid mac users have their macs crawling like the lowest spec pc. Just as it happens with many windows pc's. There is no magic in macs, OS included.

Do you really belive that all the macs are don't run smooth just beacuase you once saw one that lagged(probably an old one or in a hard process). That's such a BIG stupidity

As is suggesting that that one is the exception. My other half is 100% Apple, both her iMac and Macbook Pro run slower than my W10 systems. In fact, my HP Envy has the same exact spec as her Macbook per innards, it cost half the price and runs easily both faster and smoother. It was upgraded to W10 and runs seamlessly, on the other hand the last OSX upgrade has strangled her MacBook for no other reason than that Apple likes to force people onto new hardware. Christ, even her iPad runs like a pig after a year.
​The biggest thing she wants is Onedrive right now, I have 3 devices and 2 phones running in perfect sync, she on the other hand is struggling with iCloud being the abomination.

It is incredible that fanboy keep saying that. It is a complete lie. I am a systemadmin and we have just as many user problem with mac than with pc so it's rubish. Yes we have +1000 users so it isn't just some random stuff. Also is sux to manage Apple stuff in a domain based environment. Most problems with windows is all the options. Users mess their computers up themselves. I never have problems with my PC because I know what I am doing. In offices where I am allowed to lock down PC to a level like a mac there are absolutely no problems. Eg. Windows problems are the users. Edit: Yes Windows Mobile suck, that's is because MS have ZERO clue what they are doing. iPhones are expensive, borring and archaic app based OS that is incapable of anything on it self but it has all the apps. Also I have had several iPhones and they slow down more than my xl950. But my xl950 has all kinds of random bugs. In the end buy what you like, they are all basically **** on either side haha

In our office, our boss wants us to become isheeps so all of our computers are macs. We have 3 mac minis, and 3 imacs. The mac minis have 4gb ram and mobile type of i5 processor. The imacs have 8gb ram and latest i5. I normally use photoshop, ms office and an internet browser in my daily work. To cut it short. They are all slow to me. The minis are terribly slower, its like using an old atom netbook. The imacs are faster but still slow compared to its windows counterpart. I tried using iwork, the iwork and ms office are hell in the minis. Takes 3-5 mins to load. Iwork works well apprently in imacs. But when i use acrobat scrolling is lagfeast even in imac. I thought it's my way of using the imacs. They are not meant for graphic arts. But my coworker who is plainly an office user also complained of lags in her imac. The funny thing. Before these macs i was using my personal hp envy that was around 4 yrs old. And it actually served me well. I was even able to create large format document in psd. My hell just started when my boss got us the macs. The funnier thing. I recently dropped my hp envy and it hit hard. i noticed the machine got really slow after the fall and i said "hey it's as slow as the mac minis now!!" I did not log in to tell that macs are worse. Im here to tell that macs are definitely not better and faster. They both lag, they slow down and they are imperfect, and the mindset that apple knows how to make it work well is purely wrong. Posted via the Windows Central App for Android

Just like windows phone is amazing? Come on get over yourself. OSX is smooth and fast...at least they are moving ahead with user ease of use, and actually have apps and programs that work, unlike the STUPID WINDOWS USER that has to use ****** 3rd rate, 3rd party apps (when available), to even try to do the same stuff. take off the Windows blinds and actually see how it works. I am far from STUPID george...sorry. Thats why i ditched MS and its crappy OS and moved on. Could not be happier now!

then why are you here reading about windows?

I did not say mac users are stupid. Read my comment again: a mac user can make o mac crawl, just like on pc's. And I talked about userS, so I have seen more than one. Then read the other user's comments about their experiences with Macs. Usually on a mac you have paid more to buy it, an you have better hardware than on the average pc. So yes, they usually run better than the average pc. On same spec hardware you have the same performance and the same problems. Windows Phone? Yes it is good, and more important for me you can get cheaper hardware to run it. I have a Lumia 640 which I got for 115 euros, + 30 for a 64GB card. That's very good value compared to the cheapest iphone here. A 5S 16GB costs 300+, 5S 32GB 400+. iphone 6 (not S) 16GB 500 ...

Rainbow-ball-cursor of death. Posted via the Windows Central App for Android

Too funny you should mention it, I only ever see that on my 2007 macbook when trying to view WC website...everything else works perfect. same thing as viewing it on windows...where you get the great "long running script" pop up....give it a rest...windows ain't that great. signed BSOD! ahhhhhh even got those with my windows 10 deveices.

You're really lucky. We see that in our 2013 mac minis and 2015 imacs. Posted via the Windows Central App for Android

Ah, lucky you. And you should try the latest macOS, I heard that it's much better than the 2007 macOS (somewhere around Tiger/Leopard macOS). I tested that on my PC (Hackintosh) in mid-2011, and it turned out that when I run near-intensive tasks like rendering, mime got that cursor, and it froze, forces me to force-restart (after a long time of waiting just to make it responding again for about 1-minute video rendering). After such and the hard disk failure, I chose to go back to Windows 7 (on that time). Posted via the Windows Central App for Android

of course it ran like **** on your hackintosh....run it on a real mac.....

My school just recently bought brand new macs for music creation and despite being the latest imac models, they often slow down to a crawl and become unresponsive. There is no consumer faced computer in the world which won't slow down. IMO, Windows is better because of the versatility of the OS and the sheer choice of great machines.

I think Windows 10 is pretty fast, runs on even 1 GB RAM tablets!

Cant see it beat the surface pro 3 or 4 or any pc that costs the same money :P only phones win for now but MS has done a great job on anniversary update on WP 10 its a lot smoother than the previus updates and they will focus more ;)

Give it a rest Steve. Have you even used Windows 10 yet on either PC, Tablet, Laptop, phone or console?

Of course. My two surface 3s have windows 10. Well, one surface 3, I already sold one. Have my 2 1020s sold, and only one surface left now to be sold. CANNOT wait. Full Apple, and as I said, my 2007 macbook I am using now, is smoother and faster than any of my windows 10 computers, even my acer with 8gb, ssd etc.....with 1 gb ram, and a slow 5400rpm drive. I cannot wait to get my SSD and 4gb ram in the mac, its going to be way faster than my windows 10 machines with the hardware installed.....Give it a rest....there's the real fanboy....cannot see past the windows blinds. I was like that once. But I opend the window and went through.....much better when everyting works like its supposed to.

You must have scored a really lucky unit. We have 3 mac minis 2013 version and 3imacs 2015 version in the office and they are all slow. My hp envy which was bought 3 years ago was more reliable than any of them and it costed half of the imacs. Too bad i dropped it hard recently and it became as slow as the mac minis. They are pure hell in the office. Try them. Im begging you. Posted via the Windows Central App for Android

I am on a MacBook and it does get slow, can't any browser other than safari. Chrome/Firefox are damn slow, my sister's $450 notebook runs windows 10 and chrome and edge runs real smooth. I am a developer I need to use a Unixy OS so I am using Mac, but yes it is slower than windows 10 on a little older hardware. TLDR : If comparing running OSX and WIN10 running on older hardware, WIN10 is better.

Not all iPhones run smoothly. I've got friends who have weird bugs crop up on theirs all the time not to mention the insane problems that show up on older handsets (and by older I mean released within a year or two prior) with every single major update. People are so fixated on the app gap side of things that they've started translating the differences to system performance and built up a fantasy that iPhones are bastions of stability when they truly aren't.

I'm not a Mac user but whenever I'm on MacOS I do a lot of waiting and uses more clicks than needed in comparison with Windows!

Macs just work - Yeah right they do... :-) My neighbour borrowed a scanner and plugged it into her MacBook air (running latest OSX version). The scanner was recognized, she scanned a couple of photos... and got shocked by the bad quality. The pictures by default looked like lo-res 320P movie stills! I borrowed her my old laptop running Windows 8.1 (its my old machine and I have not had any reason to upgrade it to Windows 10 - yet). Plugged in the scanner. It got recognized - we scanned the same photos. Came out beautiful in hi-rez on the screen. She loaned my old Windows laptop for the summer to be able to scan her photos. Thinking of selling her MacBook! :-) Just works... makes me smile...

Just works........with a worth of waiting. Posted via the Windows Central App for Android

Sorry Eas, thats just windows where you do the waiting....besides, all those apps in windows 10, must be a hoot..ha ha ha! 3rd party crap!

Macs "just work" is not true nowadays. I've had an iPhone and iPad stop working. Apps didn't open, media didn't play. I tried the apple experiment and wasn't impressed. The apple forums are full of complaints. So are android and windows, but my point is apple is not immune to bugs and laggy issues and I don't see/havent experienced them being a differentiator in this regard.

Let me tell you a story, I was in Sam's club last year looking for a laptop with discrete GPU, I was looking at a Dell Inspiron 5548 and a Mac salesman approached to me and told me I should got a Mac, and I told him does the MacBook you want to sell me has discrete GPU? And he said no it doesn't, but Mac has Intel on board GPU which is the same as your Discrete AMD Radeon R7 M270 GPU with 4GB DDR3 from your Dell laptop. And then I lol, and told him he was an ignorant, why is he lying to me, I told the Mac salesperson he should do more research about Discrete GPU before convincing someone to buy a Mac. And then I purchased my Dell laptop.

I think with sells through Macs, shops earn more money than with buying something cheaper. So he did his Job

They buy mac cause their iDiot.

wp used to be even better than that, while being more flexible to boot

Yep. Many do. Many also don't. There's no just one type mac user.

Bringing Apple into everything shows the success and brand value of Apple..

Me too, I just wish they would bring to Australia quicker.

No, that won`t be the case for most of them, while some indeed choose a mac book for the aesthetics, most of them choose them for the ecosystem that the Macs have. In the photography industry the majority of them use Macs. Also OS vs applications optimization is key, there is a feud on YT between LinusTechTips on 4k editing on ultra books not being possible and Jonathan Morrison`s reply that you can actually edit 4k content on a MacBook with lesser hardware than the PC counterpart. But here we have a Final Cut Pro on MacOS vs Premiere Pro on Windows more of an issue, but now you might understand why some will still sit with Macs.

all thanks to intel's quicksync. Adobe should really implement something similar. AMD and nVidia also have similar tech. I tried it a while ago and the quality just isnt there lots of compression blocks among other things (not using finalcut). Although ive read the latest versions from skylake with h265 support looks pretty good. I do not have an apple device anymore, but running OSX on this xiaomi device might be just what the doctor ordered.

forget it 750USD for what??? A nice case and good looking HW but thats all you get. NO software support, NO hw support. Warranty outside China will be very restrcited, very limited quantity of Xiaomi service centers... problems worth 750USD???? For that price you can get a Lenovo or an Asus with FULL SUPPORT

Yes, cool thing, but that's also the reason why people buy Android phones instead of Windows. Posted via the Windows Central App for Android

Where? I see just another MacBook clone right there on this ONE picture (that is closed)

MacBook clone? No problem. It has Windows. And for a Windows device, it looks quite good.

It is way more powerful than a mac and way more advanced if you mind taking the wall of ignorance away from the front of your face and look at those awesome specs. It is not even comparable to a macbook any other way but by it's looks, and a macbook air is beaten in that case too.

Well, at least no glow in the dark logo makes the Huawei more beautiful.

Waiting to launch in India

Gimme that with a gtx 950

No, I won't want to buy one. I don't like shin shao Lin. I like made in Germany only. Though I won't want to not want one from that Nigerian princess who has been pestering me to be her African King. Nin hao!

Correction...assembled in Germany. Like many so called Swiss watches these days, only a small percentage of the components have to be manufactured in the country. In some instances it is just the strap or main body. The movements can be Chinese clones or, at best, Japanese. Of course, you also have the very German BMW who's base ranges, for example, X1, one series, X2 etc, aren't even made in Germany! Plus most of the electronic components aren't of Germanic origin. They're from somewhere called........China

Hmm Nice! But will it have a touch screen?

No touchscreen for a Win 10 device? Unbelievable failure I'd say.

Why do you need a touchscreen that badly? Windows 10 doesn't mean "touchscreen enabled device".

It is like mouse to me now. Another new input method I can't live without.

i agree i use it a lot more than i thought i would. mostly when im on the couch.

No, running windows 10 is the Unbelivable failure for it.

Buddy.... have you ever... you know... kissed a girl.... or gone outside?? We get it, you don't like Windows 10.... go you - do you really think anyone here gives 2 cents or that you need to repeat yourself a million times in one thread??? You have clearly made your mind up that you hate windows, so what are you even doing on a windows forum?? You really must be a very bored / boring indivdual that you come to a forum on something you despise just to moan about it. Unfortunately, for the rest of us that have to read your rubbish, your consistent lack of contructive arguments and lack of anything educated thing to say, makes you come across, quite frankly, like a massive tool.

Yes, actually....its just fun contradicting the overwhelming crap spread about w10 here. They ****** alot of people here over....including myself. numerous times. so, as soon as I type something...its fun to see everyone get super bent out of shape over jokes. I am serious about apple tho. I used to be like 90% here, **** on apple every day of the week, until i started using it.....its awesome....works smooth, is polished. Just waiting for my shipped products to get to me.....damn postal service....my new ipad pro and macbook 12 is going to be sweet.

I like what I'm seeing, but... "Mi Notebook Air" Will Xiaomi ever come up with something original?

Press pictures also give no indication that its running Windows.

They show the lock screen on their page, but somehow it has Xiaomi's font, not Segoe UI. Lol.

Asian versions of Windows do not use Segoe UI as it does not contain the CJK character set. For example the japanese version of Windows uses Meiryo UI as the shell font. They usually use Meiryo UI even for english text, as it mixes better with CJK of the same font. So they probably didn't modify the lock screen, it's probably just the lock screen on a japanese or chinese install of Windows 10.

The lock screen uses Segoe UI for the clock, but the font on Xiaomi's image is not one of the MS-provided ones anyway.

They are chinese based. the rip off capital of the world. They build something and if they do not rip off the exact design, they have to at least rip off the name. Originality people.

i'm more concerend with privacy, seeing as W10 had some flak and now youre putting trust in a chinese company.

Aren't apple products made there? Posted via the Windows Central App for Android

Does it come with valid Windows lisence or is that stolen as well? Nice looking device though.