Xiaomi's Mi Notebook leaked ahead of official unveil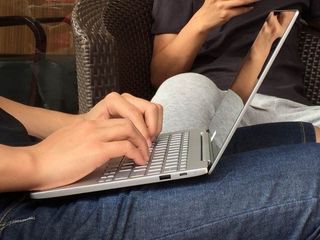 Xiaomi is all set to unveil its first notebook running Windows 10 at an event in China on July 27. First live photos of the notebook have surfaced ahead of its debut, highlighting a metal chassis and a USB-C port on the side.
We'll know more about the internals and pricing later this week, but a leak suggests that the notebook will offer a Core i5 CPU, 8GB of RAM, and a 256GB SSD for the equivalent of $600 (¥3,999). There's also a pro model in the works that will retail for $1,000 (¥6,699), featuring a Core i7 6700HQ Skylake CPU, NVIDIA GTX 970M video card with 4GB of GDDR5 memory, 16GB of DDR4 RAM, and 512GB SSD storage.
Who's looking forward to the launch?
I hope this is available in the UK. The pro version could be exactly what I'm looking for.

And in France too... But if necessary I can buy one in the UK :)

Xiaomi's offerings are always good and reliable.. I like 'em...

only 6h. / charge its 2016 and looks like an ultrabook. Very poor and I didnt mention the poor SW/HW support

I do too. They bring a quality to the cheaper side of computing that is surprising imo :). I like them!

Xiaomi does the sell anything yet in UK. I buy my xiaomi products from gearbest.com

Not like Xiaomi's typical with that prices

That Core i7 might be cost half of the price.. Posted via the Windows Central App for Android

I wonder how they manages to reduce the cost.. Impressive pricing for the spec inside..

easy, xiaomi is not in the buisness of actually making any money.

True. They have the least profit-sell ratio as compared to other smartphone makers. And their hardware quality is quite reliable.

I wonder how they manage to stay in business, without making much money.

They do make money, just not like Apple do. Look at the number of phones they sell each year, not how much they make with each of it. Huge numbers make up for the low profit.

It is the walmart theory. Move tons of stuff, only make a little profit. If your products are good enough, prices are good enough, people will buy in mass, making you a very profitable company indeed. Go look at wal-marts financials, and you will see that they only make about 1-3 cents on every dollar of merchandise they sell, but they sell so much merchandise, that all ads up. Fact is, you can make billions of dollars in profit, selling products for less, if you move enough of them. So for Xaomi to make the kind of money apple makes, they are going to have to sell waaayyyy more, but it is possible. Basically it is what windows computer makers have always done in comparison to Apple, only this time you have a company who is willing to take even less.

And they are based out of China, where labour cost is low..

the real question is how can Apple sell low end notebooks as expensive as a ultra high gaming pc???

...if this is for real, then this is one serious device, considering that the latter includes a 970m for a grand...

What about the windows 10 mobile rom for the mi5? :(

Exactly my thought; "better bring us some w10m love!"

Never announced as even being a thing.

if battery life is 10+ hours, i am in

Wish it comes to India. Xiaomi already has a name here. If the first one gets priced about 35k, it'll sell like Paani Poori! (a popular street beverage in India)...no offence to hot cakes.

I doubt they'll be able to make a profit at that price in India, which, IIRC, has some nasty taxes for stuff not made in India. I'd guess the price tag close to 50K rupees if the device is exactly the same as spec'd here. I mean, a direct conversion from USD would put the SP3 at roughly 50K, but you can only get it for 75K in India. Similarly, the iPhone 6 originally retailed above 100K - more than 50% above its direct-conversion price. I wonder, though, since I'm currently living in India too, do the same taxes apply if, say we were to import something from eBay international?

Microsoft has finally realized the worth of Chinese OEMs in propelling Windows ecosystem forward. Chinese OEMs offer quality devices at economic price points. Just like Huawei Matebook has been a first value for money windows 10 tablet product, Xiaomi's offerings will offer compelling high quality ultrabooks at economic price points which will help windows ecosystem grow. Exciting times ahead.

I dunno if this is just me....... But this seems to be targeted at Apple than anybody else. Because Chinese people tend to pick local brands at cheap prices that are good quality. Hence Apple has been hit pretty hard in China recently and lost market share as a result. Surface Brand and other PC makers will be fine though.

Would you mind to open up that reasoning a bit more? How is this not competing with other Windows based devices?

Easy. Xiaomi always want to compete with Apple.

Those are some serious specs, but I expected Xiaomi to bring the base Core i5 thing at around 450 bucks ! 600 doesn't exactly mimic traditional Xiaomi pricing ...

Don't forget that in laptops they're paying Intel for chips. Could explain part of it. It's not like making a phone.

Waiting to hear the price of the pro model. Would like to consider it as I am in the market for a new laptop, was thinking a GTX 950M one. 8GB RAM and 256 ssd with i5 skylake. 830€ for that one

Metal body, and that spec for $1000? Bargain

Execellent, should be available everywhere since Its running Windows 10, Looking for Pro model, Hope no overheating issues.

Cautiously looking for this release. Both models seem very interesting.

Should be better than latest from our favorite Windows Mobile OEM Vaio. Plasticy wonder with 1366 X 768 resolution screen and Celeron CPU for 640$.

Seems some juicy spec. Hope the pricing will be just right as their mobiles here in India.

Will purchase if possible.

Looks like the HP Envy 13.

Street price in India will be less than 30 k by December
Windows Central Newsletter
Thank you for signing up to Windows Central. You will receive a verification email shortly.
There was a problem. Please refresh the page and try again.