Xperia X1 available for preorders in Germany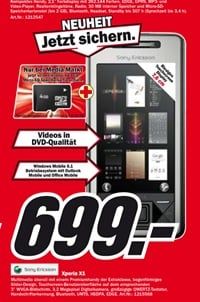 For all our German readers out there: The Sony Xperia X1 has been spotted in a newspaper ad for retail site Media Markt.
The price: 699€, or around $1,000 U.S., plus a 4-gigabyte microSD card thrown in for good measure.
The availability: Preorder now, with devices expected on Oct. 8.
Still no news on just how long those of us in the United States are going to have to wait. Last we heard was a back-and-forth between "We're still on for Q4 (opens in new tab)" and "Don't expect anything before 2009 (opens in new tab)."
Oh, well. We'll just keep watching for another glimpse of the X1 on the boob tube (opens in new tab) and in Web movies.
Thanks, Peter, for the tip!
Windows Central Newsletter
Get the best of Windows Central in your inbox, every day!