The XPS 13 2-in-1 is the Dell convertible we've always wanted
Ever looked at the beautiful Dell XPS 13 and thought that it might make a great convertible?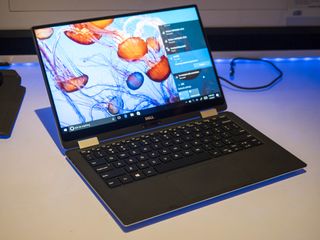 (Image credit: Windows Central)
Dell has taken the much-loved XPS 13 ultrabook and to its next logical step: a convertible laptop. Everything that you know and love about the XPS 13, from the long battery life to the carbon fiber body to the gorgeous 13.3-inch InfinityEdge display, has carried over, but now in a slick and portable convertible form factor.
At first glance it's not immediately obvious that this is a convertible. In fact, the only real giveaway is the hinges: they're a pair a 360-degree hinges on either end instead of the single center-spanning hinge from the non-convertible version. From the fingerprint reader to the Windows Hello-compatible IR cameras (still mounted beneath the display, alas) to the soft-touch carbon fiber deck, it's a familiar laptop.
Image 1 of 8
But flip the screen all the way around and you've got a fully capable Windows 10 laptop equipped with an Intel Core i5 or i7 processor (all from the low-power Y series), up to 16GB of RAM, and a 512GB SSD. The InfinityEdge display comes in two resolutions: Full HD (1920x1080) or an eye-popping QHD+ (3200x1800), both 13.3-inch IGSO panels. Even with all of that going on, Dell still estimates a 15-hour battery life, with is just absurd for given the tapered 13.7mm closed thickness we're working with here.
The Dell XPS 13 is available now for a starting price of $999.
See at Dell (opens in new tab)
Windows Central Newsletter
Get the best of Windows Central in your inbox, every day!
Derek Kessler is Special Projects Manager for Mobile Nations. He's been writing about tech since 2009, has far more phones than is considered humane, still carries a torch for Palm, and got a Tesla because it was the biggest gadget he could find. You can follow him on Twitter at @derekakessler.
"Everything that you know and love about the XPS 13..." Except you're getting downgraded processors and port options, all while paying $200 more for the base models. Less for more, for even higher margins. I'm sure Dell's happy. Was so excited when I heard about an XPS 13 2-in-1 coming, but this definitely wasn't expected. Meh.

dont forget "inifinity edge display" = "you're going to have a bad experience with this under-your-chin webcam".

You can always put it on tent mode I guess... Or just snapchat on your phone 😂

Genius webcam workaround!!!!

Hey there, as much as I want this 2 in 1 I wish the screen was bigger.... Hopefully the xps 15 gets the same flip love.

For sure. I can't believe anyone does anything very productive for very long on a tiny 13.3" display. For me I think 15.6" is a good size. But we have an HP Envy x360 15.6" and that's just too big to be used as a tablet for long. I have used it but just more for the novelty than because it was nice to use that way. Maybe the 13.3" screen works well for that.

hey there. i agree with your statement. ive used a 15 inch MacBook pro for the past 4 1/2 years so im just used to working on a bigger screen and although its just a 2 inch difference, that ultimately makes a large difference for sure. i agree with the 15.6 inch size, or even something a tad smaller, as long as it is in the 15 inch range.

If you think about it in terms of screen area not the diagonal you realize how much difference there is, the 2.3" difference doesn't convey it well. If its a 16:9 panel a 15.6" screen has 37% more area than the 13.3" one a 17" one would have 63% more area tahn the 13.3" one.

Does it allow for a pen like a Surface? If it does, then standing ovation. If it doesn't, then, well, after two years of using that Surface pen there's no going back for me.

I cant wait to see the HP Spectre X360 15 v Dell XPS 15 tbh - The HP looks better as the cameras are in a usable position and ash black and copper....hmmmm

They are quite different the X360 15" has slower dual core processor and a geforce 940MX which is only a little faster than the built in graphics. But does of course flip and support a synaptics stylus. The XPS 15 has a faster CPU and much much faster GPU but doesn't flip or support a stylus.

How is this different from Lenovo's Yoga line?

Its a dell, so you actuially get some support if it breaks lol. But seriously, not much. It is essentially a yoga that is put together a little better.

That's what I thought. I didn't get why the headline made it seem like it was anything special.

Yogas have faster processors and are better value in comparison to the 9365. The tiny right shift key is what's keeping me away from something like the Yoga 910.

Well Lenovo is Chinese, which rules them out for (most) purchasers who work in classified spaces. The XPS line has a pretty unique take on materials in design. I have really disliked the rubber feeling of the XPS trackpads, but the rubber they use for the keyboard / palmrests and bottom of the laptops is really a large improvement over the Apple inspired aluminum designs.

I can't wait for a 15.6 in version. If they do build one, that might just make me stop waiting for a 15 in Surface and take the plunge.

Type-C only and the pathetic spec on the base model make this quite disappointing.

So, about 2 months ago I managed to damage my old Dell XPS 12. It is still usable... but as it is coming up on 4 years old now, it is time to start looking for a new laptop. This looks like a strong contender (especially if the pen support proves to be true) but...
Can we bring back the old carousel design of the old XPS12 for just one more laptop? I am sure it was a pain to design for, and probably caused all sorts of weight and bezel issues... but I LOVE the design of this old laptop. It just works so extremely well, and I really don't want to give it up! Maybe a little less weight, a slightly larger (but still 1080p) display, and the inclusion of some modern features like m.2 SSDs, USBc charging, a hello camera or finger print reader (who needs both?), and pen support... But outside of that keep the same overall body style, keyboard (mouse could improve), and flipping display.

Yes please. Bloody brilliant design. Better than the yoga-style flippers.

Not much of a convertible guy. Prefer the 2 in 1's where I can use the screen separately as a tablet, a la surface pro. The XPS 13 are nice though!

You should probably give one to me for testing!! I'll let you know what I think!!

WHY is it that awful, suffocating 16:9 aspect ratio??? Do they not think of tablet portrait mode??

Bloody hell, this is Bitchy Flame War Troll Central, not Windows Central!

I don't really see the point of the 2-in-1 format for anything bigger than 12" screen. When it gets big, it cannot easily be used as a tablet, it's kind of heavy to hold for a long time. Maybe in tent mode, that's true. I have a Lenovo Yoga 710 11" version with Core-m5 processor, it's quite good, no fan, no noise, long battery life... love it, but going bigger than 11" I go all the way to a big 17" laptop where I can have dual HDD/SSD, discrete graphics and a DVD/BD drive (yeah, there are still people that wants this old technology).

Where can one go to see and feel this and other Dell XPS series laptops in-person before buying? Already tried Best Buy... Maybe they're afraid Dell XPS would be too much competition for other laptops.

It doesn't come with a stylus???

15hrs battery life? Hm...

Oh Dell Anything branded Dell is out for me after the experince I had with them. I don't care what the specs are. All I can say is that if you buy it you better plan on keeping it or you're in for a nightmare ........