Dell's new XPS 13 2-in-1 may be the best convertible Ultrabook of 2019
The XPS 13 2-in-1 is completely redesigned for 2019, and it's incredible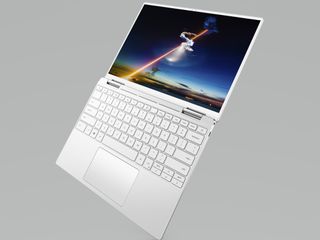 What you need to know
The XPS 13 2-in-1 (7390) is all-new for this year.
A new 4K 16:10 display is outstanding for this form factor.
Intel's 10th generation U-series processors are now here.
Dell is using a 2nd gen MagLev keyboard.
Expected to be released later this summer.
The Dell XPS 13 2-in-1 was an interesting device from a few years ago, but things like its Y-series processor and so-so battery life held it back from greatness. Dell has heard the feedback though and this brand-new XPS 13 2-in-1 – the 7390 – could be the best convertible Ultrabook of 2019. That may be sound like a considerable boast but hear me out as to why.
First up, Dell has reworked the display finally answering one of my main criticisms of laptops: those narrow 16:9 displays. The 7390 opts for a 13.4-inch 16:10 aspect ratio, which delivers a taller screen with about 7 percent more display area. While not quite as tall as the Surface's 3:2 aspect this new dimension is, in my opinion, the sweet spot to getting customers to transition from the aging 16:9 form factor.
Dell doesn't stop there though as users can configure the display up to a 4K Infinity Edge touch LCD panel with a stunning 500 nits of brightness and HDR400 certification. If 4K is too much for you, there's also a 500-nit full HD version that is Dolby Vision certified, that is anti-reflective, anti-smudge, and has new Eyesafe tech to filter our blue light without distorting the color profile.
Instead of an anemic Y-series processor, Dell is using Intel's 10th generation 10nm Core i U-series processor, including Core i3-1005, Core i5-1035, or Core i7-1065. That long-awaited 10nm chipset means the motherboard is significantly smaller and runs cooler with better battery life.
Swipe to scroll horizontally
Category
Dell XPS 13 2-in-1 (7390)
Operating System
Windows 10
Display
13.4-inch 1920 x 1200 InfinityEdge
13.4-inch UltraSharp 3840 x 2400 InfinityEdge
Processor
10th Generation Intel Core i3-1005 G1 (3.4GHz)
10th Generation Intel Core i5-1035 G1 (3.7GHz)
10th Generation Intel Core i7-1065 G7 (3.9GHz)
Graphics
Intel UHD Graphics
Intel Iris Plus Graphics
Memory
4GB LPDDR4 3733MHz
8GB LPDDR4x 3733MHz
16GB LPDDR4x 3733MHz
32GB LPDDR4x 3733MHz
Storage
256GB PCIe SSD
512GB PCIe SSD
1TB PCIe SSD
Webcam
720pSecurity | Windows Hello fingerprint reader
Wireless
Killer AX1650
Bluetooth 5.0
Ports
2x Thunderbolt 3 with DisplayPort
microSD card reader
3.5mm combo jack
Audio
Waves MaxxAudio Pro, 2x 2W
Battery
51Whr
Dimensions
0.28 - 0.51 x 11.69 x 8.15 inches (7 - 13 x 297 x 207 mm)
Weight
1.32kg (2.9lbs)
Speaking of cooling there are now dual fans that Dell specially engineered to run fast and quiet to keep the system chilled even under heavy loads.
Users can configure RAM up to 32GB of DDR4 with up to 1TB storage. Unfortunately, everything here is soldered to the board – RAM, the CPU, and SSD meaning you cannot upgrade anything in this laptop post-purchase.
Being a 2-in-1 the 7390 also supports inking with Dell's new dual-protocol Premium Active Pen.
Other notable features include a fingerprint reader built into the power button for Windows Hello, a top-mounted ultra-small 2.25mm web camera, and Dell's second-generation MagLev keyboard, something that premiered in the 15-inch 2-in-1 last year. There's also Killer AX1650 with Wi-Fi 6, a respectable 51WHr battery for up to 16 hours of battery life, and an option for Dell's arctic white woven glass fiber or the more traditional black carbon fiber composite. The total starting weight is just 1.32 kg or 2.9 lbs.
In having used this new XPS 13 2-in-1 briefly, I'm incredibly impressed with what Dell has achieved. Even the speakers are now dual 2-watt and get this – they sound quite good and are even loud. That new display is a stunner, and the MagLev keyboard, 2-in-1 ability, and having a real Core-i processor makes this possibly the most well-rounded convertible yet. I didn't even talk about the new AI capability with a system that monitors how you use the 7390 daily to auto-adjust and scale the processor based on the apps and tasks you regularly use. Dell also paid a lot of attention to detail like how you can open the display with one hand.
We'll have to wait and see for our full review coming later this summer as the 7390 is not due for release until sometime in July/August. For now, though, we'll have to see if anyone can match or exceed what Dell has accomplished with this new XPS 13 2-in-1 as the bar has been set.
The best Ultrabook of the year?
(opens in new tab)
Dell XPS 13 2-in-1 (7390)
This 2-in-1 has all the right specs to make it awesome

Dell's XPS 13 2-in-1 used to have a weak processor, but all of that is gone for 2019. The new XPS 13 2-in-1 (7390) brings Intel's 10nm 10th Gen Core-I processors, a 4K 16:10 display, and a gorgeous arctic white woven glass fiber design to make what looks to be the ultimate 2-in-1 PC. Toss in a MagLev keyboard and new speakers that sound great, and we think this is going to be the killer laptop this year.
Windows Central Newsletter
Get the best of Windows Central in your inbox, every day!
Daniel Rubino is the Editor-in-chief of Windows Central, head reviewer, podcast co-host, and analyst. He has been covering Microsoft since 2007 when this site was called WMExperts (and later Windows Phone Central). His interests include Windows, laptops, next-gen computing, and for some reason, watches. Before all this tech stuff, he worked on a Ph.D. in linguistics, watched people sleep (for medical purposes!), and ran the projectors at movie theaters because it was fun.
is the cpu finally U or still Y?

This is answered twice in the article and in the video. It's U-series with dual fans.

did you update this part "Instead of an anemic Y-series processor, Dell is using Intel's 10th generation 10nm Core i U-series processor, including Core i3-1005, Core i5-1035, or Core i7-1065." I'm didn't see this part before "Dell is using Intel's 10th generation 10nm Core i U-series processor" but maybe somehow I just skipped it because from the model numbers "Core i3-1005, Core i5-1035, or Core i7-1065" was not too clear thanks!

The new Iris Pro is my big curiosity, being supposedly twice as fast as the already capable integrated graphics of prior gens (which I've gamed on pretty well at lower res). My question is, what's this like playing games? Because I suspect we are getting to dedicated graphics levels if their boast is correct.

They aren't quite there yet. Intel showed off some specs and Rocket League on medium settings at 1080p was playable at around 50fps. I'm not sure what CPU the graphics were paired with but they aren't quite there. It seems like most of the improvements for their chips, as a whole, are with HEVC encoding (twice as fast with smaller file sizes) and tons of AI (photos showing up within 1-2 seconds when doing a photo search in Windows, learning how you use the system, etc.). I hope MS puts these in their Surface line later this year. I would hate to see a SP7 with an 8th gen chip still in it.

So when Windows central said 'twice as fast as the previous Iris Pro' in their other article on the 10nm Intel cpus, they are simply talking about encoding? That's misleading as hell. Because the HD 520 did 30 FPS @ 1080P for rocket league, that's definately NOT 'twice as fast' as the previous Iris Pro.

Oh wait, hang on, apparently, they have not just 15TDP and 28W, but also 9W this iteration for the CPU. That might impact any comparison because they haven't done low power design chips in recent prior gens.

K, so they do have 'nearly twice' the amount of raw processing power, but that doesn't quite translate to twice the fps in games. But it's still an impressive jump (average of just under 60fps on medium). https://www.theverge.com/2019/5/28/18639317/intel-10nm-10th-gen-core-ice... Enough that anyone who isn't a gamer purist might happily forgo dedicated graphics (personally for eg, I'd rather have higher settings and res, than 60fps, 30 ish is fine). I play games on my whiskey lake UHD, and generally its good; all I miss is higher settings and resolutions. If you can play modern games with some more 'pretty' turned on, without stutter or lag, that covers a lot of people. And this looks like that.

Am I the only one who is super excited for this? I was thinking about getting either a Surface Pro 7 or Surface Book (whatever they decide to call it) later this year, assuming MS updates them with 10th gen hardware. But, if Dell can get respectible real-world battery life out of the 4K model (like 9-10 hours of actual usage and 13-15 hours of movie playback/web browsing) while keeping the prices similar to the current model (about $1400 for the 4K edition), I will probably be all in. That arctic white version is tempting, it takes me back to my early MacBook days.

Why do you want to get the 4k model? You hardly will notice the extra pixels while the price is always noticeable higher and battery life always sucks with 4k compared to fullhd.
This is a very nice convertible laptop idd. I am curious if Dell with do something similar with the 15 inch 2-1 (perhaps they will update it later).

Just to see. I wouldn't be opposed to 1080p and, at that size of a display, it isn't going to make a difference. I just want to see if Dell actually pulled off good real-world battery life with a 4K display. It seems like every other has yet to do this. HP released the 13" Spectre x360 and it gets 9+ hours of real use but the 4K version drops to 5-6 hours. Lenovo did something similar with their C930. I would like to see a 4K notebook get more than 5 hours of use and price it at $1400. I'd be happy with the 1080p version though. Actually, if Dell can still pull off 12 hours of real use with a 1080p display, the new Core i5, 8GB of RAM, and 256GB SSD for ~$1100 I will probably pull the trigger. There's just something about the white color. My wife has a white notebook (HP Spectre) and its a change from the sea of silver and charcoal systems, that's also one reason why I like the current Spectre x360 (blue and gold).

Iirc the spectre & xps 15 inch have versions with big batteries, and Surface Book of course (practically the 3k is as sharp on 15 inch as 4k). Surface Book is probably still king now that I think about it.

Sometimes I think you're too generous with the word "Best". Non expandable RAM, M.2 SSD and Wi-Fi card, no thank you.
MicroSD reader has no use for me and 2 USB-C ports means only one port is unoccupied while plugged in, terribly insufficient.
No FHD IR camera on a 2-in-1 is a deal-breaker since it is intended to be used as a hybrid device.
As for sound, when alternatives like Lenovo Yoga C930 and HP Spectre / EliteBook x360 series are finally bringing some usable speakers into this category, the bar is high.
Let's be honest, the Maglev keyboard is a complete gamble, although I doubt it's better than other convertibles' (Thinkpad Yoga, EliteBook x360, Spectre x360, Gram 2-in-1, Latitude 2-in-1) so not really worth investing into.
Finally, 50 Wh battery appears a bit small small for 500-nit 4K UHD touchscreen, maybe expect 5 hours. Just for reference, Dell's own Latitude 7400 2-in-1 gets a 80 Wh battery for 300-nit FHD, weighs around the same. As for the best 2-in-1 convertible ultrabook? That title would still belong to EliteBook 1040 announced at Computex for 6th Gen refresh. For something more affordable around $1k, it's hard to beat the Yoga C930. Yoga C930 - starting $1k: i5, 8GB RAM, 256GB NVMe SSD
XPS 7390 - starting $1k: i3, 4GB RAM, 128GB NVMe SSD

Furthermore, it has one serious problem which means it'll never get my money: It's a Dell.

Then why bother reading and commenting on the article if you don't buy Dells? You are wasting your and everyone else's time trying to show everyone how smart and cool you are because you don't buy Dell.

Then why bother commenting on the comment if you don't want your time wasted because I am so much smarter and cooler than you because you buy Dell.

Not sure if Lenovo and HP are any better in regard to service. Perhaps HP slightly better, but still you will want to have a good warranty at the shop where you bought your laptop.

Largely varies by region, shouldn't be a problem since consumer laptops can also be purchased through business portals that offer premium warranty and service. Business ADP, extended and on-site warranties are usually excellent with all 3 companies, at least in North America and Asia.

I think you're forgetting a couple of things. First, most ultrabooks don't have user-replaceable RAM, wi-fi, or even an SSD at this point. Second, a microSD reader may have no use for you but there are many people who will take advantage of it. My 400GB card can fit nicely in there giving me much more media storage, something that doesn't require fast SSD. Third, two Thunderbolt 3 ports are enough. Pair them with a nice dock and you'll gain ports while still being able to charge. You'll have to spend quite a bit more if you want more than two Thunderbolt 3 ports. Fourth, the HP series you keep comparing to has a terrible track pad. It's just as much of a gamble (actually more) than Dell's keyboard. Fifth, Intel's 10th gen hardware is more efficient and there will be more behind the scenes AI at work controlling CPU speeds making things even more efficient. A 50Wh batter could be enough to get 9 hours of use out of this in the 4K model. Lastly, retail stores and Dell very rarely ever sell their products at full MSRP. I'm not a Dell fan but I would be willing to give this a shot especially since it will likely be part of a back to school sale. The C930 is a nice unit too but it has its downfalls just like any other system and someone can make the same statements about it as you did the Dell.

EliteBook 1040 (HP EliteBook x360 1040 G5) is my daily driver. Now I've been using 2-in-1 convertibles for 5 years and have tried countless laptops. I can tell you that in my experience, no ultrabook currently comes close to the EliteBook in terms of its hardware. First off, 95% of laptops DO have serviceable Wi-Fi and SSD, and >70% of those provide upgradeable RAM as well. Remember, you have to count ALL laptops, not just a small portion that is high-end consumer ultrabook segment. AFAIK, only laptops with everything soldered down are MacBook, Surface and WoA, which counts as <2% of the whole market. Second, I/O ports are the essentials of a laptop. By your logic of carrying dongles or having docking stations at any given location, you might as well just carry a portable desktop like Intel NUC and bring all the peripheral hardware with you at all times. Same reason why people don't lug a portable speaker, wireless keyboard, and mouse to their daily routine. The point is convenience. Third, you're confusing EliteBook with the Spectre. The EliteBook is HP's high-end business lineup, a step above the Spectre in class hierarchy. It has a glass Precision TP that feels much better than most other laptops, including the XPS 13 and Spectre x360. Lastly, in comparison to other OEMs like Lenovo and HP, Dell offers significantly lower discounts throughout the year. Actually Lenovo always has had the highest discount rate out of all laptop OEMs, up to 50% online. With XPS, you're lucky to discover $100-200 off on a holiday 6 months in after launch.

I am not going to count all laptops in that figure as online retailers are still selling models that are 10+ years old. I am going to count notebooks that most people will look at (i.e. what's in their local stores). Most of those notebooks don't have many user-replaceable parts. It's what the industry is moving towards. I also never said that carrying around a micro PC with all sorts of components would be the same thing as having a notebook. I said that two Thunderbolt 3 ports are plenty. That's one port that can be used with a dongle and another for charging. Most people don't need 9387598374598073298047589032745890734890593820745980732 USB ports, 3495873 VGA ports, 32985734 HDMI ports, 1 DVI port, ethernet, a phone line, and 329487 COM ports. They need enough to maybe hook up a mouse, a thumb drive, or maybe a printer. Yes, I was looking at the Spectre x360 because that's what you mentioned. The EliteBook isn't something that's easily available and HP still uses Synaptics drivers with their consumer notebooks. They just came out with some Envy notebooks running Windows Precision drivers but the Spectre x360 wasn't included in that update (at least not yet, I'm keeping an eye out to see what HP does). Lastly, that's incorrect. Best Buy has an XPS 15 model, right now, for $400 off. Microcenter has other XPS models for $300 and even $500 off. The XPS line is almost always on sale (a minimum of the range you mentioned, often more) at stores like Best Buy. I had to check their price stickers each week when I was a manager there. I have yet to see the Yoga C930 on sale for 50% off.

"I am not going to count all laptops in that figure as online retailers are still selling models that are 10+ years old. Most of those notebooks don't have many user-replaceable parts."
I hate to break it to you, but the majority of laptops are still user-serviceable, and they are in fact, brand new. "I said that two Thunderbolt 3 ports are plenty."
Maybe for you, but that doesn't apply to the rest of us. " I was looking at the Spectre x360 because that's what you mentioned. "
My referencing the Spectre was to point out the competition's predominantly superior keyboard to the XPS's. "EliteBook isn't something that's easily available"
Yes they are, both online and offline much like every other laptop. "The XPS line is almost always on sale at stores like Best Buy."
Maybe, I wouldn't know as I don't live where you live and don't usually go shopping for laptops in a mall either. "Yoga C930 on sale for 50% off"
The base SKU launched at US$1,500 MSRP, and now down to $980. On a separate note, 30-50% quarterly discounts are common for Lenovo as a whole, and also a pretty well known fact within the PC industry.

For the last time, no, most notebooks sold in stores now either can't be serviced by the user or are very limited (maybe the SSD/hard drive and RAM). I'm not looking at Newegg, all the old notebooks on various websites, but notebooks sold in retail outlets like Best Buy and Microcenter (where the majority of people still buy their PCs). I can even expand that to the Microsoft Store and it will still be true. Two Thunderbolt 3 ports is enough for the general public. Yes, you brought up the Spectre x360 saying that it has a superior keyboard to the XPS. Then I made a comparison saying that the XPS has a better trackpad. Then you tried to go another direction but he were are again. Now you're using the "I don't live where you are" argument. That's fine, I don't know what country you do live in. But Best Buy's prices are solid across the entire U.S. Whatever one store is selling a notebook for, they all are. Lastly, $980 is still not 50% off of $1500. Lenovo possibly couldn't be using inflated MSRPs to exaggerate sale pricing... A practice often used by most OEMs and is a "pretty well known fact within the PC industry."

There is a fullhd option, 4k sucks anyway for 13 inch. Problem with most convertibles (the non-surface ones at least) is that they have 16:9 screens which feel very cramped with 13 inch and also don't make much sense for 2-1's. 16:10 is not perfect but it is an improvement at least. Another problem almost all premium convertibles have is that they lack a decent igpu/dgpu. This one at least comes with a iris pro igpu, probably comparable to mx230/vega8, so good enough for most non-gaming/non heavy 3d artist workflows.

I have the original version with the Y processor here at work, and it is a dog ass slow laptop. The form factor is great but our Dell Latitude's are more powerful and don't weigh that much more. I think this could be a huge upgrade.

I like how they post a link and when you go to the Dell site, you can't order anything near what's talked about in this post.

WC posted a link to the current XPS, this new model isn't coming out for another couple of months as outlined in the article.

Why are people complaining about gaming? It is an ultrabook. Not a laptop or a Desktop. My Surface Pro works fine for me (not a gamer). I wish they could get a 10nm 2.5 watt iCore/pentium or something to improve my surface go. I find the form factor of the Surface GO much better in my mobile world (travel/reading books/checking email). I notice a lag in boot/program loads. Battery life is manageable but kind of low. I do prefer my Surface Pro for my work. I plug into Surface Dock to run bigger screen and full keyboard/mouse for accounting/reading/email/spreadsheet stuff.

I did not see anyone complaining about gaming? Anyway, a good igpu is also very important for 3d artists, mappers, modelers, designers etc, so also important for lots of content creators and not only gamers.

People usually start to complain when the price fails to reflect quality. XPS 13 7390 2-in-1 starts at US$1k with dual-core i3, 4GB of RAM and 128GB SSD, all soldered on board. That is an enormous amount of money for those figures, that would typically cost <$700, even on a premium laptop. Advanced configuration presumably goes as high as $1,500-2,500, which is just ridiculously exorbitant for a Intel U-CPU / iGPU combo. On an ultrabook with that price tag, a dedicated graphics card fit for this form factor, ideally a 4GB MX250 should be an absolute given.

How does this compare to the current stock xps 13 (with 8th gen)? Also any news on a release date in UK?