You can be the Captain in the upcoming VR game Star Trek: Bridge Crew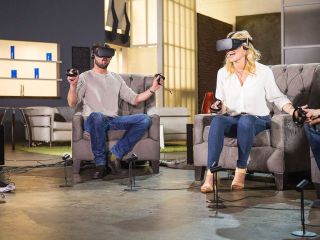 Ubisoft will release Star Trek: Bridge Crew, an upcoming virtual reality game based on the 50-year old sci-fi franchise. It will work with the HTC Vive, Oculus Rift and PlayStation VR when it is released later this fall.
The Associated Press, via ABC News, has the first info on the game, which is being developed by Ubisoft's Red Storm Entertainment studio. The four-player co-op game will allow players to take on the role of the captain of a Federation starship, the Aegis, or the roles of the ship's tactical, engineering or helm officers:
The game itself is set during the timeline of the recent Star Trek movies reboot, as the Aegis is looking for a new homeworld for the Vulcans (their world was destroyed in the 2009 J.J. Abrams film):
The article also shows how three Star Trek actors (the movie's reboot Dr. McCoy, Karl Urban, along with Star Trek: Voyager's Jeri Ryan and Star Trek: The Next Generation's LeVar Burton) reacted when they got to play a mission in Star Trek: Bridge Crew. There's no indication if they will be involved in the game itself.
Sounds awesome. A Trekkie's dream come true!

So no release for Holo Lens???

Hololens is not VR it's AR. Posted via the Windows Central App for Android

Oh, so it's not for entertainment?

If by "entertainment" you mean "a device that isnt actually a VR system", then yes. Its not for a device that isnt a VR system. There still are a small section of the population that doesnt understand that theres a HUGE difference between AR and VR. Just know that you will never visit a "Holodeck" using a "Holo lens.

Never? I dont see why not....AR would be entirely more engaging than anything VR

Why would you want so see your living room in starship?

It's probably important to remember that the HoloLens doesn't even have a release date yet. It's hard to announce the release of a game for a device that has no release date.

First thing that popped into my head was Cartman screaming, "Mom! Bathroom!" :)

If it's virtual reality, then we need a seven of nine nude mode.

I need that in AR so she can move from the bridge to her quarters

Why? At first her character was way too sexy for me to even listen to her dialog, but after a while she was so interesting that I almost forgot she wore a corset so tight that she kept fainting during the first week of the show. I agree 7of9 would be great, but I'd get too upset if I kept giving my officers orders, and all theyd do is crouch on their knees behind her to get close up of her borg silver buns, or chest.

That's a rhetorical question... Posted via the Windows Central App for Android (V10 or 5x)

Artemis Bridge Simulator seems better... especially with a few Star Trek mods
Windows Central Newsletter
Get the best of Windows Central in in your inbox, every day!
Thank you for signing up to Windows Central. You will receive a verification email shortly.
There was a problem. Please refresh the page and try again.