You can get the first DirectX 12 supported game for Windows 10 next week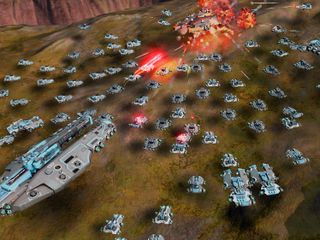 PC gamers who want to get on the ground floor and play the first DirectX 12-supported game on Windows 10 will be able to do that very thing next week. That's when developer Oxide Games and publisher Stardock will release a very early alpha version of its upcoming sci-fi real-time strategy game Ashes of the Singularity for people who buy the game via its Founders program.
Stardock CEO Brad Wardell made the announcement of the game's alpha launch on his personal blog site, stating:
Because it will be such an early release, players can expect to run into lots of bugs and issues while playing the alpha version. It will also require some high-end hardware as Stardock says a PC will need at least 8GB of RAM, a video card that supports DirectX 11 or 12 with 2GB of onboard RAM and a display with a resolution of 1920x1080. Also, the game will require a 64-bit version of Windows. Wardell has stated in previous interviews that the DirectX 12 version of the game will have a number of improvements compared to the DirectX 11 version, including better lighting effects and AI for its units.
If that sounds like your kind of game, and you don't mind testing a very early build right now, you can purchase Ashes of the Singularity for $44.99 as part of its early Founders Program. There's also a $99.99 version which will offer users access to all of the game's post-release expansion packs and DLC content. There's no release date yet for the final version of the game.
Get the Windows Central Newsletter
All the latest news, reviews, and guides for Windows and Xbox diehards.