You can now dual-boot Windows onto a Surface Duo, though you probably shouldn't
Windows can run on a Surface Duo, though it won't work with touch, pen, and is limited in other ways.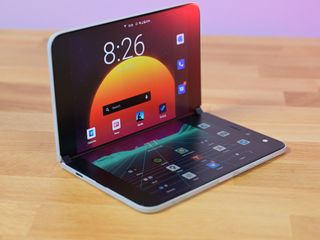 (Image credit: Daniel Rubino / Windows Central)
What you need to know
A developer has created a guide for how to dual-boot Windows and Android onto the Surface Duo.
Windows is quite limited when running on the Surface Duo, including not supporting touch, cellular connectivity, and a list of other important features.
The Surface Duo is not intended to run Windows, so forcing the operating system onto the hardware could break the device.
Some people have a dream of running a foldable Windows-powered device in their pockets. Developer Gustave Monce is trying to make that dream a reality. He has managed to get Windows to run on Microsoft's foldable and worked with Simone Franco to create a guide for dual-booting Android and Windows onto the Surface Duo.
At its current stage, the Duo running Windows is more of a fun project than something people should hope to use in any functional capacity. While it's possible to get the Surface Duo to run Windows, it will not support touch, pen, or several other key elements. It only
Following the guide, which is available on GitHub, will result in a Surface Duo running both Android and Windows. The device will split its storage in half, committing 64GB for each operating system. Android will run as normal but using Windows will require a PC to boot.
If it wasn't clear by the nature of the process, this isn't an intended use case for the Surface Duo. The installation guide warns that running Windows on the Surface Duo is in early preview.
"We don't take any responsibility for any damage done to your phone. By following this guide, you agree to take full responsibility of your actions," explains the guide. "We have done some testing, but this is AN EARLY PREVIEW and things can go wrong."
I haven't shown this yet this week, but the device now correctly turns off/on when you close it or open it :)

Here's a video in darkness so you can see the screen states pic.twitter.com/0LwT73qGc6I haven't shown this yet this week, but the device now correctly turns off/on when you close it or open it :)

Here's a video in darkness so you can see the screen states pic.twitter.com/0LwT73qGc6— Gustave Monce (@gus33000) March 10, 2022March 10, 2022
The process has only been tested with the 128GB version of the Surface Duo. It's compatible with devices running Android 10 or Android 11.
Monce has worked extensively to get Windows to run on devices that were never meant to run the operating system. Most famously, he managed to get the full version of Windows to run on a Lumia 950.
Hacking Windows onto devices takes time and often relies on gap fillers to deliver functionality. But if you're a technical user that has a spare Surface Duo around, it's possible to have it run Windows.
News Writer and apps editor
Sean Endicott brings nearly a decade of experience covering Microsoft and Windows news to Windows Central. He joined our team in 2017 as an app reviewer and now heads up our day-to-day news coverage. If you have a news tip or an app to review, hit him up at sean.endicott@futurenet.com (opens in new tab).
Despite wanting a Windows version running on Duo/Duo 2, I'm actually happy with the current setup. As long as Microsoft continues improving their own software to properly utilize the Duo's form factor, I'm good. I know it's literally beating a dead horse, but I would just love for Microsoft to bring back the Cortana App for the Duo series. Yes, I know, it wouldn't make much sense to do so, but one can dream. Lol

I'm honestly surprised that Microsoft completely bowed out of mobile. Sure, hardware was a losing game, but I'd love an Windows on ARM ISO that I could throw onto spare Android devices. An official avenue to get that would be a boon for developers and allow people to keep innovating, especially now that apps are becoming less of an issue as PWAs gain traction. They already had UWP versions of a dialer, messages, and carrier services from Windows 10 Mobile that they could have baked into any release. If I could buy a Galaxy Fold or a Duo 2 and then install a version of Windows 11 with Phone and SMS/RCS apps I'd do so in a heartbeat. Especially since the Galaxy Fold has video out which would enable something like Continuum instead of Dex.

Microsoft can't just create an ISO to put on any random Android device. That's not how it works, unfortunately. What you suggest wouldn't be a boon for developers. Why should anyone care except for a handful of enthusiasts playing around? It would be unnecessary work and effort for nothing, a waste of time and money for Microsoft.

Not really, many people bought phones to flash wm6.x roms. There was a major following - heck windows central was formerly created due to that following under WMExperts. Microsoft can have their cake and eat it all they have to do is create flashable WoA roms. Developers and OEMs will do the rest. It's easier for the latter since pretty much all modern phones have onscreen buttons.
Windows Central Newsletter
Thank you for signing up to Windows Central. You will receive a verification email shortly.
There was a problem. Please refresh the page and try again.