You'll be able to talk to your Volvo with Microsoft's Band 2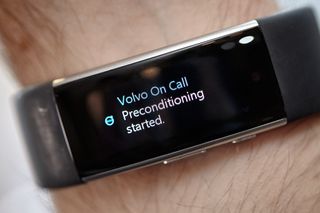 Microsoft has teamed up with Volvo to launch a wearable-enabled voice control system that will work with the Band 2. With the wearable attached to your arm, you'll be able to start the heating, lock doors, flash lights and even sound the horn. You can now annoy neighbours from the comforts of your own home.
This move comes after the two companies explored ways Microsoft's HoloLens technology could improve the sales experience for customers, enabling them to visually configure and explore their potential investment on wheels. The new functionality will be activated in Volvo on Call enabled markets in spring 2016, so do keep an eye out should you own both a supported vehicle and the Band 2.
See the press release below for more details.
Press Release
The Future Is Now - Volvo Cars and Microsoft Enable People to Talk to Their Cars
Volvo owners will be able to talk to their car via their Microsoft Band 2, allowing them to instruct their vehicle to perform tasks including setting the navigation, starting the heater, locking the doors, flashing the lights or sounding the horn via Volvo's mobile app Volvo on Call and the connected wearable device.
In November 2015 Volvo and Microsoft announced their high-profile collaboration with the first automotive application of HoloLens technology. HoloLens is the world's first fully untethered holographic computer, which could be used in future to redefine how customers first encounter, explore and even buy cars. Now the two companies are delivering remote voice control for Volvo cars via the Microsoft Band 2 as another proof-point in their ambition to jointly develop next generation automotive technologies.
"Volvo is intent on making the car experience as easy and convenient as possible by utilising the latest technology in the most relevant and inspiring ways. With voice control we are only just beginning to scratch the surface of what is possible with digital assistant functionalities," said Thomas Müller, Vice President Electrics/Electronics & E-Propulsion at Volvo Car Group.
In recent times Volvo Cars has begun to focus closely on innovations outside the traditional automotive arena, keen on opening up potential partnerships and new business models.
"When innovating we are not interested in technology for the sake of technology. If a technology does not make a customer's life easier, better, safer or more fun, we don't use it. Let's face it - who hasn't dreamed of talking to their car via a wrist worn wearable?" said Klas Bendrik Senior Vice President and Group Chief Information Officer at Volvo Car Group.
"Our ongoing partnership with Volvo continues to bring ground breaking technology to enhance the automotive experience," said Peggy Johnson, Executive Vice President of business development at Microsoft. "Together with Volvo, we're just beginning to understand the potential that technology has to improve driver safety and productivity."
The new possibility to connect to a Volvo with voice control through Microsoft Band 2 will be available for customers in Volvo on Call enabled markets in spring 2016.
Rich Edmonds is Senior Editor of PC hardware at Windows Central, covering everything related to PC components and NAS. He's been involved in technology for more than a decade and knows a thing or two about the magic inside a PC chassis. You can follow him over on Twitter at @RichEdmonds.
About to buy a volvo then

Sorry - I drive German Cars :) 6 Ender BMW to be more precise :)

I'm a merc kinda guy. S63 amg. Built on Germany as - for whatever stupid reason, one can't buy a 4matic s class brand new in the UK. Because we can't have nice things. At least I could pick up the band two.

When Google and Apple are pretending to be innovative, Microsoft deals with innovation sooo theoretically. Volvo can be purposefully expensive whereas Steve Jobs' dream project iCar would be at least 5 times expensive than Volvo if it was put in to production.

I'm buying a new xc90 hybrid, wife's range rover svr is too much for her. Great news!!!!

i can see in the future .... " iHorn - designed by Melon"

Well... It is happening... HoloLens and Cortona aka Microsoft are taking over...

Well, not entirely. We already have Google's and Apple's system on cars, but not a Microsoft one. If I have a car that works only with Android or the iPhone, I would have to change my phone, I'm not gonna change my car. They need to do something about that.

This IS the issue. If Satya was serious about WinMo he would have developed the necessary Apps for the car makes free of charge. There aren't that many.

I'm sticking with my BMW ActiveHybrid for now, 0-60 in 5 seconds is better than using a Band 2 to operate a Volvo...

Agreed. My V8 Twin Turbo BMW talks to me.

Something tells me things will change.

Great idea, but Volvo? I hope all ten drivers enjoy this feature. Should have hit up GM, Toyota, Ford, Chrysler, or some of the big name companies.

In 2014, Volvo Cars sold a total of 465,866 cars. Figures aren't out for 2015 but should be 1-2% of the global market...

Ford went with BlackBerry. They had a good partnership with Microsoft b4.

Sorry to break your world for ya but US is not the whole world. Volvo sells everywhere while there is virtually no GM or Chrysler anywhere except for US. In Europe Volvo is one of the biggest names in automotive. Also Europe is pretty much the stronghold of Windows Phone so yeah, it kind of makes sense.

Yep, this is indeed the case.

Totally agreeable. Volvo is considered to be a premium car here in India.

+920 There are a lot of Volvos in Europe.

To bad it won't work in Volvos own country. No band and no Cortana. So tired of this broken record. Plz bring Cortana to Sweden Microsoft. Will be a small compensation for all the buggy phones you shipped.

Sounds like this will be a Windows 10 app with Cortana integration and Band app tile to receive the notifications on the Band. Nice that they are adding it, sounds like you will be able to use the voice activated controls from your phone in the same way.

Volvo On Call it's already available for Windows 10 Mobile and PC.

Shame Volvo can't sort issues with their in car audio then, given they can adopt this! 2014 V40, plays tracks based on FAT order, not folder and track data, and refuses to play most audio formats that work fine elsewhere...hey ho.

Would be nice if they released a system that can be integrated into other cars, to allow this kind of control with the band.

About to buy a Volvo through the European Delivery. I'll experience hands-on what the Microsoft and Volvo partnership is about and what the future entails. I look forward to upgrade both my Band and my Volvo in the summer 2016. Ditto Microsoft and Volvo!!!

MS is missing another ship. iOS and Android already have great integration with cars multimedia systems... Every single day MS are more distant from then and loosing more and more users

Vinicius, so by adding features....Microsoft is getting more distant and losing more and more users? Something about your statement doesn't match the other part of your statement. Daniel was right when he said there seems to be more gloom and doom in the comments section than from OEMs.

You're right that it's a little doom and gloom to make an off-topic complaint when this Band/Volvo integration is really, really cool. But Vinicius is also right - Microsoft had demoed a MirrorLink experience in 2014, and we haven't heard anything about it since, while in the meantime Apple has Carplay and Android has Auto. For all we know, Microsoft has something huge up its sleeve that is ready for primetime later this month (or for a CES announcement?!?) - but at this point in time, it's a huge feature omission on the level of (in my opinion) not having tap-to-pay,

I have no crystal ball.......but Microsoft is far from dissappearing in the automobile. It's just that the angle they are now taking is not visible on the automobile show room floor yet. I think this (article) is just the beginning of Microsoft while you are driving down the road. They are taking a completely different angle than Apple and Google are. We'll see how it works out.

Volvo? Embarassing. No thanks.

Stick with U.S. only cars and be proud to have Droid control your data.

I actually almost bought the Volvo C60(?) for the wife. At the time, it was a close cousin to the then European Ford Focus. (Not the sad little focus that Ford built for the Yankees) But alas, that sweet Focus from the other side of the pond arrived here in 2012. I like Volvo. Mofre now than ever. Maybe someday.

Since when one of the most relyable, good looking and safe car brands is embarassing ? Maybe I'm missing a point here or are you just extremely ignorant ?

That was a reply, which became a comment :D

What about Mercedes-Benz? :D
Windows Central Newsletter
Get the best of Windows Central in in your inbox, every day!
Thank you for signing up to Windows Central. You will receive a verification email shortly.
There was a problem. Please refresh the page and try again.