Your cool HoloLens app idea could actually be made by Microsoft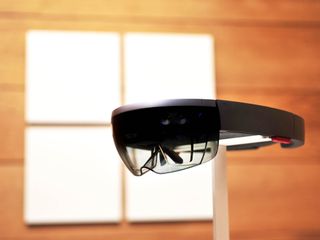 (Image credit: Windows Central)
The Microsoft HoloLens augmented reality headset could have lots of different applications, and the company is now asking for ideas from the general public in the form of a contest. One of those ideas could be made into an actual HoloLens app.
Microsoft says:
Microsoft will take HoloLens idea submissions from now until January 11. The team will pick what they feel are the top three submissions which will then be put to a vote by the public via Twitter:
The app will be released as an open source project once it is completed to help other developers make their own HoloLens apps. What sort of app ideas do you have for HoloLens? Let us know in the comments!
Source: Microsoft
Pokemon Go My second best idea would be continuum extension (a screen basically, a freakin huge one)

Hey, have we stated? Where do we submit the ideas? Here?

Ok then..i suggest. A video (with audio) recorder.. An app that records all the wearer sees & hears. An on the field journalist can wear the HoloLens always and have the recorder triggered on with "HoloLens record". And as an added bonus, saying "HoloLens record that" saves the last 30 seconds or more of what the wearer just saw & heard. I guess an instant connection to Onedrive might be required to pull that off...but

Pokrmon go is actually nice idea

POKEMON!!! Or a card game

Pokemon is a must but I don't see Nintendo making it happen.

Isn't nintendo already releasing something like this for ios and android?

Projected football games on a table. Doesn't even have to be live, just a computer generated simulation of that is happening live to allow viewers to see it from any angle.

Have we stated? Where do we submit the ideas? Here?

Watch the video!! Hololens website.

Personally, if I were going for the entertainment factor, I think this would be the perfect way to play tabletop games, like Dungeons & Dragons, Magic the Gathering, Pokemon, or Yu-Gi-Oh. Could you imagine playing a card, and having it come to life?

Honestly, that's one of the best ideas. Buy a generic set of pawns, cards, and maybe dice, the rest gets overlayd onto the table/pieces

Yes board games. Catan, Acquire, etc. Only issue is, almost everyone playing would need one.

Yea, I don't think it's ideal in the short-term. However, a few yaers from now, when the hardware is more readily available, I imagine most people could consider buying an AR headset for various uses. THat's when this kind of concept would be really useful. Though I could also see card games using this in tournaments to help build up hype.

Pokemon, dragon ball z, Naruto ninja storm etc.... Gota play em all

This! ALL OF FUCKING THIS!

Whatever that game was that R2-D2 and Chewbacca were playing.

Haha I'd love to see that

Pokemon!! That would be SO cool.

if you want to share your IDEAS heres the link: https://microsoftstudios.com/hololens/shareyouridea/ there are currently46 ideas submitted atm :)​ so share yours now.

Cortana in full form obviously gonna happen. If not I will attempt.

9 out of 10 of submissions will be one simple word: "Porn"

You know what though, That will sell like crazy. It just depends on if MS wants/needs the money.

Sadly... yeah.... It will sell like hot cakes.

Sadly? Why sadly? It would be awesome!

How about something that enhances the partner you already have? Call it "Virtual paper bag" or something.

Cortana in form of Jarvis...

What I had in mind was more academic related. Everytime while reading or revising I can ask Holo lens to mark a particular word for me and save it's solution. Next time I come across the same word somewhere else in another passage, it'll recognize it and highlight it for me, telling me that its associated to something. It can jog my memory and help me with my studies. Same concept can be applied while studying anything else. Can use it to save concepts in mathematics say Apollonius' Theorem which I forgot to use in a question because many a times it so happens you forget how you solved a question or how you approached it. So next time I visit the same question it can highlight it for me or show me a photo of the solution I took months back, it'll obviate the use of sticky notes and other stuff we end up using next to a problem. Can just pop up the photo I saved on One Note, can be quite conducive to students. Instead of having to constantly turn pages in my notebook looking for the solution or peruse through bulky books, Holo lens can just mark stuff for me, save it's solution in one note or within the app itself and just prompt me next time I come across it.

That's a really awesome idea.

Thanks came up with it while preparing for my entrance exams :P

@Akhilesh Bhambhani, submit it quick before someone else nicks it! :P.
It's an awesome idea, I can see it have medical implications as well.

Did that before submitting here :P

https://microsoftstudios.com/hololens/shareyouridea/idea/the-highlighter/

Or, just Cortana in life. Have her walk around your house or hang out on the desk or cabinet where you are working. When you say "Hey Cortana" she appears on the closest flat surface near you for instruction.

That's THE BEST idea I've ever read, period!
I'd buy a HoloLens just for that if they ever did it!!! Posted via the Windows Central App

Animal crossing type game for kids. Now make the freakin game and give me 50% of the sales!

A 950/XL simulation for Verizon users. Essentially sensory deprivation. Which might not be a bad app idea anyway....

Porn of course. Always sells the best.

Maybe not the most exciting idea, but certainly one I would find useful every day: https://microsoftstudios.com/hololens/shareyouridea/idea/virtual-display...

Porn would be a good one :) I would buy it

Out of curiosity. If I want to watch a film on the holo lense. And my partner has a lense as well. Would we be able to join the two together so we could watch the same film? Or is the holo lense going to be a one man thing? Which could be kinda pointless as you wouldn't be able to share the experience. I still need one tho :)))

I believe from what I've seen yes you can, as during the live demos they had a HoloLens hooked up to a camera seeing a different angle from the demonstration person. Whilst seeing the same stuff that they were seeing. I think they showed it in other videos where the architect was showing off his planning

As someone said above, the basic ideas that needs to be implemented into HoloLens is the device continuum through phones and tablets with these acting as interacting devices and holograms acting as augmented screens. It's about time we get device synergy between all hardware running Windows 10.

LINEAGE 2 !!!!!!!!!!!!!!!!!!!!!!!!!!!!!!!!!

To make movies- to direct movies with HoloLens

heres my idea hope you like it: https://www.windowscentral.com/e?link=https2F%2Fclick.linksynergy.co...

heres my idea app,hope you like it: https://microsoftstudios.com/hololens/shareyouridea/idea/fashionista-app/

heres my idea app,hope you like it: https://microsoftstudios.com/hololens/shareyouridea/idea/fashionista-app

Does you guys forget bayblade that would be epic , Pokémon is the ultimate though
Windows Central Newsletter
Thank you for signing up to Windows Central. You will receive a verification email shortly.
There was a problem. Please refresh the page and try again.