'Your Phone' app starts testing unread message badges with Insiders
View your unreads at a glance.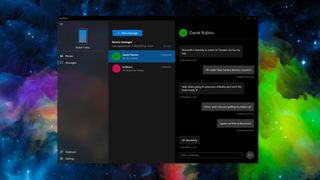 (Image credit: Windows Central)
Microsoft is testing a small, but notable, update to the Your Phone app with Windows Insiders. Available now for around half of the total Insider population, the update adds unread indicators to your conversations, allowing you to see which contacts have sent a message, and how many messages there are to be read, at a glance (via MSPU).
If you're a part of the initial wave, you'll now see that the text preview for unread threads is now bolded, helping it stand out from the rest of your conversations. In addition, a new badge will now display next to the thread, showing you how many unread messages you have in that chat.
If you have yet to try Your Phone, the app allows you to sync with your Android phone to send and receive SMS messages from your PC. You can also import photos from your phone to your PC using the app, and Microsoft is even planning to add screen mirroring with a future update, letting you interact with phone apps from your desktop.
See at Microsoft (opens in new tab)
Dan Thorp-Lancaster is the former Editor-in-Chief of Windows Central. He began working with Windows Central, Android Central, and iMore as a news writer in 2014 and is obsessed with tech of all sorts. You can follow Dan on Twitter @DthorpL and Instagram @heyitsdtl.
It's a nice app, but after using the Dell Mobile app, Dell has outshine MS in this area. Dell has all the things MS is trying to implement and it works great. You can even make phone calls from the app, which mirrors through the PC. Dell's phone mirroring works pretty good. I haven't tested every aspect, but there is even limited app accessibility through the mirroring feature. I only say limited, because the app interaction in the mirroring can be hit or miss.

Functionality dell's solution is better so far and more complete, but I honestly hate the way it looks lol

Me too, but Your Phone app isn't good looking either

I just wish Dell Mobile Connect worked. I have Dell G5 and after connecting it to my phone, only notifications go through. If I open the notification on my laptop it opens with error message that my phone isn't connected? And this is a known issue. And I can forget about mirroring

MS always behind in things!

I guess this is nice, but Samsung's SideSync is much more advanced than Your Phone. It can do full device mirroring, file transfer, etc over WiFi and USB. Not sure why the unread messages icon is more important than other features.

Tried it, but boy does it feel like yet another of those half-baked efforts from MS done by a team of about three Interns. If they're serious about linking your phone with your pc, they really need to do better than this, others already have.

That's the general feel of Windows lately, isn't it?

Basic features are a reason to brag for msgng clients at Msft for some reason. Like how you DIDN'T have this?

Well...if you're really hankering for messaging ability without picking up your phone, you could just use Google Messages app, sync it to the browser client, and bam....you have text messages. WhatsApp works the same. Didn't see a point behind Dell Mobile or SideSync, really. If I need to save files and get them to my PC from my phone, I just move them to OneDrive. I think this "Your Phone" is just keeping people employed for something that really isn't needed.

I thought the same thing regarding using OneDrive. However, I needed to get several photos from my phone last night and realized it was more of a pain to wait for the images to upload, wait for OneDrive to ZIP them, download, and unzip them than it was to select all the images and drag/drop them to my PC. The file transfer was faster than the OneDrive download would've been, and the files were available to use without any extra processes like unzipping. I'm still going to use OneDrive for storage, backup, and file sharing, but I don't think I'll use it for downloading multiple files any more.

It's definitely needed and needs to have more functionality. I've been wanting something like this since windows phone 7

Agreed. Why do we need to install apps for this to work? It should be seamless!!!

okay so when should we expect Microsoft to back track on this and go back to using SMS relay on Skype?

In 3...2...1... We all know msft will never polish this, the second they realize Samsung and Dell did better the app is gone.

Doesnt Dell only work on Dell PCs? I assume Ssung is for Samsung phones only. How can we compare this and expect it to be equal or better right away?

I don't know what all the complaining is about. This is a useful app, even if it's rough around the edges and is in need of some more features. I use it often. The biggest drawback is that the phone has to be on the same Wi-Fi network - can't be on the carrier network - for it to work, which is kind of lame. Otherwise, this is an improvement over Samsung Flow, which I always thought was garbage.

The slow progress can only be attributed to the fact the devs need to test every single change they make, thus making iterative progress ridiculously slow. Microsoft seriously needs to bring back the QA team so the dev team can at least breath whilst the QA team does the programmatic testing. The competition is driving laps around Microsoft at this rate of progress. Most devs do not like the mind numbing aspect of programmatic testing. Whereas most people in the QA team generally find the simplicity of programmatic testing cathartic and relaxing.

Might give it another look when and if they implement full screen mirroring (assuming that means I can then interact with phone apps via my PC) but the current functionality is of no interest to me. Hardly anyone uses text messages anymore so , although I hate typing on a smart phone keyboard, this doesn't really add much. I can transfer photos through OneDrive so not bothered about that either. Hopefully they are taking their time to get further features working really well - I tried the Dell app and it kinda worked but found the way it displays on the PC quite frustrating and it kept constantly nagging me about re-linking or something and I got fed up with it. If 'Your Phone' one day offers full-screen interaction with phone apps and the ability to receive/make calls via the PC then that would be something I would use a lot.

Yes I think making and receiving calls via PC is key for me. And I also tried the Dell version of this and I also found it wasn't great.
Windows Central Newsletter
Thank you for signing up to Windows Central. You will receive a verification email shortly.
There was a problem. Please refresh the page and try again.