Your Phone app for Windows 10 updated with new icon and MMS support
A new Insider update for the Your Phone app introduces a new icon and MMS messaging support.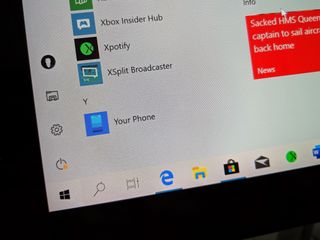 What you need to know
A fresh Your Phone update is now available for Insiders on Windows 10.
The update adds the ability to send MMS messages with pictures and GIFs from your PC when connected to an Android phone.
The app also has a new icon, inspired by the Fluent Design refresh Microsoft recently gave its Office icons.
Microsoft has released another update for the Your Phone app on Windows 10 that introduces MMS message support, finally allowing users to send and receive images in text messages. The update also introduces a new icon that follows the same design as the new Office icons.
This update is currently rolling out to Insiders, and should show up for everyone else in the next few weeks. Today's updates are the latest in a flurry of recent new improvements, including the ability to sync with the Your Phone app via cellular data, a new notifications sync feature, Screen Mirroring, and more.
Windows Central understands that Microsoft is working on even more features for the Your Phone app that will begin showing up soon, including the ability to take phone calls via cellular directly from the Your Phone app. That's going to be a big deal for users who frequently have to take calls for work.
What are your thoughts on the Your Phone app? Let us know in the comments.
Affordable accessories that'll pair perfectly with your PC
Every one of these awesome PC accessories will enhance your everyday experience — and none cost more than $30.
KLIM Aim RGB gaming mouse (opens in new tab) ($30 at Amazon)
Whether you're a gamer or not, this is an absurdly good mouse for the price. It's ambidextrous, has a responsive sensor, a braided cable, tank-like build quality, and, yes, it has RGB lighting, though you can turn it off if that's not your thing.
AmazonBasics USB speakers (opens in new tab) ($16 at Amazon)
These neat little speakers may only pack 2.4W of total power, but don't let that fool you. For something so small you get a well-rounded sound and a stylish design. And they only cost $16.
Razer mouse bungee (opens in new tab) ($20 at Amazon)
Use a wired mouse? You need a mouse bungee to keep your cable tidy and free of snags. You get no drag on the cable, and this one has subtle styling, a rust-resistant spring and a weighted base, all for $20.
Windows Central Newsletter
Get the best of Windows Central in your inbox, every day!
Zac Bowden is a Senior Editor at Windows Central. Bringing you exclusive coverage into the world of Windows on PCs, tablets, phones, and more. Also an avid collector of rare Microsoft prototype devices! Keep in touch on Twitter: @zacbowden.
The new icon is hopefully a sign of things to come for the rest of the Windows 10 apps.

Though at the moment W10 only loosing apps. The ones that matter anyway.

This is a good thing, considering the idea behind the app was to help you keep the phone in your pocket.

It's nowhere near as good as Dell Mobile Connect. I want to use it but it's lackluster and only half works, like most things MS makes in their attempts to link Android to PC and give us back what we already had with Windows Mobile.

What are you missing, apart from calls and screen mirroring that doesn't work due to my phone not being on a very, very short list of phones it supports and Bluetooth on my Surface Pro 4 not being compatible I have no problems with it?

This is sarcasm, right? All of those insane requirements were poor choices when most devices don't support them (including their latest Surface Pro 6). Surely there's a better way to implement screen mirroring (as many others have).
Other woes include connectivity that many people have complained about. Patchy connections and messages not always sending with no option to cancel so they're not out of order. There's no secondary connection mechanism in case one fails. There's no option to run it despite battery saver mode (which I should be able to do - I want to limit things other than Your Phone).

What I am missing is that Your Phone works only when it wants to work (sending and receiving messages is hit-or-miss) and it's slow as molasses. Seeing my most recent phone pictures would be a feature if I didn't already have those uploading and automatically populating to the MS photo apps via OneDrive. Tldr, the app is booty and barely works even though it's been around for almost a year.

Now, If they would make all the features work on their own Surface line!!!!

Still so much complaining about a FREE application.

It is an app on Windows 10, it isn't free. Not only did you pay for Windows 10, Microsoft is also selling your data they collected through Windows 10.

Bleached, what evidence do you have that MS is selling our data? I think you have them confused with your own company, Google. MS USES the aggregate data to improve the services they sell. Advertising to MS is secondary. Their primary revenue is from software and services. Google is the company who is dropping a growing percentage of its failed R&D while taking steps to better monetize their existing advertising customers. All fine and I wish Google well, but even you as the Google spokesperson here at Windows Central, should be able to acknowledge that MS is at least better than Google at respecting user privacy both by default and in terms of total control. And we should probably both admit that Apple does better than either Google or MS (I happen to think Apple achieves that by constraining usability too much and MS strikes a better balance, but that's just my opinion).

Everyone says Google sells your data by targeting ads, even if they don't actually sell your data directly. Microsoft does the same, even if it isn't their primary business. Microsoft doesn't have the granular privacy controls that Google does. They are getting better, Microsoft now has a dashboard, but are still behind. Google likely collects more data, but they have all the controls in place. Apple might be better, but everyone still has their hooks into the iPhone and your ISP still sees anything. If privacy is that important for you, using any cellular device is a violation.

What's your point here? I've been asking you that for a long time, and you never have a logical answer, or most of the time an answer at all.

My only complaint is that there is no possibility to uninstall it.

It's a pretty poor App (so far). Just because it's free doesn't mean you get a pass on quality, especially if you're as big as Microsoft. No excuses.

I fail to see how it's a "poor app". Could it beuch better? Yes, but they are always improving it. It's also not fair to compare it to something that only has to run on one type of hardware (Dell).

One day maybe they'll be able to make it work consistently.

I'm just wondering if Apple and Microsoft will play nice when it comes to an app like this. (Heck Dell and Apple still aren't playing nice , either. Because Dell computers run Windows 10 , I'm sure.) Yes, I like my iPhone, so why do I have to be punished all the time ???? I'm sure I'm whining in the wrong forum, but it SUCKS I can't use my cell phone of choice with this app. Just brings back the compatibility issues we all had back in the early 90's between Mac OS and Windows.

Just get a Mac. Heavily supporting Windows isn't Apple's business model.

How do you become an insider? Can it be specific to this app or does it require you become an insider for all W10 updates?

This app stopped working for me a while back. I've removed and reinstalled numerous times now. It won't connect with my S8+ anymore. Says it's connected but doesn't sync any of my texts anymore...

This worked last night with MMS and images, and now it stopped working with images.