Save humanity and crush the undead in Zombie Anarchy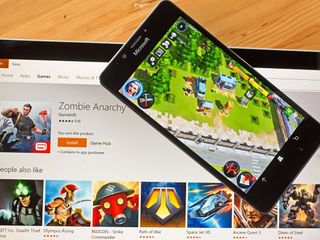 The walking dead are back in the Windows Store. Zombie Anarchy is the latest offering from Gameloft and has you recruiting survivors to join your cause in seeking out Zombie strongholds and destroying them.
Along with battling the undead, you need to build up your home base with defenses and other structures to strengthen your group of rag-tag survivors. You earn food and other items by battling the Zombie camps, and in turn can use that loot to enhance and upgrade your team's skills and abilities.
Graphics are solid with plenty of Zombie smashing details. Gameplay is challenging, but not overly complicated. Overall, this free Windows 10 game is a fantastic addition to the Zombie genre of games and an entertaining way to pass the time.
The game opens with an extensive tutorial that covers the backstory and mechanics of gameplay. You survived the start of the Zombie apocalypse and find yourself battling the undead in hopes of saving humanity. In the tutorial, you establish a base, scout a Zombie camp and destroy it. The tutorial also walks you through recruiting the first survivor for the team. After the initial tutorial concludes, additional tutorials appear as new features became available.
Gameplay in Zombie Anarchy centers around your base camp. Navigational controls line the edges of the base camp display that send you to options such as settings, achievements, leagues and more. Game stats, including food, salvage and gem counts, run across the top of the display. Each are collected during gameplay and are used to build or upgrade new structures, upgrade team members and more.
Along the bottom of the display, you can find access to missions, a building menu to enhance your camp and a button to access the game map.
The game map includes much of the same navigational buttons the base camp display has and is where you find Zombie camps to destroy. The map view also includes daily rewards and bonus missions that are outside the storyline set of missions. Tapping any of the mission pins pulls up a summary of rewards and salvage items available for that mission.
Missions can be scouted to determine if your team has the strength to take on the Zombie camp. If you decide to attack the camp, it costs food to do so.
The battle screen displays your team members in the lower left corner of the display and any special weapons available in the lower right corner. Beginning an attack is simple. Just tap a point on the perimeter for your battle van to breach and your team is automatically deployed. A machine gunner on top of the van handles any Zombies wandering around the perimeter, while the team seeks out and destroys anything Zombie related inside the camp.
For the most part, combat is automatic and you have a limited amount of time to destroy the enemy. The team collectively attacks one camp structure after another and destroys any Zombies that may be present. You can direct the team to attack a specific structure by tapping on it and special abilities for each team member becomes available as the battle progresses. For example, one team member may have a fire bomb skill that can be used to wipe out a large group of Zombies.
At the end of each battle, your performance is scored based on time, damage incurred and damage inflicted. Based on your score (rated at 1-3 tokens) you can participate in a bonus round where you can earn extra materials. For each token earned, you get a bullet to fire at a group of Zombies, each possessing salvage items. Choose your shots wisely and you can earn some primo salvage items that can be used to enhance your team members or base camp structures.
Any damage inflicted on team members can be healed with food. The healing menu button appears on the map display (the vital signs icon) whenever a team member is injured.
There is a social aspect to Zombie Anarchy where you can seek out other gamers' base camps to attack and pillage them. Zombie Anarchy supports player log-in through Facebook or Microsoft accounts. Facebook login is required to connect to friends but either allows you to synchronize game progress between Windows 10 devices.
Graphics and animation with Zombie Anarchy are top notch, as we have come to expect from a Gameloft title. Maps can be zoomed in to reveal the finer details of the battle or your camp. Gameplay is challenging but simple to execute. Even with the automatic attacks by team members, you have the strategy elements of selecting key targets to attack and the deployment of special skills and bonus items. Launch a special skill too early and you may find yourself overwhelmed with Zombies while you wait for the skill to recharge.
For the most part, the Windows 10 game ran smoothly. You do have settings to dial down the graphics quality if you experience lag times. I did experience a few lost connection errors, but that could be due to the data network and not the game.
Zombie Anarchy is a free game, available for Windows 10 PC and Mobile. The game does include several in-app purchase opportunities to buy gems (bloodstones) that range in price from $4.99 to $99.99.
There are gobs of Zombie oriented games in the Windows Store and Zombie Anarchy ranks among the best the Store has to offer. If you are looking for an intense game to spend a little down time with, Zombie Anarchy is a solid option worth considering.
Download Zombie Anarchy from the Windows Store (opens in new tab)
Windows Central Newsletter
Get the best of Windows Central in in your inbox, every day!
George is the Reviews Editor at Windows Central, concentrating on Windows 10 PC and Mobile apps. He's been a supporter of the platform since the days of Windows CE and uses his current Windows 10 Mobile phone daily to keep up with life and enjoy a game during down time.
Played it on day one. I would prefer real action and not only tapping on zombies to attack em. But its a good time killer i think

It has a fun element to it. I think games like Tiny Troopers 2 would have been so much better with a virtual game pad instead of tapping. At least as an alternative. A lot of games like these seem better that way. This game is decent no doubt but as far as free to play only a few have pulled me in. Dragon mania legends and asphalt extreme mostly though.

There is a social aspect to Zombie Anarchy where you can seek out other gamers' base camps to attack and pillage them. Surely this is an anti-social aspect? In any case I doubt the game is worth a hundred dollars.

It becomes more fun as you progress through the game, unlock more characters and upgrade your stuff. Definitely one of the best games in the store. Unfortunately you can not sync your game across platforms even if you log into Facebook on both.

Not so much of a mobile gamer but I know this, Gameloft truly is dedicated towards Windows 10 ecosystem. Also this is the first time I see a game released on all 3 platforms at the same time.

Hope to see games support the Xbox One controller in the near future for all platforms

Was interested in this but saw a permission that states "access your internet connection and act as a server". Not sure exactly what that means but I'm seeing that permission more and more lately. Lost me as a possible customer cause of that.

Gameranx says its a must buy.

its fun however by level 12 it was getting too repetitive and yea it kills the battery quick. still gameloft props to you guys for supporting the platform.
Windows Central Newsletter
Thank you for signing up to Windows Central. You will receive a verification email shortly.
There was a problem. Please refresh the page and try again.