Zombies!!! developer interview - Windows 8 and future updates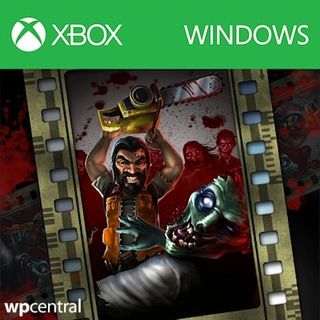 The Windows Phone 7 version of Zombies!!! has just gone on sale as the Xbox Live Deal of the Week. At the same time, Microsoft's new Windows 8 operating system for tablets and PCs just launched. That makes this the perfect time to check up on the Windows 8 version of Zombies!!!, wouldn't you say? Windows Phone Central has done just that, and now we've got an exclusive interview about the new version's features and enhancements to share with you.
Head past the break for the full interview, screenshots, and two videos!
What are the new features of the Windows 8 version of Zombies!!! compared to the Windows Phone 7 game?
The Windows 8 version includes a ton of exciting new features! Some of these include: Xbox LIVE Avatar support, which allows you to play the game using your own Avatar, and new and revamped console quality art. While online multiplayer will not be available in initial launch, it will be included soon via Title Update.
Which cards and expansions will be included in the Windows 8 game?
The game will include the full core card set, featuring card art by Dave Aikin from the original game, with classic cards such as: 'Alternate Food Source,' 'Butterfingers,' and 'I Don't Think They're Dead…' just to name a few. More card set expansion packs are set to follow in the future, allowing players even more ways to up their game or hinder an opponent's.
Will any expansions be available for purchase at launch?
The '3.5: Not Dead Yet' Expansion pack will also be available at launch. This expansion pack will include more action cards and custom deck rules. More expansion packs are planned to be released in future Title Updates. Which ones exactly will have to remain a mystery for now, but we do always love to hear suggestions from the fans and what they would like to see next!
What kind of graphical changes and optimizations have you made for the Windows 8 version?
We rebuilt everything from the ground up and have done a complete overhaul on the art. The game has been taken from mobile standards and updated to current high-end console quality visuals. [The] world of Zombies!!! has undergone a complete makeover. From the tile pieces to the Zombies themselves, [the Windows 8 version] has a significantly improved look.
Has the sound design changed in the transition to Windows 8 as well?
The sound design has gotten a complete makeover as well. In this new version, all-new SFX have been created. With new sound effects, [the game] now sounds more realistic than ever.
What control methods does the W8 version support?
Zombies!!! for Windows 8 supports multiple control methods. Touch screen and Mouse are the two main control methods.
Please tell us about the Windows 8 version's single-player and multiplayer features.
[In addition to playing the standard game against AI players, the Windows 8 version will feature the Survival Horror mode that debuted in the WP7 version.] In this mode the game randomly generates a town complete with helipad and automatically populates the town with Zombies.
The fans have wanted to see asynchronous multiplayer for quite some time now and we are set on giving it to them. While it may not be included in the initial launch it will be available via a title update soon; that much is guaranteed! Not only will asynchronous multiplayer be an option for users, they will also have the chance to meet and play against other Zombie fans [via Matchmaking].
So asynchronous multiplayer is coming in the future. Does the Windows 8 version still support pass-and-play multiplayer?
Yes it does! Up to 5 players can join in on the fun and battle it out against one another. The ultimate victor [will] escape the Zombies, leaving their friends to fend for themselves.
Will the Windows 8 game have Avatar Awards?
While Avatar Awards will not be available in the game at launch, they will be available in the future through a Title Update.
What will the Windows 8 version's Achievements be like?
Similar to the WP7 version, the Xbox LIVE Achievements will have a GamerScore of 200 points spread out over 12 Achievements. As for the achievement list, that will remain the same as well, with achievements such as Zombie Hunter, Night of the Hoarder and the ever sought after Was It Worth It? just to name a few. (You can view the WP7 version's Achievements, which are identical, here. -ed.)
Will the 'Zombies 3.5' expansion add extra Achievements like it does in the WP7 version?
Yes! The 3.5 expansion for W8 provides the same additional features as the WP7 version: 18 new event cards, new card art, and new achievements. The expansion pack also adds 50 more Gamerscore points in the form of five new Achievements.
Babaroga is also planning to update the existing Windows Phone 7 version to Windows Phone 8 in the future. Will the Windows Phone 8 version/upgrade launch at the same time as the Windows 8 version or at a later date?
The WP8 version/upgrade will not be released at the same time as the Windows 8 version. While the game will not be available for WP8 initially, it will be available soon along with other platforms soon to follow. (One of those platforms should be the long-delayed XBLA version. - ed.)
Will there be Play, Pause, Resume support between the Windows 8 and Windows Phone 8 versions?
The plan is to include support for Play, Pause and Resume between the Windows 8 and WP8 versions of the game. Players will be able to start a game on one of their Windows 8 devices such as a tablet, pause it and resume play on a separate W8 device. [This will allow] players the option of enjoying a game of Zombies!!! on any of their Windows 8 devices.
…
Zombies!!! launches soon on Windows 8, but the Windows Phone 7 version is out now. Check out our review if you need more details, or grab the game here at the Windows Phone Store.
Windows Central Newsletter
Get the best of Windows Central in in your inbox, every day!
Paul Acevedo is the Games Editor at Windows Central. A lifelong gamer, he has written about videogames for over 15 years and reviewed over 350 games for our site. Follow him on Twitter @PaulRAcevedo. Don't hate. Appreciate!
Zombies is still a favorite of mine, I wish the devs all the best. I had no idea Zombies was essentially exclusive to WP7 for such a long time, but I sure played the heck out of it.

I want to get the Xbox version, hope that will sync with the phone version

Connect xbox controller to your pc/laptop/tablet and play like its xbox game

Yep. Great game. A couple of coworkers and I would play it via pass n' play on my phone at work. One of them would always come in and say, hey we gonna play some Zombies today? He had an Evo and wanted the game on his phone. Other platform users wanting a port from Windows Phone. heh.

any windows 8 games are supported with rt as they both share the same app store

Sure miss Twin Blades :-/

I never played this game, but I may give it a try on my Win8 rig, looks like a good game from what I'm reading

I am looking forward to this. Nice to hear avatar awards and I wish more titles utilized those. Now I just need a price and release of the surface pro.
Windows Central Newsletter
Thank you for signing up to Windows Central. You will receive a verification email shortly.
There was a problem. Please refresh the page and try again.