Zoom has fixed one of the biggest complaints about its platform
But only for paid customers...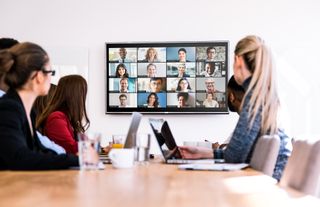 (Image credit: Zoom)
What you need to know
Zoom has fixed an issue with its service which saw data routed through China.
It had previously emerged that call data was sent to China even if all the participants were based in the US.
Zoom has now added controls for data routing for paid customers.
Update: Zoom reached out to us to clarify its latest blog post stating:
**Zoom's most recent update, as detailed below, is designed to give paid users "further control" regarding where data is routed. **
Zoom has updated its platform to give paid users more control regarding data routing.
In a blog post Zoom stated:
Security and privacy concerns were previously raised after it emerged that Zoom call data was being routed through China. Whilst this latest update brings selection for data centers globally, it is clearly meant to address this specific issue. Notably, Zoom has made China an 'opt-in' option, rather than opt-out, and customers who don't select China by April 25 won't be able to connect their account to China for data transit.
This will not stop people from any deselected region from joining your call, but Zoom notes there may be "some latency or performance issues." Zoom also noted that this does not apply to Zoom Phone or related features, only meeting and webinar traffic. The blog continues:
Zoom has also added new cloud recording password guidelines, linking accounts, voicemail PIN and call recording access updates over the weekend. You can read the full report here.
Too little, too late. And a paid option, really, no thanks.
later
-1

It's a business tool. Of course it has a paid option, like WebEx, GoToMeeting and Skype do. Whether security should be tied to it is a different issue. You want free, you give something up. See Facebook, Google, etc.

Do other free options route their data to China also? So you have to pay to not have that happen. I don't think so. later
-1

China truly is the centre of the universe.

Why was data from U.S.-only meetings being routed through China in the first place?

Was this the biggest complain? Because the list was pretty long. Just use Skype.
Windows Central Newsletter
Thank you for signing up to Windows Central. You will receive a verification email shortly.
There was a problem. Please refresh the page and try again.