Zune will play an important role in Guardians of the Galaxy Vol. 3
Its days of being the best MP3 player money can buy (take that, iPod!) may be over, but it turns out Microsoft's Zune still has an important role to play.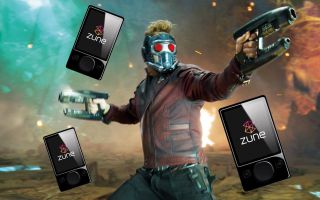 If you've seen Guardians of the Galaxy Vol. 2, you'll likely remember the appearance of a Microsoft Zune near the end. The ill-fated MP3 player was used as a bit of a joke, but also as a way to connect protagonist Peter "Star-Lord" Quill with his mother, Meredith, through music.
As it turns out, the Zune was meant to achieve more than a chuckle and a heartwarming moment. According to a recent Facebook Live Q&A with the movie's director, James Gunn, Star-Lord's newly acquired Zune will also serve as a way for his (spoiler) now-dead surrogate father, Yondu, to communicate with him through song in Guardians of the Galaxy Vol. 3 (via Polygon).
The Zune's best years may be behind it, but it's neat to see it still seeing some relevance more than a decade after its debut — even if slightly in jest. No word on what type of music we'll be hearing from the Zune in the next movie, but the move from the franchise's signature Sony Walkman to the Zune certainly opens up the possibility of slightly more current song choices.
For more, check out the full Q&A with James Gunn in the Facebook video below.
Windows Central Newsletter
Get the best of Windows Central in your inbox, every day!
Dan Thorp-Lancaster is the former Editor-in-Chief of Windows Central. He began working with Windows Central, Android Central, and iMore as a news writer in 2014 and is obsessed with tech of all sorts. You can follow Dan on Twitter @DthorpL and Instagram @heyitsdtl.
I guess it was a safe choice - no one is likely to sue over its use.

99.99% sure movies that use products don't get sued, ever let alone one as large as Disney/Marvel who has an excellent legal/products team. But I get it, you got your Zune hur-hur licks in. Good job.

It was either that or a Windows Phone...

Problem is, most people outside the US won't know what a Zune is. Should have been a Lumia of course.

Not true. I was born in Russia and live in Vietnam but I own exclusive Zune HD Magenta. If something not sold directly people still know about it throught news sites like this one and could by it from Ebay.

Number of Zunes seen in the wild in the UK by me = 0. Some will know, many will not. Unlike Walkman from previous films.

most people so much shunned the whole windows phone experience that I doubt many know about the lumias as well lol

If you use even a dead brand name in media, someone is getting paid, so that shouldn't be a risk.

If Microsoft had any cajones, they'd rename Groove Music back to "Zune."

On second thought, no, that's a terrible idea.

You know better. Microsoft thrives on terrible ideas. You know that, don't you?

Better to release Surface Zune.

I agree. They should rename Groove Music to Zune. Then they should replace Groove with the Zune software. And they should fire everyone who worked on Groove. And they should market something properly for once. Psh, that's never gonna happen.

anyone uses groove? When Spotify is at the same price and so much better, and available on every platform? (excepted consoles though, until they decide to make a UWP app)

Microsoft needs to give us a Zune-Mode Easter egg in Groove!

And bring the Zune Social back!

how about make a zune HD phone with real software on it....gasp!

Nice, I like this move. I think that like with the walkman, this will create a wave of ironic and post ironic consumption by hipsters, which would be even more interesting if MS used the opportunity to relaunch the device non-ironically in an updated version. tl:dr: Hipster kids will buy anything that they see in movies, especially if old/outdated. BTW, the Zune was amazing, it doesn't deserve the ridicule it gets basically for not being an iPod. But yeah, Apple zombies, etc.

i concur. my sister kept losing her ipod and she wanted another for her birthday one year, but i bought a refurbished zune instead. i ended up being jealous of it. the zune was awesome. i wanted one. but before i could get my hands on one, slowly, but surely, the zune died out. pretty sure she lost her's too.

I still have my zune and loved it for me it was way ahead of the iPod but sometimes things that are better are not the successful ones. I don't mind groove and I was using it up until i got a xperia xz premium amd for some reason it dose not work with it. It plays music for about 10 mins then stops unless the phone is plugged in but there is no fix so trying Google music which for me is not as good imho.

You don't know what a hipster is if you think they'll buy a Zune because of this. Whether you like it or not, the Zune has been a joke on Between Two Ferns, Silicon Valley, etc. When it showed up in Guardians 2, my cinema laughed. Nostalgia can sell, like the SNES Mini or the iPod Classic spike after Baby Driver, but people are only nostalgic for things they own and love. Hardly anyone owned a Zune and for everyone else, it's a punchline.

I wish I still had my old one. (Where did it ever go?)

I <3 Zune. Still use the Zune software on W10. Still use (occasionally) my Zune 80 & Zune HD.

I loved my Zune, the only reason I stopped using it was because I got a Smart phone and saw no reason to have 2 devices on me that could play music. I honeslty don't even get how the iPod still sells.

Love my Zune and can't wait to see it in V3!

I've still got a lot of love for Zune (even the OG brown brick that I picked up in 2007). I just wish I could find my Zune HD, which I seem to have misplaced long ago.

I use my zune a fair bit when I want to just have some tunes playing. I have 3 zune 8gb. two of which were the "artist" edition with the cool artwork on the back lazer'ed in....I love them!

Ahh, my beloved Zune and I was happily surprised to see it in a big movie like Guardians 2, and can't wait for the next one! Love Live Zune! I retired mine since I ran out of space on my Zune HD so I use my Lumia 950 with expandable storage for all my music.

oohhh my beloved Zune that Microsoft killed two times but thanks god you still with me .,the first and the last version still alive and kickin

I agree, I have a Zune HD 64 GByte and it still works great. I just wish I could update the software and install audible audio books again, as Windows 10 and Audible audio manager won't connect with Zunes anymore routinely. So, I have to use an old Windows XP laptop to put Audible audiobooks on it, Microsoft, or hackers get Windows 10 CE or some updated software to run on the Zune HDs and Zunes!

The joke will be lost on most non-US audiences where the Zune didn't exist except as software to sync WP7. Where was the Zune player actually released? 3 countries?!