10 Best PC Indie Games You Might Have Missed in 2022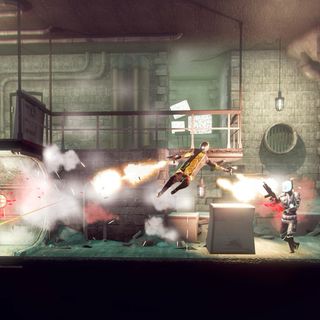 (Image credit: Devolver Digital)
While we liked some of the AAA games that came out last year, indie titles are where we see a lot of creativity and often the best that video games have to offer. Limited resources force these small developers to think outside the box to provide a quality experience to their customers and fans. 2019 was a great year for indies on PC, with games like Mordhau, GreedFall, A Plague Tale: Innocence, and Disco Elysium making wakes. But there are a ton of hidden gems, too.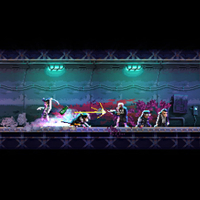 Top Pick

Liked Hotline Miami and want more? Then check out Katana Zero, a wonderful pixel-art action platformer where every movement counts. Death comes instantly, but you can rewind time to give it another shot. Dodge and slash your way through the levels to reach your target and enjoy the excellent soundtrack while you're at it.
Nordic noir

Available on PC and Android, Whispers of a Machine is a fantastic point-and-click adventure. Take on the role of a cybernetically-enhanced detective as you start with a simple murder investigation that becomes so much more. Hone your observation skills and uncover the truth.
Sentient Banana

Sometimes, over the top violence and strategic gameplay come together in such a beautiful blend that you just have to smile. That's the reaction I had when I found My Friend Pedro. Shoot your way through baddies at the behest of a sentient banana as you play a beautiful gun ballet.
Neon Rhythm

Sayonara Wild Hearts made a splash when it featured as one of the launch titles for Apple Arcade. It sports a minimalist, neon aesthetic with a fantastic soundtrack and extremely addicting gameplay. Short it might be, but you'll be coming back again and again to get that perfect score.
Rogue-like Hack & Slash

Though it might be in Early Access still, Hades is already shaping up to be quite the game. Supergiant Games is, well, a giant among indie developers, and its latest title looks to be carrying well the legacy of Bastion, Transistor, and Pyre. Battle through the Underworld in your defiance of the god of the dead in this rogue-like, hack and slash, dungeon crawler!
Space Action

Step into your own starship as you explore a strange galaxy in Starcom Nexus. Venture to new worlds, meet aliens, and befriend or fight your way to glory and fame. In this open-world space odyssey, you will research new technologies, discover alien artifacts, and build your own adventure.
Animal Exploration

Some indie games really stretch the limits of the term, and some make us sit down and think. Lost Ember accomplishes both. Nature has reclaimed the world after the fall of mankind. Explore this lush planet on the land, in the sky, or underwater using a variety of animals that you can possess. It's a gorgeous game.
Spark the Electric Jester 2
3D Sonic Reborn

Remember when 3D Sonic games were good, like Sonic Adventure 2 Battle? Yeah, good times. If you're craving some fast-paced 3D platforming action, then check out Spark the Electric Jester 2. Crank up the game's soundtrack or go back in time to listen to some Crush 40 for classic Sonic tunes, the choice is yours. Go on; you know you want to.
Survive Automation

In Neo Cab, automation has taken over the world, and you play as one of the last human taxi drivers in the city of Los Ojos. Learn the stories of your customers as you work to find your own way; pry out their secrets, and choose how much of yourself to reveal. Balance your own well-being with maintaining your perfect driver rating (and keeping your job).
Cyberpunk Puzzler

Tales of the Neon Sea places you into a cyberpunk detective adventure. Take on the role of a drunken private investigator as you solve puzzle after puzzle to get to the bottom of things. Mystery abounds as you find your way towards a killer who long ago escaped justice. But I hope you like puzzles.
Another great year for indies
Indie games are a wonderful thing, and I love seeing what each year provides us. Sure, the big-budget releases can definitely be very exciting. However, it's certainly worth your time and money to check out games like those in this list, which is by no means exhaustive, and support small studios and developers while you're at it.
Seriously, if you're looking for a grand ol' time, then I can't recommend Katana Zero and Whispers of a Machine enough. Both have immense replayability and engaging gameplay. And if you want over the top, irreverent violence, then My Friend Pedro has you covered.
2020 is shaping up to be one of those amazing years for gaming, and I can't wait to see what indie titles pop up to wow us with their creativity, ingenuity, and craftsmanship. There are already a few on the horizon that are sure to make waves.
Get the Windows Central Newsletter
All the latest news, reviews, and guides for Windows and Xbox diehards.
Jordan is a long-time gamer and PC hardware enthusiast. From the mid-90s on, he has constantly tinkered with computers and played every game he could get his hands on. Coming from a varied background, he found his passion in writing about Android in 2016, which also launched his writing career not long after. Now, Jordan is an avid gamer who just loves sitting down with tea or a glass of cold water to play whatever game has his attention (or he's reviewing), and he's lucky enough to make a living out of doing so. You can find him on Twitter if you want to chat: @jccpalmer.